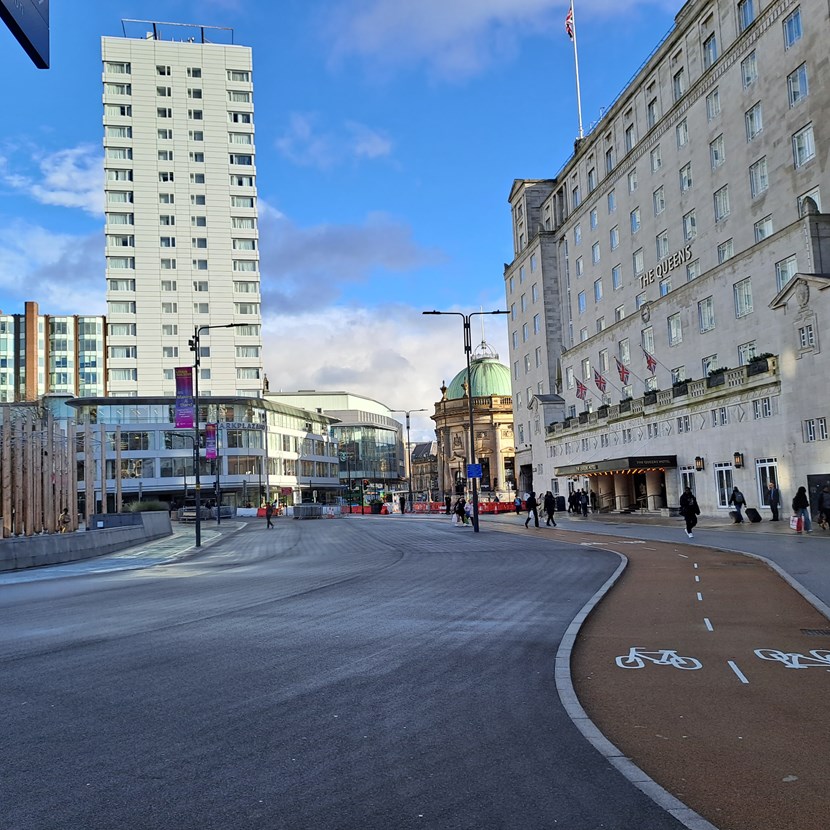 15 Nov 2023
Leeds City Council's executive board to discuss progress on the Connecting Leeds transport strategy
Senior councillors are to discuss how the Connecting Leeds transport strategy is transforming travel across the area.
Next Wednesday's (22 November) Executive Board meeting is to hear how a record amount of work has been completed under the banner of the Connecting Leeds transport strategy and plan.
The vision for Connecting Leeds is to deliver transformational change in the transport network and connectivity across Leeds and the wider region, helping to bring people, places, jobs, learning and leisure closer together. This is to be achieved through improvements to road, rail, bus, park, and ride, cycling and walking services and infrastructure, reducing congestion, and improving air quality and accessibility.
A key part of the transport strategy is to increase the use of walking, cycling and public transport, which contributes to carbon reduction by encouraging modal shift away from the private car and supporting inclusive growth by making it easier to access education, employment, and public services.
Since 2018 through Connecting Leeds, there has been an unprecedented £750 million of investment into the transport network across the city, in partnership with the West Yorkshire Combined Authority, bus operators and other transport stakeholders. This includes the Leeds Public Transport Investment Programme, East Leeds Orbital Route, City Square and associated works, Armley Gyratory, Regent Street flyover and recent launch of Leeds City Bikes.
The closure of City Square to general traffic marks an important move towards transforming the city centre, improving the main gateway to the city from the railway station, prioritising public transport and creating places for the people of Leeds to enjoy. Monitoring of city centre travel habits between 2022 and 2023 has shown a 10 per cent reduction in use of private cars, with bus, rail, walking and cycling all increasing, for example walking by as much as 45 per cent.
The successful launch of the Leeds City e-Bikes scheme in September, which is the largest of its kind in the UK, will help more people make the switch to cycling for some of their journeys taking advantage of the high-quality infrastructure delivered by the council. In the first week of operation 1,200 users covered 375km and made over 1,600 trips, rising to 2,649 journeys, and covered 7,938km in the first month of operation.
Covered in the graphic below are examples of performance indicators including electric vehicle uptake, Starship delivery robots, SMART traffic signals, uptake at local rail stations and road safety education with Bikeability cycle training.
To meet these 2030 carbon targets and ambitions outlined in the transport strategy, there remains a significant funding gap. Funding is needed for both ongoing maintenance and to deliver new key infrastructure programmes to encourage a significant mode shift to active travel and public transport.
Councillor Helen Hayden, executive member for infrastructure and sustainable development, said:
"With so much work taking place across Leeds, I am delighted and proud to have experienced the completion of many schemes and especially the launch of Leeds City Bikes. Now with the fantastic new urban realm spaces around the city centre encouraging more walking and cycling, which now includes City Square, we can host one of Europe's largest Christmas markets. And the removal of general traffic from City Square and reducing traffic in the area is helping to reduce emissions and improve overall air quality in the city centre.
"Combined with the ongoing works at Leeds City Station as part of the Sustainable Travel Gateway, the scheme will offer a much-improved gateway to the city centre and a safer environment for people entering and exiting the station.
"Everyone who has worked on these transport programmes should be very proud of what has been achieved and continues to be developed.
"But there's still much more work to do, as seen by our works to complete Armley Gyratory by next summer, along with the works to Leeds Station Gateway Scheme and linking up new city centre cycling schemes. And not with-standing the great strides we are making to move towards making Leeds a city where you don't need to use a car, by helping travel modal shift away from private vehicles. Our focus for many years to come will increasingly be about how we realise our Leeds Vision Zero ambition that by 2040 no one will be killed or suffer serious injuries on Leeds roads.
"To make these difficult and transformative changes, which have caused some disruption, we thank everyone for their patience as we continue to work really hard towards transforming transport in our city."
For media enquiries contact: