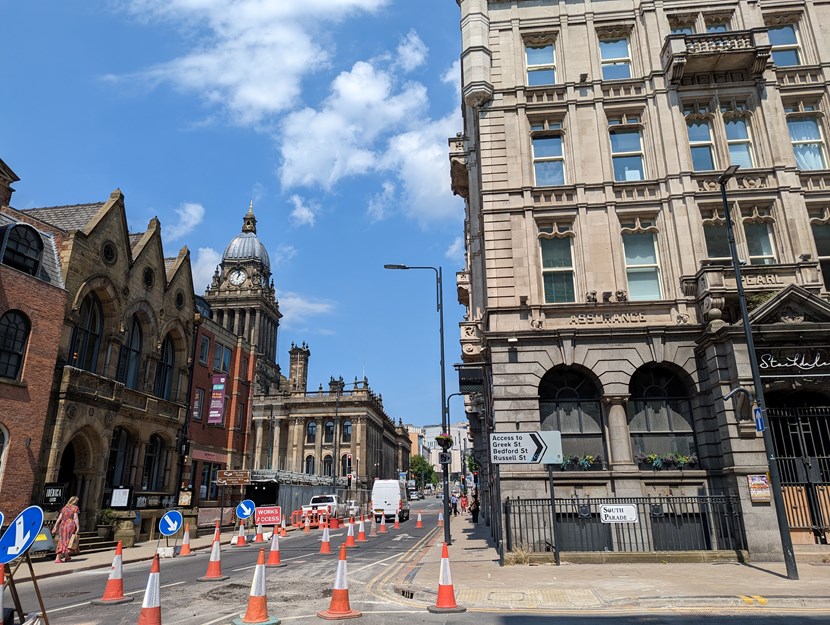 15 Jun 2023
Plan ahead for new traffic restrictions along East Parade from Monday 19 June
Major changes will take place to vehicle movement in the city centre, as construction work over the weekend (16-18 June) introduces a new 24-hour East Parade bus gate.
The new 24-hour bus gate on East Parade (where its junction meets South Parade) comes into effect from 5am Monday 19 June. After this, only buses, emergency vehicles, bikes and hackney carriages will be able to use the East Parade bus gate.
Motorists travelling from the Headrow or passing through the new bus gate north from South Parade, will be in breach of traffic restrictions. Traffic enforcement cameras will start to be activated over the coming weeks; motorists need to plan their journeys appropriately.
At the same time, Calverley Street will also see changes from one-way northbound to two-way, for access purposes. It will therefore not be possible for motorists to access The Headrow when travelling southbound on Calverley Street. The roads becoming two-way is a major change and pedestrians should take extra care when approaching and crossing.
Map to show access for vehicles avoiding City Square Bus Gates and East Parade
These form part of Leeds City Council plans to make City Square people-first by removing general through-traffic away from the city centre. This work is part of the final phase to complete City Square highways changes by the end of August.
From 7pm Friday 16 June along East Parade, South Parade, Bedford Street, and Infirmary Street, a series of night-time lane and road closures will take place. During the final 24-hours prior to the switchover, there will be further closures between 7pm and 5am, with bus and signed vehicle diversions in place. Pedestrian access will be maintained throughout for businesses, residents, and emergency services.
Starting on Tuesday 20 June, for five weeks Yorkshire Water will be carrying out deep sewer replacement works on Great George Street. All city centre works are co-ordinated to minimise delays and Yorkshire Water delayed their works until the bus gate was finished. This will mean lane closures and traffic management, with motorists urged to plan ahead and to allow more time for their journeys.
City Square works started in September 2022, with the initial closure of City Square to through traffic. Works have continued around the area including closing to traffic the Quebec Street access to City Square. In January King Street and Thirsk Row became two-way, to facilitate vehicle and bus movements. Current works are taking place at the junction of Aire Street and Wellington Street, as well as to the south of City Square in front of the Queens Hotel pick up and drop off area. More details about the phased changes can be found on the project website Have Your Say Today - Construction - Leeds City Square (commonplace.is).
Councillor Helen Hayden, Leeds City Council's executive member for sustainable development and infrastructure, said:
"The works on City Square represent a major change for the highway network in the city centre, and we continue to work hard to manage this as effectively as possible, minimising disruption and ensuring the safety of those working on site and members of the public.
"At the same time we would like to thank those who have begun using different routes or changed the way they travel into the city centre.
"The work now enters the final phase, which supports our ambition to create infrastructure and spaces which favour healthier and more sustainable methods of travel, diverting some general traffic away from the city centre. The bus gate at East Parade helps to divert traffic away from areas such as Whitehall Road and The Headrow, creating safer and more attractive places to walk and cycle.
"It is important that motorists plan their journey in advance and consider either alternative routes or methods of travel. If you do travel along this route by car you must adhere to the restrictions.
"If you feel you really must drive into the city centre, please plan your journey in advance, try to avoid the area, allow extra time, and consider travelling outside of peak hours. We have put together alternative routes if driving via www.leeds.gov.uk/planahead and again, thank you for your patience."
For media enquiries contact: