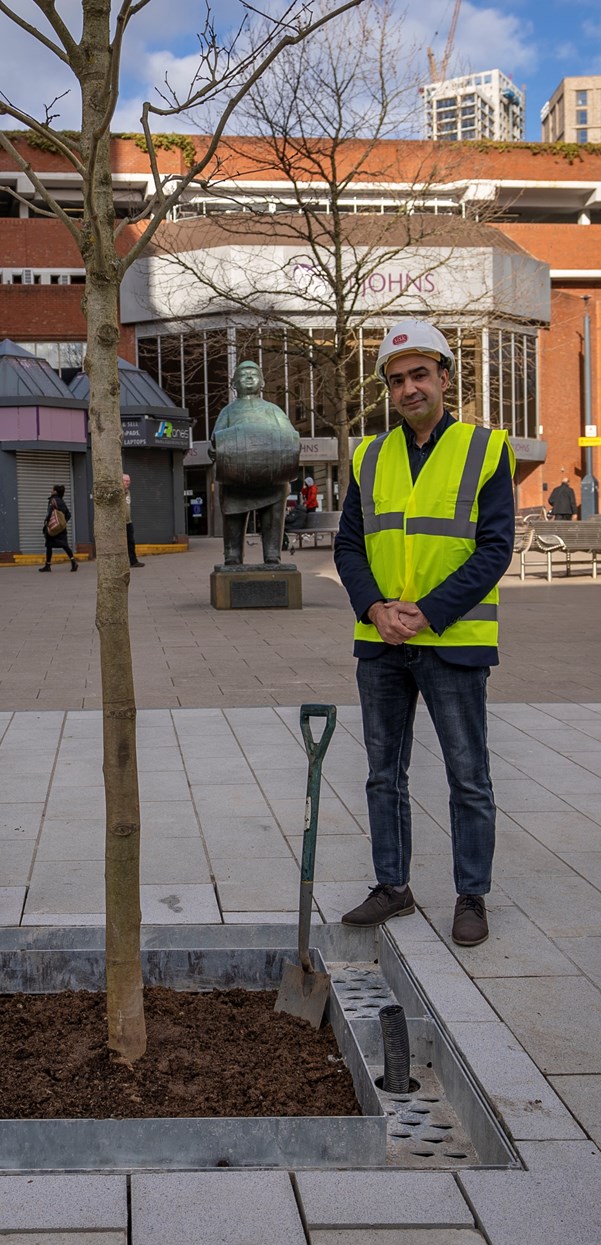 25 Feb 2021
Major milestone hit on the Connecting Leeds Headrow scheme as first trees are planted
A major milestone has been hit on the Connecting Leeds Headrow scheme as the first trees have been planted on Dortmund Square.
The semi-mature trees, which were planted by Leeds City Council's parks and countryside team, are the first of over 30 which will be planted across the scheme. There will be a net gain of approximately 90 trees once all three city centre projects are complete next year.
The trees have been planted in special 'tree pits' which are the size of a shipping container. This means the roots won't push up out of the pavement and the tree has a greater chance of survival. Using this system provides a strong, stable base which will support the new, wider pavements in the city centre, meaning they won't sink over time. Only 50% of trees reach maturity if not planted correctly.

The tree pits were installed by contractor John Sisk & Son, who have also completed work on new pavements and road layouts throughout the city centre.
The £20million+ Connecting Leeds Headrow scheme has been progressing at pace since 2019 and is set to be complete in spring this year. The planned improvements across the city centre, secured by additional government funding, will result in:
More reliable and shorter bus journey times
More attractive bus stops and better waiting facilities for passengers
Easier connections between bus and rail services
Safer and more attractive streets for pedestrians and cyclists
Greener streets and new vehicle-free public spaces
Less traffic congestion, reducing delays for buses and a better environment
Councillor Mohammed Rafique, Leeds City Council's Executive Member for Environment and Active Lifestyles said:
"I am thrilled to see the first trees planted on this major scheme this week. It marks a significant milestone and means we're one step closer to the project being finalised.
"The 90 trees which are set to be planted in the city centre over the next year will not only make our city more appealing and inviting but will also improve footfall and help to reduce carbon. Additionally, these trees help to encourage wildlife and act as habitats for many species.
"I would like to thank people for their patience while the remaining works are carried out on the Headrow and say thank you to our contractors who have continued to work throughout the pandemic.
"The city centre has a very different feel to it and we are looking forward to welcoming people back to see these improvements once restrictions are lifted."
For media enquiries contact: