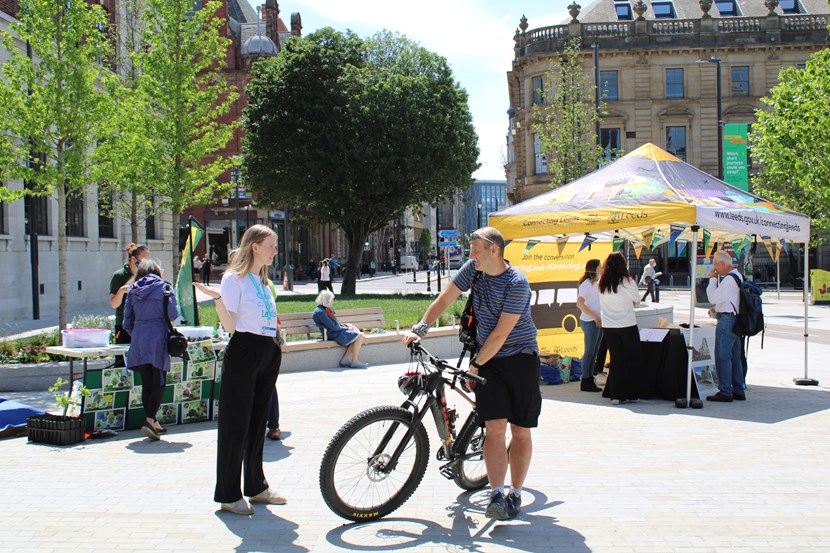 16 Sep 2021
New toolkit launched ahead of Car Free Day to help Leeds residents host community street events.
Leeds City Council has launched the Streets for People toolkit as communities across Leeds celebrate World Car Free Day.
The new toolkit makes it easier for residents to temporarily close the street they live on and use the road space for community events and street parties.
It is hoped that the guide will help Leeds neighbours celebrate bank holidays, religious events, awareness days and festivals together. Streets for People expands on the success of the councils' Play Streets scheme.
To celebrate World Car Free Day, Leeds City Council is hosting an event on the newly transformed Cookridge Street on Wednesday 22 September, 10am – 3pm. The event will include family-friendly activities, Yorkshire Circus performers, a free Leeds Bike Mill mechanic, a BikeRegister pop-up, Connecting Leeds and Clean Air Leeds.
Zero Carbon Headingley will also be hosting a Car Free Street Fair along North Lane, Headingley on 19 September, 1—4:30pm.
The World Car Free Day events in Headingley and the city centre will showcase what is possible when roads are closed to traffic. The Streets for People toolkit makes it easy for any resident to close their road temporarily at any time of year.
To download the Streets for People toolkit, visit www.leeds.gov.uk/streetsforpeople
Visit Cookridge Street on Wednesday 22 September, 10am – 3pm.
Councillor Helen Hayden, executive member for infrastructure and climate said:
"One of the best things about living in Leeds is the support and togetherness of our many communities, especially over the last two years.

"Whether organised to celebrate a bank holiday, religious celebration, or another occasion, community events help bring people together.

"That's why we're really pleased to launch the new Streets for People toolkit, making it really simple for neighbours to come together and organise a temporary event on their street.
"We're excited to see how the new toolkit will be used, helping to demonstrate how our streets can be used as spaces for people, not just cars, supporting our wider Connecting Leeds vision."
Matthew Hill, Zero Carbon Headingley said:
"We want people to experience being in the centre of Headingley without having to put up with the noise and pollution from traffic. We're having stalls from a range of environmental groups, as well as eco-friendly arts and crafts, activities for children, food and live music."
Kirsty Jeffers, Leeds resident said:
"Following on from lockdown, coming together to meet in person and use the road as a Play Street has really enhanced community spirit. Creating the opportunity to get to know each other better has been a real benefit to our street and everybody comes out to have a chat and get involved."
ENDS
For media enquiries contact: