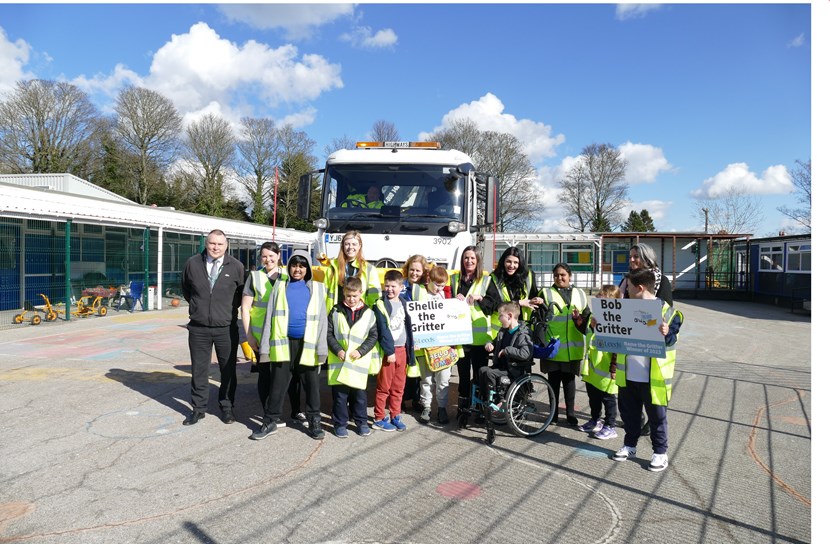 09 Mar 2023
New names for council gritter lorries unveiled
Meet Gertie, Nicole Saltslinger, Usain Salt, and Bob. These are just some of the new names for the Leeds City Council gritter fleet suggested by school children from across the area.
The names for 12 of the council's 30 gritting lorries, which work around the clock during the snow and freezing weather this winter, were suggested by local school children. The names were unveiled yesterday (Wednesday 8 March).
The council is visiting all the eight schools that provided winning entries to reward the children with special gift prizes and the chance to see the gritters and how they work.
A student from Jack Clark school in Leeds was the first prize winner of the competition. The student suggested the name 'Gertie the Gritter', and he got to meet the newly branded Gertie vehicle in real life at the winning celebration.
The full list of new gritter names chosen by the judging panel of council officers were:
Gertie
Nicole Saltslinger
Bob
Magical Mo
Shellie
Usain Salt
Salter Clause
Blizzer
Greta
Annabell
Snow patrol
In total the council received 57 name suggestions picked from across Leeds schools, with the winning entries coming from these schools:
Crossley Street Primary, Wetherby
Ingram Road Primary, Holbeck
Lawns Park Primary, Old Farnley
Jack Clark, Roundhay
John Jamieson, Roundhay
Holy Rosary, Chapeltown
Corpus Christi Primary, Halton Moor
St Francis of Assisi Primary
The council has 30 gritting vehicles to ensure Leeds' main roads are safe for residents every winter. The vehicles are on call every 24 hours, seven days a week, from October to late spring, and on average, collectively drive 51,200 miles every winter period (which equates to driving around the worlds circumference twice). The gritter crews are working hard over the winter period and on standby for poor weather.
Last year the council launched a live gritter tracker map where residents can view gritting vehicles in real-time, the nearest grit bins, and recently gritted roads in the last 12 to 24 hours (Gritter Tracker (arcgis.com)). The newly named vehicles will be added soon and residents will be able to see and track online the whereabouts of the gritters. These changes are helping raise awareness about the important work these teams do, to keep our roads safe and accessible, especially at this time of year.
Councillor Helen Hayden, Leeds City Council's executive member for infrastructure and climate, said:
"I've enjoyed presenting some of the winners of our 'Name the Gritter' competition. I particularly liked Bob and Nicole Saltslinger names suggested. I'd like to thank all the children from schools across Leeds, who provided some really creative names for our winter service gritters.
"The council's highways team ensure Leeds roads are safe and clear during the snow and freezing temperatures every year, and now looking forward to see some of the named gritters helping ensure residents can get around safely this winter."
For media enquiries contact: