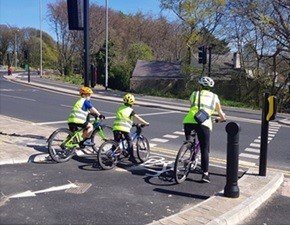 06 May 2020
New measures to support social distancing for people walking and cycling in Leeds
Leeds City Council is implementing new social distancing measures to support cycling and walking to protect public health across the city.
As part of the council's response to Covid-19 and the possibility of the government lifting some restrictions in the coming weeks, the council is taking action to help the public stay safe when walking or cycling.

Building on the permanent schemes already underway on The Headrow, Cookridge Street and Park Row, temporary pavement widening is to be carried out at locations including: Mill Hill, Call Lane, New York Street, Upper Briggate, St Paul's Street and Great George Street.

Mill Hill will be the first of these schemes rolled out this week and the others implemented over the next few weeks. Mitigation measures have also been put in place to maintain a four-metre wide pathway for people to safely pass along one side of the existing construction works on The Headrow.
Works to bring forward the introduction of the 20mph zone around the city centre have seen the first signs installed last week.
Many residents have commented on the benefit of seeing less polluting vehicles and traffic on our roads during lockdown and there has been a significant reduction in air pollution and an increase in people walking and cycling.
Outside of the city centre, to support a demand for increased cycling, one of the first new measures the council will take is to implement a temporary new segregated cycle lane along the A65. This route has already seen a 13% increase in cycling in recent years.
In addition, the council has also recently completed works on the Outer Ring Road in the North East of the city creating the first stretch of an orbital walking and cycling route. With improved crossing points at junctions including Moortown roundabout, extending to Roundhay on the East Leeds Orbital Route, which has been well used by local residents of all ages during lockdown.
Building on this work, measures are being drawn up to temporarily extend pathways in local centres across the district to enable social distancing as people access local shops, schools and will be shared with local ward councillors for comment before wider circulation to the public.
An interactive "commonplace" portal is being established so the council can share details of planned measures with the public and enable residents to play their part in making suggestions to improve social distancing and active travel, on main roads, in their local neighbourhoods and around schools.
Schools that participated in our Clean Air Day events last year will also be the first invited to work with us on creating safer spaces around their schools to promote children walking, scooting and cycling on their return to school.
Councillor Lisa Mulherin, Leeds City Council's executive member for climate change, transport and sustainable development, said:
"When the lockdown starts to ease, it's essential we can make it as safe as possible for people to get back out and about around the city and in their local neighbourhoods. Re-thinking road space to allow for wider footways will be essential for people accessing workplaces, schools and essential facilities, and these measures will play an important part in getting the city safely up and running again.
"We have been speaking to other major employers in the city about staggering returns to work and maintaining some element of working from home in order to facilitate social distancing and making the number of people returning to the city centre at one time manageable.

"We have identified some immediate temporary steps which where appropriate may become permanent. As we ease out of the lockdown, prioritising walking and cycling, where possible can contribute to lowering our carbon footprint, maintaining improvements in air quality and improving the health of our residents.
"Over the last few weeks people have seen the benefits of a less car dominated society and we want to encourage this more. Enabling safe access to shops and business premises in the city and our local centres, is a key part of our city's social and economic recovery.

"We are also keen to hear from the public and will soon be sharing ways in which residents can offer their suggestions, to look at other areas around schools, main roads and neighbourhoods."
For media enquiries contact: