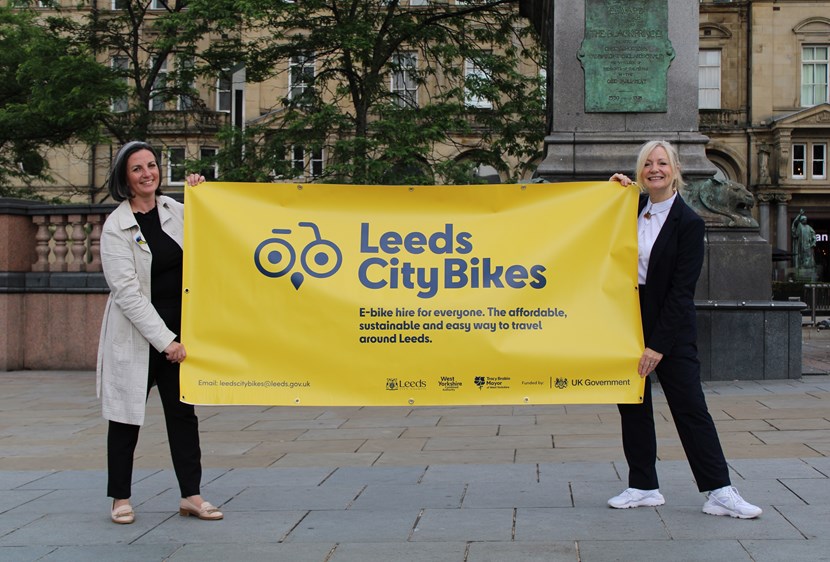 22 Sep 2022
Leeds e-bike hire scheme moves a step closer
The arrival of Leeds's first public e-bike hire scheme has moved a step closer today (Thursday 22 September) with potential operators being invited to bid for the contract.
The scheme, which is due to launch next year, will initially see e-bikes for hire at docking stations in the centre and along key routes, before expanding to other areas of the city.
The aim is to enable more people to switch to cycling for shorter journeys, with tariffs comparable to public transport fares.
It has been made possible thanks to funding secured through the West Yorkshire Mayoral devolution deal in partnership with Leeds City Council.
Subject to further funding, it is hoped the Leeds e-bike hire scheme is the first of many to be rolled out across West Yorkshire in the future.
Tracy Brabin, Mayor of West Yorkshire, said:
"I'm delighted to bring this electric bike hire to our region.
"We want to grow our economy, connect people with opportunities and tackle the climate emergency.
"We need a reliable transport system to do this and both cycling and walking have a vital role to play."
The Mayor will be visiting organisations at the forefront of accessible cycling to learn from the experts how the Combined Authority, in partnership with others, can build on the work already underway to ensure everyone has access to the same opportunities.
The tender publication, which has been released under the trademark name 'Leeds City Bikes', seeks applications from experienced bike hire providers to deliver and operate the service.
Councillor Helen Hayden, executive member for infrastructure and climate said:

"We want Leeds to be a city where you don't need to own car and a key part of that is expanding and supporting our cycling network. Cycling is a great way to travel for short journeys, as well as long, and this proposal will make it easier for people to make that change.
"Leeds City Bikes will help promote active travel as viable transport alternative in Leeds. We'd hope to attract use from a wide range of users such as commuters, students and residents who want to make eco-conscious choices for the 'final mile' of their journey.
"E-bikes are a fun and easy way to get around and will help promote a healthier lifestyle away from private vehicles. The fully electric service shows Leeds means business in terms of providing the best quality public service and signals investment in the city.
"We are looking forward to working with colleagues across the region to develop a West Yorkshire-wide hire network.
"The Connecting Leeds Transport Strategy sets out the reasons for, and benefits of, increasing cycling in Leeds and is vital to meet our pledge for Leeds to become carbon neutral by 2030."
Peter Sheaf, Chair of Leeds Cycling Campaign, said:
"E-bikes are opening up cycling to a new audience - people who may never have considered cycling to work, to the shops or for leisure, and that's something to be celebrated.
"We're excited about the plans for an e-bike hire scheme in Leeds and look forward to seeing more people reaping the benefits of cycling around the city."
The scheme is being funded by the West Yorkshire Combined Authority through the Transforming Cities Fund programme, which is aimed at making it easier for people to walk, cycle and use public transport.
More information about Leeds City Bikes
The 'Leeds City Bikes' identity was developed through focus groups with members of the public and it was chosen for doing 'what it says on the tin'.
Alongside the name, a logo was devised using blue and yellow and the three owls on Leeds City Council's coat of arms.
E-bikes are helping more people reap the rewards of cycling and the scheme will enable residents, students, workers and visitors make the most of Leeds's growing cycling network.
The Council and the Combined Authority will be working closely with accessibility groups to ensure as many people as possible can access the service.
For media enquiries contact: