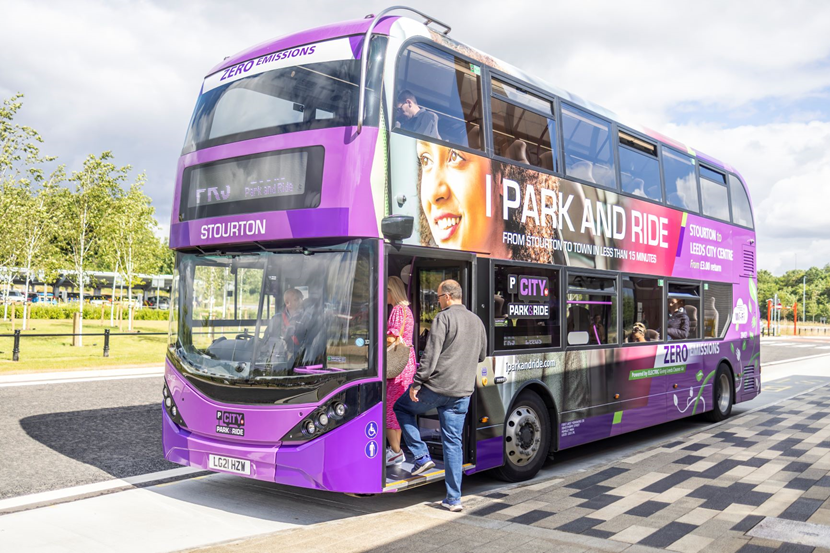 01 Feb 2023
Leeds City Council's executive board to discuss progress on the Connecting Leeds transport strategy and completion of the Leeds Public Transport Investment Programme
Senior councillors are to discuss how the Connecting Leeds transport strategy actions and the successful delivery of the public transport investment are transforming travel across the area.
Next Wednesday's (8 February) Executive Board meeting is to hear how a record amount of work has been completed under the banner of the Connecting Leeds transport strategy and plan in the year since it was approved by councillors.
The vision for Connecting Leeds is to deliver transformational change in the transport network and connectivity across Leeds and the wider region, helping to bring people, places, jobs, learning and leisure closer together. This was to be achieved through improvements to road, rail, bus, park, and ride, cycling and walking services and infrastructure, reducing congestion, and improving air quality and accessibility.
A key part of this transport strategy is to increase the use of public transport, which contributes to carbon reduction by encouraging modal shift away from the private car and supporting inclusive growth by making it easier to access education, employment, and public services.
Alongside this, the Leeds Public Transport Investment Programme, an unprecedented £270 million investment into the transport network concluded, after four years of transformative works, in partnership with the West Yorkshire Combined Authority, bus operators and other transport stakeholders. This is delivering significant improvements to the bus network, enhanced facilities for pedestrians and cyclists and transformed the public realm.
A video has been produced called 'A better-connected Leeds' to highlight the transformation that's taken place: https://www.youtube.com/watch?v=PbOnCY4MDAI
This includes:
Construction of welcoming gateways accessing the city along Park Row, the Headrow, the Corn Exchange and Meadow Lane have transformed these areas – making them more appealing entrances for visitors and residents. They've improved bus reliability, provided safe cycle facilities, and enhanced public spaces including Cookridge Street and the first phase of Aire Park.
New and expanded park & ride facilities including a national award winning Stourton park and ride site with 1,200 spaces, expansion of Elland Road and Temple Green, totalling an extra 2,100 parking spaces.
Improvements along two key corridors on the A61 south and A647 to reduce bus journey times and improve service reliability. Other interventions implemented along corridors include: Alwoodley to Leeds (A61N) Harewood junction and Wigton Lane signal upgrades, A61 Harrogate Road, Potternewton Lane, Holt Lane, Adel (A660) with signal upgrades along the route.
Progress on the transport strategy action plan has also seen other key infrastructure and policy successes:
Safe Roads Vision Zero 2040 strategy – the council formally adopting the vision zero approach and committed to an ambition that by 2040 no one will be killed or suffer serious injuries on roads in Leeds.
Streetscape road space reallocation policy – this prioritises space on our streets for sustainable transport. It will be used by all scheme designers, to ensure the principles of the transport strategy are embedded on our streets.
Regent Street Bridge − the new flyover was completed in summer 2022 after two years of work through the covid pandemic.
Leeds Park & Ride − Extensions to the sites at Temple Green (plus 388 spaces, with capacity to 1388 spaces) and Elland Road (plus 570 spaces expansion with capacity to 1358 spaces) in addition to the new award winning Stourton site (1,200 spaces), with solar power generation and electric buses, has increased the capacity to almost 4,000 spaces. Patronage levels continue to grow post pandemic, and the service continues to get excellent customer feedback.
East Leeds Orbital Route – completed the biggest infrastructure project in over half a century, facilitating the East Leeds Extension, to create a major strategic growth area for the city. The scheme provides 7km of dual carriageway and 14km of dedicated cycleways, pedestrian, and equestrian pathways, as well as specially designed access points to improve connectivity to surrounding areas.
Railway stations – the new White Rose Station is on site and development work continues to be progressed by the West Yorkshire Combined Authority and Network Rail for new stations at Thorpe Park and Leeds Bradford Airport Parkway.
Zero emission delivery robots – In November last year, a three-month trial started with Starship Technologies to provide a new and innovative last mile delivery service using zero emission autonomous personal delivery droids.
Cycling routes – the city centre cycle network continues to expand with the western gateway scheme in construction. Improvements on Crown Point Bridge and key links in the south of the city centre from Dewsbury Road to Neville Street, follow shortly. Funding is secured to continue this network expansion.
City centre works – Construction is ongoing at Armley Gyratory, City Square, Crown Point Road, and the Leeds Station Gateway scheme. The Armley improvements complements the work by National Highways on the M621 and follows successful completion of Regent Street Bridge to provide appropriate routes for traffic around the city centre. Progress on the City Square highways works is shown in the video (below) with completion planned for summer 2023.
The transport strategy action plan has ambitious targets for modal shift to achieve our goal to become carbon neutral city by 2030 and vision of being a city where you don't need a car. The table shows the increases needed in the percentage use of each mode, to meet our 2030 targets. This simply means carbon emission reductions are required through reducing the distances travelled by car and increases in other modes like walking and cycling which are carbon free alternatives.
To meet these 2030 carbon targets and ambition outlined in the transport strategy, there remains a significant funding gap. Funding is needed both for ongoing maintenance and to deliver new key infrastructure programmes to facilitate transformational mode shift to active travel and public transport. Several new funding opportunities have become available like the City Region Sustainable Transport Settlements (CRSTS) has given Leeds, some guaranteed funding packages until 2026/27 financial year.
Councillor Helen Hayden, executive member for infrastructure and climate, said:
"In 2016, we started our biggest-ever transport conversation in which over 8,000 people told us what's important to them and for Leeds. After working together in partnership and completing this unprecedented number of projects, the Connecting Leeds Public Transport Investment Programme has been a challenge to complete within a very constrained timeline, a global pandemic, and recently significant inflationary pressures. Not only has this investment been delivered on time and on budget, but it has provided a real alternative to cars, which will reduce air pollution. We have also created beautiful, green spaces that everyone can enjoy.
"In such a short space of time, I'm delighted and proud to have experienced the completion of so many schemes across Leeds – from the UK's first fully solar powered Stourton park and ride site to the wider pavements and bus priorities along the Headrow. With the fantastic new urban realm spaces around the Corn Exchange Gateway scheme. And the re-opening of Regent Street Bridge, a complex project delivered in such challenging period. Everyone who has worked on this programme should be very proud of what has been achieved so far.
"But there's still much more work to do, as seen by our works at Armley Gyratory, City Square and the wider city centre, and we readily acknowledge that although such transformative changes will have an extremely positive impact in the long-term at the moment they are causing disruption. We thank everyone for their patience as we work towards transforming transport in our city."
A video about the update of work on City Square, January 2023.
Update on Leeds City Square - Connecting Leeds highways works - January 2023 - YouTube
For media enquiries contact: