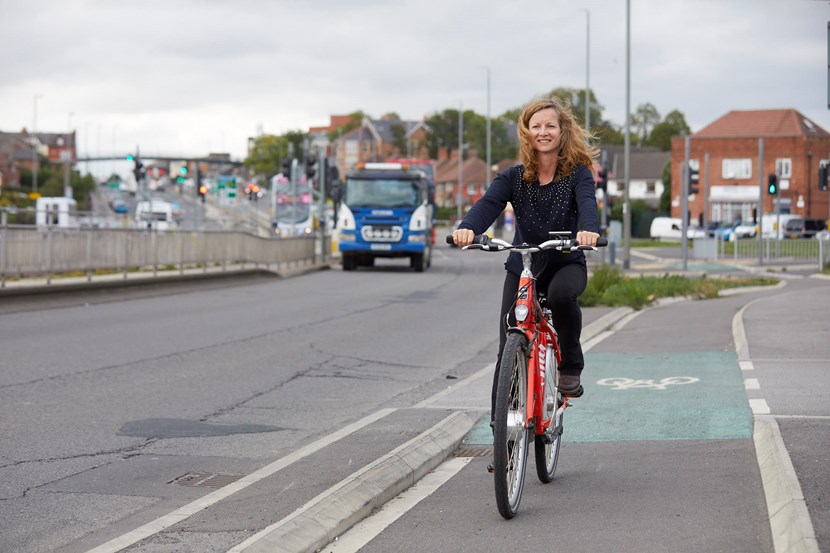 26 Jan 2021
Have your say on plans for £7.06m of new cycling routes across Leeds
People are being asked for their views on plans for £7.06 million of new cycling routes across Leeds, as part of Leeds City Council's plans aimed to encourage more people to travel by bike, in partnership with the West Yorkshire Combined Authority.
The new plans add 7kms of cycle lanes, including 3.2kms of segregated cycling to the Leeds city centre cycle network across five separate schemes. Together, they will increase the length of continuous cycling infrastructure by linking up and filling in gaps to the existing and planned cycle network. The aim is to improve the connectivity to the city centre and access of the city-wide cycle network.
These schemes will also improve cycle access to Leeds railway station, enabling people to extend their trips by train across West Yorkshire and shorter trips within Leeds. Plus they will help encourage more trips to be made within the city centre, and surrounding areas.
The five schemes included (and shown on the map):
Western Gateway: Kirkstall Road to Wellington Street (A65) and St Pauls Street. Completes connectivity between existing facilities on the A65 with the segregated cycle routes on Wellington Street.
Southern Gateway: Neville Street and Bishopgate Street, with Dark Neville Street and Sovereign Street. Links the crossing of the River Aire to Leeds station and onwards connectivity to City Square. Will join-up the station and its new cycle hub, the canal towpath and on to Elland Road.
Eastern Gateway: Lady Lane, Templar Street and Bridge Street. Links with existing high-quality cycling provision on A61 Regent Street to the city centre via the Headrow Gateway scheme.
Crown Point Bridge Gateway: Black Bull Street and Crown Point Road. A link over the River Aire, in the south east of the city. Provides connectivity with the planned new cycle facilities on the A61 Hunslet Lane and existing cycle routes on Kirkgate and Duke Street.
Holbeck Connector: Whitehall Road to Holbeck. This links communities in Holbeck to the city centre and the River Aire crossing.
Councillor Lisa Mulherin, Leeds City Council's executive member for climate change, transport and sustainable development, said:
"I'm delighted to see these new plans to improve the cycling connectivity across the city centre. We're keen to see that every new piece of segregated cycleway in Leeds moves us nearer to the 500 miles of cycle network we want to see across the city.
"These new routes play a major part in our long-term Connecting Leeds cycling and transport ambition to provide safer and better connected routes. To enable and encourage more people to make the switch to cycling.
"As we begin to look ahead to recovery from the COVID-19 pandemic and renew our focus on tackling the climate emergency and improving our health and wellbeing, every one of us needs to play our part in supporting the shift to sustainable transport and away from over-reliance on individual private cars to public transport, walking, cycling, car clubs and demand responsive transport.
"I look forward to people having their say on these proposals, which is part of delivering a better, safer, better-connected and more accessible cycle network."
Councillor Kim Groves, Chair of the West Yorkshire Combined Authority's Transport Committee, said:
"We are pleased to be working in partnership with Leeds City Council to deliver these important schemes, which will make it easier for people to travel by bike.
"Many of us have embraced cycling and walking throughout the pandemic and it is important we continue to do so. Enabling increasing numbers of us to travel by bike and on foot is more important than ever, not only as we look to address the health, transport and economic challenges created by COVID-19, but also in helping us achieve our aim of becoming a net zero carbon economy by 2038.
"From connecting people across our region, to reducing air pollution and congestion, and combatting physical inactivity and obesity, we know getting more people cycling and walking has a vital role to play in making West Yorkshire a great place to live and work."
Between now and 21 February, people are encouraged to have their say online and to view all the plans via the Combined Authority's Your Voice website (https://www.yourvoice.westyorks-ca.gov.uk/leeds-ccci)
Subject to the necessary approvals, construction is expected to start in spring 2021 and to be completed by March 2023.
The schemes are being delivered through the Leeds City Region Transforming Cities Fund (TCF) - a major new programme of transport infrastructure investment aimed at providing viable alternatives to car journeys.
It is estimated the programme will improve journeys by bus, rail, bike and on foot for up to 1.5 million people, take up to 12 million car trips per year off our roads and reduce CO2 emissions from car travel by up to 15,000 tonnes by 2036.
ENDS
For media enquiries contact: