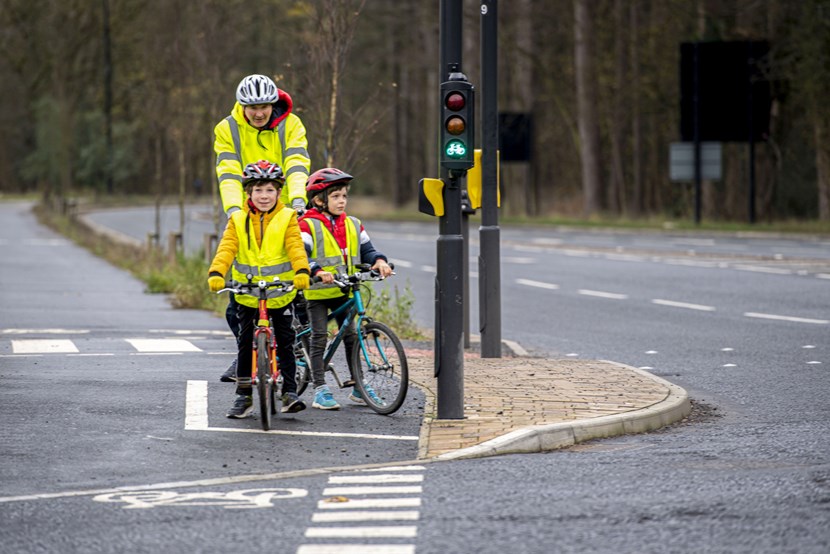 17 May 2021
Cycling video shows local people using new cycling infrastructure along East Leeds Orbital Route
A new Connecting Leeds film shows how Leeds locals are using new city cycling infrastructure linking North Leeds to East Leeds.


The East Leeds Orbital Route (ELOR) scheme along with other funding has delivered substantial cycling infrastructure from King Lane (North West) to just outside where the new ELOR will connect to the existing A6120 Outer Ring Road (Redhall).
The volunteers who appear in the new video are all local people who use their bikes for everyday activities such as shopping, school drop offs, and commuting. Some were new to cycling at the start of the Covid-19 pandemic and decided to try cycling due to lower levels of traffic during lockdown. The segregated infrastructure shown in the film at Moortown roundabout offers safe crossing points away from motor vehicles.
Overall an additional 14kms ELOR scheme introduces new pedestrian, equestrian and cycling infrastructure to connect communities of North Leeds to East Leeds, linking into the new network at Redhall and run all the way to Manston Lane (East).

Cycle infrastructure in the area will be improved by connecting existing cycling routes and the creation of segregated cycle lanes. Pedestrians will also benefit from new walking routes and safer crossings. All of which is a bid to make sustainable travel more appealing by improving public transport, walking and cycling connections and in turn contributing towards tackling the climate emergency.
The project is now in the final phase with the construction of a 7km route linking the existing ring road at Red Hall to Thorpe Park Junction 46 of the M1, a carriageway with pedestrian, equestrian and cycling infrastructure.

The scheme is set to complete autumn 2022. For more detailed plans, visit the website.

Executive board member for climate change, transport and sustainable development, Councillor Helen Hayden, said:

"It's great to see such positive feedback from people on their bikes across this scheme. We know secure and safe cycle lanes can encourage more and more people to get on their bikes.

"We're planning to create an extra 100kms of cycling over the short-term but we have ambition for 800kms (500 miles) in total to create a comprehensive cycle network.
"Once complete the ELOR cycle, pedestrian and equestrian infrastructure will offer a safe, family friendly transport option for thousands of Leeds residents living in the East of Leeds.
"The council continues to work with the community, landowners and developers to ensure the development will enrich their active travel options. 75% of the scheme's footprint will be landscaping, public open spaces and will see enhancements to the local environment.
"It's important the council continues to provide good quality, segregated cycling, walking and equestrian infrastructure for the benefit of the people of Leeds. For short journeys, choosing to walk or cycle instead of driving will reduce congestion on the transport network, remove carbon emissions and promote health and wellbeing for Leeds residents."

The ELOR scheme is financed through the WYCA's West Yorkshire-plus Transport Fund which is part of the Leeds City Region Growth Deal. A £1 billion package of government investment through West Yorkshire Combined Authority and Leeds City Region Enterprise Partnership (LEP) to accelerate growth and create jobs across the Leeds City Region.

In addition to new active travel infrastructure, the ELOR scheme will plant approximately 35,000 trees to support Leeds City Council's goal of becoming carbon neutral by 2030.


ENDS
For media enquiries contact: