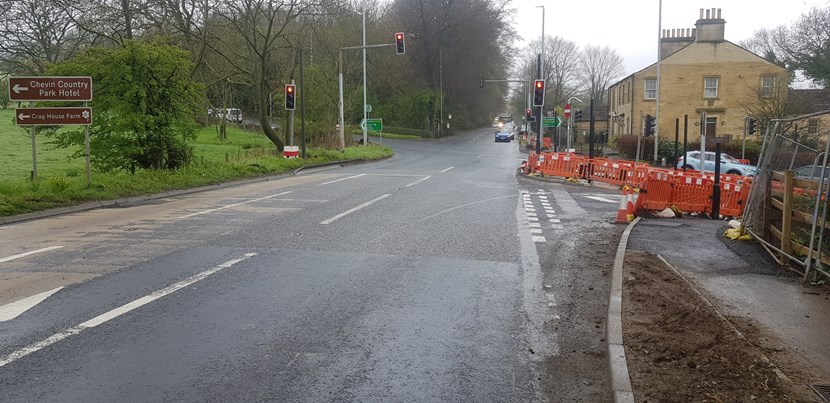 06 Jul 2023
Plan ahead: Closures at Dyneley Arms Junction and Fink Hill A6120 for road surfacing
Connecting Leeds will begin overnight road surfacing works at the Dyneley Arms junction for six nights (excluding weekends) starting on Monday 10 July to Monday 17 July, between 8pm and 5.30am.
Due to the high volume of day-time traffic using the junction and the need for road closures, this work can only be carried out safely overnight. The A658 Pool Bank New Road will be closed at both sides of the A660 Leeds Road and signed diversion routes will be in place. The A660 Leeds Road will remain open to through traffic and footpaths will remain open.
The Dyneley Arms works are due to then complete week commencing 24 July after engineers switch over to the new smart signalling traffic lights.
Leeds City Council, through its Connecting Leeds transport strategy, is proactively looking to tackle potential congestion hot spots, which could be improved to relieve congestion, give priority to public transport, and deliver safe and efficient facilities for all road users. The scheme is part of the West Yorkshire wide corridor improvement programme. The investment of £2.4million for the works is funded by the West Yorkshire Combined Authority.
A6120 Broadway closure for carriageway resurfacing works from Friday 14 July to Monday 17 July 2023
Following the completion of the first of phase of resurfacing works between Horsforth roundabout and the Fink Hill junction earlier this month, the second phase of resurfacing will take place at Fink Hill and Parkside junctions. From 8pm Friday 14 July to 6am Monday 17 July, the A6120 Broadway between Rose Terrace and Horsforth roundabout will close to traffic in both directions. The footways will remain open.
This is the second of three planned weekend closures between July and September to allow for carriageway resurfacing to be completed quickly and with the least possible disruption.
Before the closure there will be advance signage and notices to keep road users informed. Full traffic management will be in place with a diversion and signage for road users to follow.
Leeds City council started construction in November last year to improve connectivity between communities north and south of the ring road, providing new pedestrian crossing facilities and cycle lanes, offering a better junction layout to improve safety, as well as improve congestion for residents and commuters.
To minimise disruption, these road closures and works are planned around other works in the city such as the closure of Harewood Bridge and Dyneley Arms resurfacing, and a fully signed road diversion plan will be in place.
To prepare for these works Leeds visitors, workers and residents are being urged to plan ahead (search Plan Ahead Leeds or visit www.leeds.gov.uk/planahead) before travelling, allowing more time for their journeys and to sign up for regular email updates or follow Connecting Leeds on social media.
Councillor Helen Hayden, Leeds City Council's executive member for sustainable development and infrastructure, said:
"I would like to thank road users for their patience in advance during this disruption at Dyneley Arms and A6120 Broadway (Fink Hill). To help minimise disruption, these road closures and works are planned and co-ordinated around hundreds of other works in the city. This will enable the works at Dyneley to finish ahead of the summer holidays, which will aid traffic as it forms part of the diversion route for the closure to Harewood Bridge on 26 July.
"We would like to urge motorists to please plan their journey in advance, follow the signed diversion and allow a bit of extra time for their travel. We have put together a signed diversion via www.leeds.gov.uk/planahead and again, thank you for your patience."
For media enquiries contact: