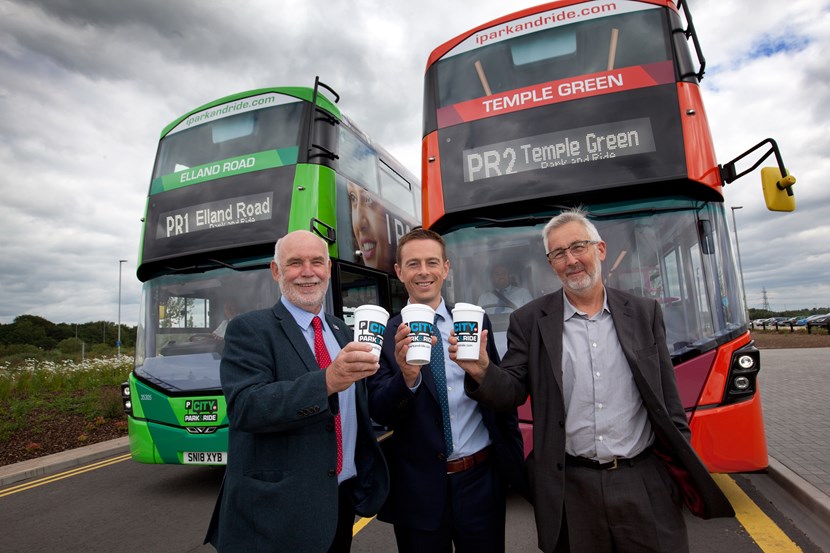 13 Jun 2018
New hybrid electric buses added to successful Leeds park and ride
PRESS RELEASE ISSUED BY FIRST LEEDS AS PART OF CONNECTING LEEDS
Eight new ultra-low emission Hybrid Electric buses are now serving Leeds' hugely successful Elland Road and Temple Green Park and Ride sites.
Reducing air pollution in the city is key and the introduction of these ultra-low emission vehicles will deliver significant fuel and C02 improvements along the Elland Road and Temple Green Park & Ride routes. The new vehicles form part of First Leeds' commitment to invest £71m in 284 new ultra-low emission buses for Leeds by the end of 2020 as part of Connecting Leeds.
The HEV is the latest development from bus manufacturer, WrightBus, which uses a parallel hybrid system that captures braking energy that is then used to help both accelerate the vehicle and to help power its electrical and air systems. Recent trials showed that the overall system achieves a 34 per cent reduction in Carbon Dioxide emissions compared to an average Euro V engine bus of a similar size.
Speaking about the new vehicles, Martin Hirst, Commercial Director at First Leeds, said:
"We're proud to operate the Leeds City Centre Park & Ride services and we hope that today's news will encourage even more people to use our successful park & ride network. Buses are key to tackling congestion and reducing emissions and in fact, a fully-loaded double decker bus can take 75 cars off the road.
"Alongside the introduction of new vehicles, we also offer cashless payment options. All First West Yorkshire vehicles now accept contactless payments, which is part of our aim to make paying for bus travel easier. We look forward to continuing to welcome customers on board our services and would like to encourage people who are continuing to drive into the city centre, to try using the Park & Ride sites."
Cllr Richard Lewis, Executive Member for Regeneration, Transport and Planning at Leeds City Council, said: "Buses are a fundamental and critical element in our plans to become a world class connected city.
"The new fleet of ultra-low emission vehicles will not only contribute to reducing congestion levels, they will also bring about significant improvements in air quality and further support our ambition to be a green city in which to live, work and visit."
Cllr Eric Firth, Deputy Chair of the West Yorkshire Combined Authority Transport Committee said: "The only way we can solve air quality issues is by working together as the Combined Authority, First and Leeds City Council have done to develop park and ride.
"Because they are so popular with passengers, the Elland Road and Temple Green services are already removing over 6,000 car journeys and the pollution and congestion they cause, off of city centre streets.
"And, thanks to the latest hybrid technology, these impressive new ultra-low emission vehicles will continue to transport people quickly, conveniently and comfortably and more cleanly too."
Mark Nodder, Chairman and CEO of Wrights Group, commented: "We are delighted to be working in partnership with First Leeds and the West Yorkshire Combined Authority on this project. The StreetDeck HEV employs our newest and cleanest hybrid electric driveline, coupled with a very fuel-efficient Euro VI engine. This adds up to significantly reduced emissions and better air quality for Leeds."
Buses run into Leeds city centre every 10-15 minutes, with a journey only taking 10 minutes. For more information visit http://www.wymetro.com/parkandride
ENDS
For further information, please contact Fiona Yeadon, Lead PR Manager at First Bus on 0797 050 7783 or email Fiona.Yeadon@firstgroup.com
NOTES TO EDITORS
About FirstGroup
FirstGroup plc is one of the leading transport operators in the UK and North America and our services help to create strong, vibrant and sustainable local economies. During the last year around 2 billion people relied on us to get to works, to education, to visit family and friends and much more and, each day, every one of our 100,000 employees works hard to deliver vitally important services for our passengers.
Our vision is to provide solutions for an increasingly congested world… keeping people moving and communities prospering.
For more information about FirstGroup please visit www.firstgroupplc.com
First Bus
FirstGroup is one of Britain's largest bus operators with around a fifth of bus services outside London. A fleet of some 6,000 buses carries approximately 1.6 million passengers a day in a huge number of communities including eight of the 11 most densely populated towns and cities in the UK. We operate some US-style yellow school buses and have a fleet of coaches available for charter. We also operate the Aircoach network in Ireland.
First West Yorkshire
First West Yorkshire is the largest bus operator in the region. More than 880 buses transport around 350,000 people every day, across West Yorkshire. The company operates from depots in; Hunslet, Bramley, Bradford, Halifax, Todmorden and Huddersfield, and employs more than 2,000 staff.
West Yorkshire Combined Authority
West Yorkshire Combined Authority works with the Leeds City Region Enterprise Partnership to help businesses in our region grow and become more productive.
The Combined Authority works in partnership with local councils and businesses to ensure that everyone in our region benefits from a strong, successful economy and a modern, accessible transport network. By championing the region's interests nationally and internationally, we secure the investment to deliver better transport and housing, help businesses to grow and create jobs.
We want our region to be recognised globally as a strong, successful economy where everyone can build great businesses, careers and lives.
For more information visit www.westyorks-ca.gov.uk.
Connecting Leeds
Connecting Leeds is our ambition to transform travel in Leeds for people who live, work in and visit the city. It features significant investment in bus, rail, road, park and ride, cycling and walking infrastructure, services and facilities including enhanced transport hubs, improved public spaces, low-emissions vehicles and the latest smart travel technology. The strategy aims to improve connectivity with the wider Leeds City Region and at all local, regional, national and international levels, including supporting the growth of Leeds Bradford Airport, the remodelled Leeds Station and high-speed HS2 and Northern Powerhouse Rail services. Connecting Leeds is led by Leeds City Council working with the West Yorkshire Combined Authority, partners and stakeholders including all transport operators in the city and the Department for Transport (DfT).
For the latest information visit www.leeds.gov.uk/connectingleeds or the Twitter account @ConnectingLeeds
For media enquiries contact: