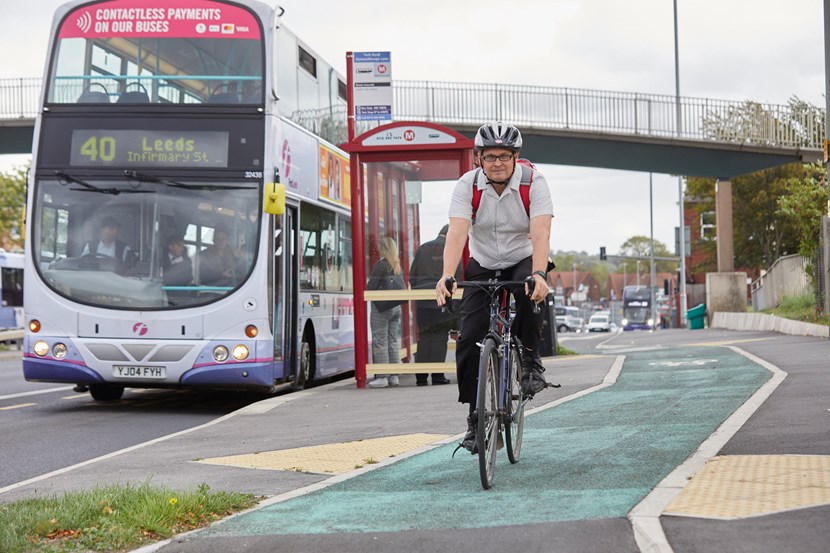 14 Jul 2021
Leeds unveils ambitious air quality strategy to save lives and meet global standards by 2030.
Senior councillors will discuss ambitious proposals for a new strategy to save lives by meeting global standards for clean air next week.
Leeds City Council's proposed new air quality strategy leads the way in its ambition and scope—setting stricter targets than national standards and aiming to tackle emissions from homes, industry and agriculture as well as transport.
Electric bin lorries, a public bike sharing scheme, enhanced enforcement of industrial emissions, citywide engagement, and planning policies requiring greener and better ventilated buildings would all be introduced as part of the strategy.
Air pollution is one of the biggest threats to public health in the UK. Consistent exposure to it causes breathing difficulties and other long-term lung and heart conditions. Nationally, it has been estimated to cause up to 36,000 early deaths every year.
Thanks to a citywide effort to switch to cleaner vehicles, air quality in Leeds has improved significantly in recent years and is now generally cleaner and healthier than many other UK cities. However continuing to reduce air pollution levels could save even more lives.
While road transport remains the main source of outdoor air pollution in Leeds, it is not the only one. According to the government, domestic burning of stoves and open fires is now the biggest source of particulate matter emissions—the type of pollution that Leeds needs to reduce to meet its new targets.
The proposed strategy aims to further protect everyone in Leeds from dirty air by eliminating the need for the city's remaining Air Quality Management Areas (AQMAs) and achieving the stricter World Health Organisation (WHO) targets for air quality citywide by 2030.
It proposes an extensive and wide-ranging action plan designed to tackle pollutant emissions from homes, transport, industry and agriculture. At a glance, it includes measures to:


Clean transport emissions by supporting the transition to zero emission vehicles and making buses better, e.g. introducing electric bin lorries, extending the popular EV Trials scheme and continuing to deliver the Connecting Leeds programme of transport infrastructure improvements.


Promote pollution-free and active ways to travel, e.g. introducing a public bike share scheme, working with schools and businesses to promote active travel and continuing to improve the city's cycling infrastructure as part of the Connecting Leeds programme.


Reduce emissions from homes and raise awareness of indoor air pollution, e.g. requiring new developments to be greener and better ventilated, installing energy efficiency measures in existing homes and raising awareness of wood burners and other indoor sources of air pollution.


Better understand industrial and agricultural sources of emissions so that these can be reduced through engagement, regulation and enforcement.


Work in partnership with the health and care sector to ensure that the most vulnerable residents understand how best to protect themselves from pollutants.
Last year, the Confederation of British Industry estimated that—if all local authorities were to adopt and achieve the WHO air quality targets—the UK economy could gain £1.6 billion as a result of fewer deaths, fewer work absences and increased productivity.
By taking action to achieve the WHO targets for air quality, the proposed strategy is expected to save lives but also benefit the city's economy, compliment efforts to combat climate change and help level up the most disadvantaged communities that are most exposed and vulnerable to polluted air.
Councillor Helen Hayden, Leeds City Council's executive member with responsibility for air quality, said:
"Leeds' air quality has improved significantly in recent years, thanks to a truly citywide effort, and our city has come a long way since 2015.
"By setting tough—but necessary—targets to meet the World Health Organisation's guidelines for air pollution, our new strategy is one of the most ambitious and wide ranging of any local authority.
"Having already beaten the national targets for air quality, this strategy means Leeds is going further and faster than Government to tackle pollution and protect the health of everyone in Leeds.
Notes for editors
The proposed strategy and action plan can be viewed on the Leeds City Council website.
Leeds has come a long way to improve air quality since it was identified as having illegal levels of air pollution in 2015. Recent improvements have accelerated a long-term trend of declining pollution levels. A chart showing annual average NO2 levels at the Leeds Centre monitoring site since 1993 can be seen below.
Local businesses have rapidly upgraded the majority of buses, lorries, taxi and private hire vehicles since plans for a Clean Air Zone were announced—supported by more than £7.9m of grants and loans distributed by Leeds City Council since 2019. Bus companies previously received £5 million in grants for cleaner buses from the council and West Yorkshire Combined Authority (WYCA). More than 90% of buses and 80% of HGVs in Leeds now use cleaner Euro VI engines, a huge increase from the 3% of buses and 20% of HGVs that did so in 2016.
The scale and speed of Leeds' transition to lower emission vehicles led a joint review by the council and national government to conclude that the planned zone was no longer needed last year.
More than 2,300 of Leeds' licensed taxi and private hire cars are now ultra-low emission vehicles, up from around 1,000 in January 2019.
Since 2016, official vehicle registration data shows that the number of plug-in vehicles in Leeds has increased by fifteen-fold. 14,293 plug-in vehicles are now registered in Leeds. The council itself operates more than 320 electric vehicles, more than any other local authority.
The council's own public charge points currently power more than 10,500 miles of zero emission driving every day. The council has worked in partnership with ENGIE and the West Yorkshire Combined Authority to install 25 rapid electric vehicle charge points across Leeds—capable of providing an 80% charge typically in under an hour.
Businesses, charities and public sector organisations can still apply for the council's popular EV Trials scheme, launched in partnership with Highways England to promote the adoption of electric vehicles by enabling businesses and charities to 'try before they buy' for up to two months. 52 organisations have participated in the scheme to date replacing more than 120,000 petrol or diesel business miles with zero emission miles using trialled vans. After taking part in the scheme, 54% of participating organisations say that they would consider purchasing or leasing one or more electric vehicles.
The first fully solar powered park and ride site is currently under construction and is set to open at Stourton later this summer. It will be provided by a fully electric bus service.
Since 2019, Leeds' planning policy has required new developments with parking to make provision for electric charging points for at least 10% of spaces.
For media enquiries contact: