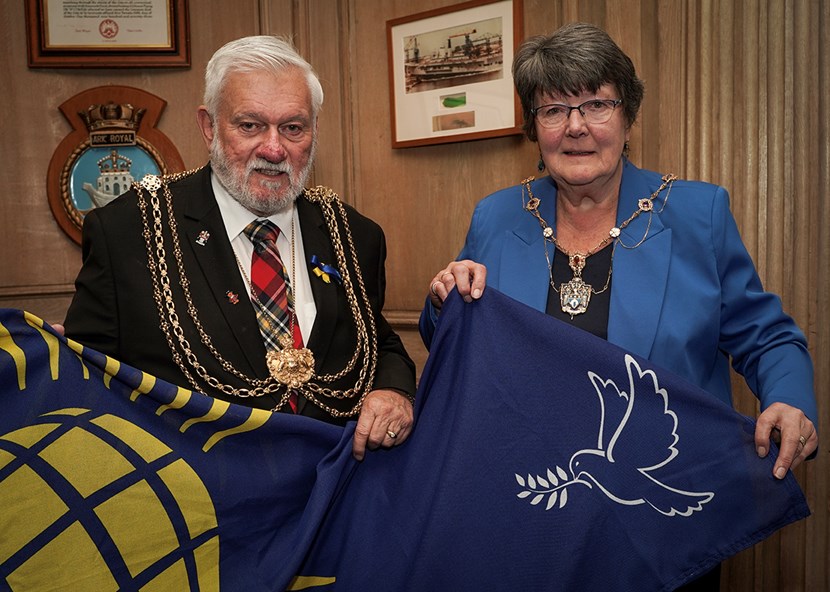 09 Mar 2023
Leeds to hoist Flag of Peace to mark the tenth anniversary of the Charter of the Commonwealth
A new Flag of Peace will be raised in Leeds on Commonwealth Day, marking the tenth anniversary of the signing of the Charter of the Commonwealth.
Members of the public are invited to join the Lord Mayor of Leeds, Councillor Robert Gettings, Deputy Lieutenant of West Yorkshire, Mr Paul Lawrence DL, and the High Sheriff of West Yorkshire, Mrs Susan Baker MBE JP DL, on the steps of the Civic Hall for the 10:45 am ceremony on Monday 13 March.
The Flag for Peace, which features a white dove of peace in the bottom right-hand corner, will be blessed by the Rector of Leeds, Reverend Paul Maybury.
Music for the ceremony will be provided by bugler Sam Fisher, playing the Fanfare. Sam Westerman from the City of Leeds Pipe Band will play Highland Cathedral, a favourite of the Queen Mother.
Lord Mayor of Leeds, Councillor Robert W Gettings MBE JP said: "The raising of the Flag of Peace by 74 cities across the UK, not only marks the tenth anniversary of the Commonwealth charter, but also the shared values and principles that we celebrate each Commonwealth Day.
"These values include cooperation in economic and social development, diversity, respect, friendship, and the promotion of peace around the world.
"I hope the people of Leeds will join me on Monday to reflect on our hard-won freedoms, the importance of peace in these uncertain times, and to celebrate our friendships within our family of nations."
The annual Commonwealth Day symbolises the UK's commitment to the shared values and principles of the Commonwealth.
The Commonwealth Charter is considered one of the most important documents in the organisation's history. Signed by our late Queen Elizabeth II, the Commonwealth Charter sets out the values and aspirations that unite the Commonwealth's 56 independent countries and the 2.5 billion people who live there.
More information on the Commonwealth Flag of Peace can be found at: https://thecommonwealth.org/news/commonwealth-launches-flag-peace-celebrate-10th-anniversary-charter
For media enquiries contact: