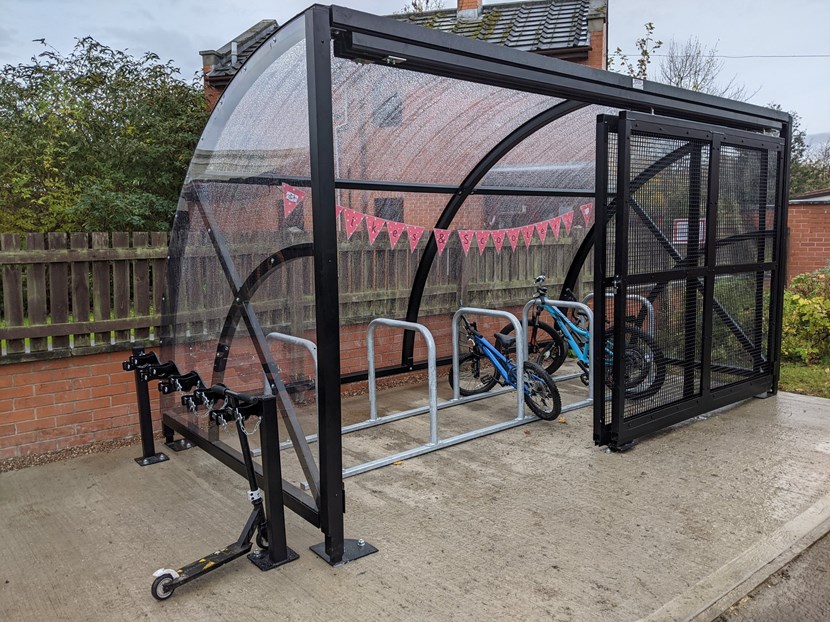 14 Dec 2021
Leeds schools get £100,000 of new bicycle and scooter storage
Nineteen schools across Leeds are receiving new bicycle and scooter storage, in a project worth £100,000.
The schools will gain a total of 162 secure bicycle parking spaces and 200 scooter parking spaces. The project uses active travel funding allocated to Leeds City Council and West Yorkshire Combined Authority from the Department for Transport.
Chapel Allerton Primary School and Armley Park Primary School are the latest schools to benefit from the project. The new storage facility offers greater security and weather protection.
Other schools include Seacroft Grange Primary School, Ebor Gardens Primary Academy, St Bartholomew's C of E Primary School, Lane End Primary School, Hugh Gaitskell Primary School, Low Road Primary School, and Ingram Road Primary School.
The active travel fund supports local authorities to improve cycle and walking infrastructure. This project aims to make it easier for children to use active and sustainable modes of transport to get to school.
Leeds City Council runs a programme of active travel and road safety workshops for schools and community groups. The training develops children's skills and confidence so they can walk, cycle or scoot to school and use the new storage facilities.
These initiatives contribute to the Connecting Leeds transport strategy and help to create a city where you don't need a car.
Councillor Helen Hayden, Leeds City Council executive member for infrastructure and climate, said:
"Walking, cycling and scooting to school are healthier and more sustainable ways to travel so it's great to see new facilities installed at schools all over Leeds.
"If more people cycle or scoot to school, there will be less traffic around the school gates, which will improve air quality for the local community. Studies suggest children who ride their bike or scooter to school are happier and more engaged in the classroom.
"As we continue to develop our green infrastructure and build segregated cycle lanes in Leeds, it's becoming safer for children to ride their bike to school."
Mr Nicholas Sykes, Chapel Allerton Primary School Headteacher said:
"Outdoor Learning and Play' is one of the school's 'Magnificent Seven' ambitions. With the support of Leeds City Council, we have turned what was a dangerous and congested road behind our school into a safer street which is closed to traffic at the beginning and end of each school day.
"The new storage will provide more children with a safe and dry home for their bicycles and scooters and increase the number of children enjoying the physical and mental wellbeing benefits of active travel."
Mrs Emily Caine, Armley Park Primary School Headteacher, said:
"We are really excited about our new bike and scooter storage; we are really grateful to Leeds City Council for giving us this opportunity. The children are now able to bike or scoot to school knowing their bikes or scooters can be stored safely throughout the day.
"This has already increased the number of children coming to school using bikes or scooters and it has only been installed a few weeks. Some parents have also said their child is now asking Santa for a new bike so they can ride it to school!"
If your school, workplace or community organisation needs bicycle and scooter storage, please email ITB@leeds.gov.uk.
To learn more, visit https://connecting-leeds.com
For media enquiries contact: