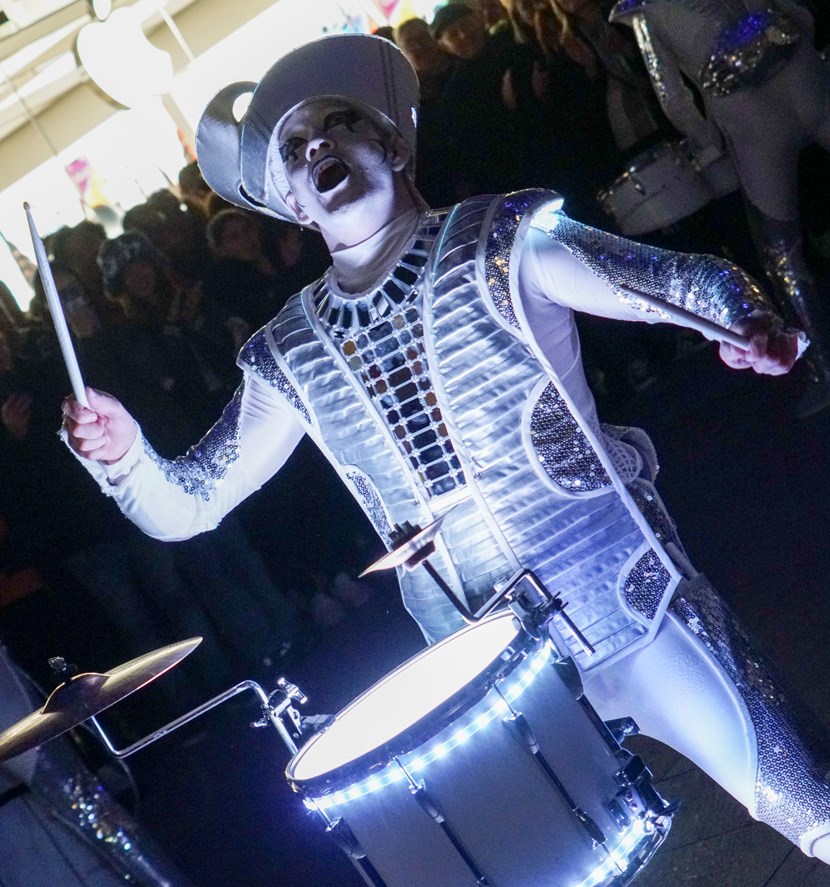 13 Oct 2022
Leeds comes out to play as stunning arts spectacular lights up city
The streets of Leeds were transformed into a spectacular illuminated playground tonight as tens of thousands of people were captivated by one of the country's biggest arts events.
The stunning return of Light Night Leeds saw some of the city's most recognisable buildings and spaces host a programme of 50 jaw-dropping artworks from across the world, each identifying with the theme Playful City.
The first night of the two-night event was aimed at bringing people together and encouraging visitors to interact with the city in a series of new, fun and innovative ways.
Highlights included a jaw-dropping projection on The Queens Hotel entitled Joyride, reinventing the building as a futuristic, digital rollercoaster ride.
At Leeds Civic Hall, visitors got a chance to take control of LUX, a high tech homage to the classic video games of the 1980s, played out across the historic building's impressive façade.
The imposing 172-year-old lifting tower on Wellington Place, once used to hoist wagons from the higher level passenger line at the original Leeds Central railway station, hosted Zauberin des Mondes, a spellbinding modern twist to the tale of Rapunzel made by artists from Leeds's twin city of Lille.
And at Victoria Leeds, a spectacular structure entitled House of Cards saw 128 beautiful light boxes, each taking the form of a playing card, light up in sequence in an eye-catching creation.
Councillor Jonathan Pryor, Leeds City Council's executive member for economy, culture and education, said: "Light Night has once again raised the bar for culture in Leeds, presenting a truly world class arts event which encapsulates the spirit of innovation, creativity and togetherness we have in this amazing city.
"Watching tens of thousands of people and families interact with familiar places and spaces while enjoying spectacular artworks from all across the world is an inspiring sight. As we look ahead to 2023 and our year of culture, it also makes a huge statement about what makes Leeds such a unique and exceptional city."
This year's Light Night is the 18th since the event began, regularly attracting more than 100,000 people to the city centre over its two nights.
Each installation takes place in a series of zones generously sponsored by a local business or organisation.
Light Night will continue tomorrow evening (Oct 14), with a full programme of events available to see throughout.
The Light Night team has also been working to ensure this year's event is as energy efficient as possible, including reducing dependence on generators, using green generators where they can, as well as working with artists to encourage them to use energy efficient equipment in their installations.
For more details, visit: https://www.lightnightleeds.co.uk and follow Light Night Leeds on social media.
ENDS
For media enquiries contact: