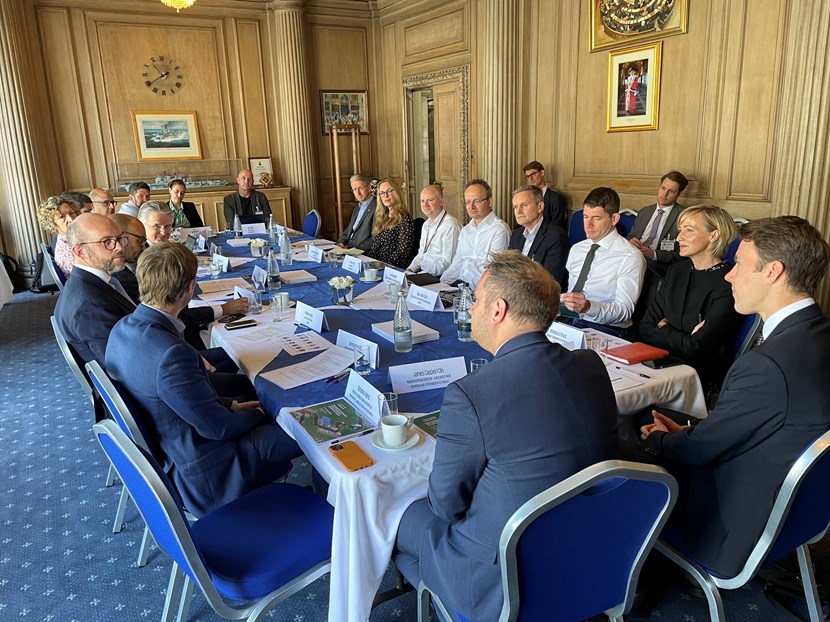 13 Jun 2023
Leeds collaborating with UK business leaders to help unlock green home upgrades
Leeds City Council is working with some of the country's biggest firms to address barriers that prevent households from accessing energy-saving green home upgrades.
The council has been part of a major national partnership, the Local Low Carbon Accelerator (LLCA) initiative, to explore how the public and private sectors can work together to speed the uptake of insulation and other technologies that make homes healthier, more environmentally friendly, and cheaper to live in.
The LLCA was established by four members of the Prime Minister's Business Council: Lloyds Banking Group, Octopus Energy, National Grid and Shell.
As part of the initiative, Leeds developed and shared recommendations that will help other authorities across the country to overcome demand-side barriers and unlock finance for upgrading (or 'retrofitting') residential properties.
Following the conclusion of the LLCA, the council will continue to work with partner organisations including Lloyds Banking Group as part of work to develop a 'one-stop shop' for green home improvements.
On Friday, Leeds City Council CEO Tom Riordan CBE hosted a roundtable discussion, chaired by the Leeds-based UK Infrastructure Bank CEO John Flint, at the Civic Hall to discuss next steps with senior executives from some of the country's biggest finance, housing, and energy companies as well as leaders from government departments and other local authorities.
The partnership also shared insights and lessons learned from Leeds' work with dozens of attendees from across the public and private sectors at an online event following the meeting.
Leeds City Council's involvement in the LLCA initiative supports the aims of its Net Zero Homes Plan, unveiled earlier this year, which set out blueprints for how the local authority could work with partners to install low-carbon heating and tackle heat loss from the city's residential buildings.
Better insulating Leeds' buildings to reduce heat loss has several benefits that include cutting the city's carbon footprint and tackling fuel poverty. One in six Leeds households were classed as living in fuel poverty in 2020, but recent research suggests this figure could now be significantly higher.
Since the Net Zero Homes Plan was announced in March, the council has secured nearly £200,000 from the government's Green Home Finance Accelerator fund to develop a 'property-linked' finance product, in partnership with Arup and Lloyds Banking Group, which will complement plans to launch its one-stop-shop service that will enable local homeowners and landlords to get trusted, tailored advice on the benefits of different green upgrades.
Meanwhile, work to build energy-efficient new social housing and to retrofit existing council homes has continued and an innovative space technology to identify homes leaking the most heat has recently been trialled in Leeds.
Tom Riordan CBE, Chief Executive Officer at Leeds City Council, said:
"Retrofitting homes is a huge opportunity to address the city's three priorities: improved health, zero carbon, and inclusive economic growth.
"As a council, we're investing more than £100 million to help make our own housing stock fit for the future, but to make the fastest progress on net zero and realise the many benefits of retrofit as fully as possible then it is vital that we work in partnership with others on a cross-sector basis.
"Leeds City Council is proud to be part of the national Local Low Carbon Accelerator initiative and we hope this collaborative work will have a positive impact in Leeds and far beyond our city borders."
John Flint, Chief Executive Officer at the UK Infrastructure Bank, which is based in Leeds said:
"The Bank supports local authorities through providing advice to help get infrastructure projects off the ground, and finances projects which support the UK's transition to net zero, create jobs and generate growth. It is vital that the public and private sector work together to overcome the barriers to decarbonising local infrastructure, and it is really positive to see that in action at the local low carbon accelerator in Leeds."
ENDS
Notes for editors:
The LLCA aims to bring together experts from the private and public sectors to identify solutions that will speed up the delivery of essential infrastructure schemes, help reduce carbon emissions and improve energy independence, and ultimately boost jobs and regional growth.
The LLCA report, Delivering jobs and growth through local green infrastructure projects, shows how pilot projects including in Leeds can be successfully scaled and implemented across the country. The programme is also working with West Midlands Combined Authority to find new ways to reduce the cost and time it takes to get vehicle chargers connected to the electricity grid, and Liverpool City Region Combined Authority to support the scalable rollout of zero-emission buses.
Studies have shown that British homes are among the least energy efficient in Europe making them harder to keep at a comfortable temperature and more expensive to heat or cool.
A truncated version of the Net Zero Homes Plan can be read online. The full version is available on request and will be available online in an accessible digital format soon.
New council-secured funding detailed in this release is summarised below (rounded to the nearest £100,000):
£0.2 million from the Department for Energy Security and Net Zero through the 'Green Home Finance Accelerator: Discovery Phase'.
A list of organisations represented at the roundtable event on Friday 9th June 2023 is detailed below:
Leeds City Council
UK Infrastructure Bank
Lloyds Banking Group
Octopus Energy
Shell
National Grid
Royal Borough of Kensington & Chelsea
West Yorkshire Combined Authority
Yorkshire Housing
Homes England
Department for Energy Security & Net Zero
HM Treasury
Cenergist
KPMG
Green Finance Institute
For media enquiries contact: