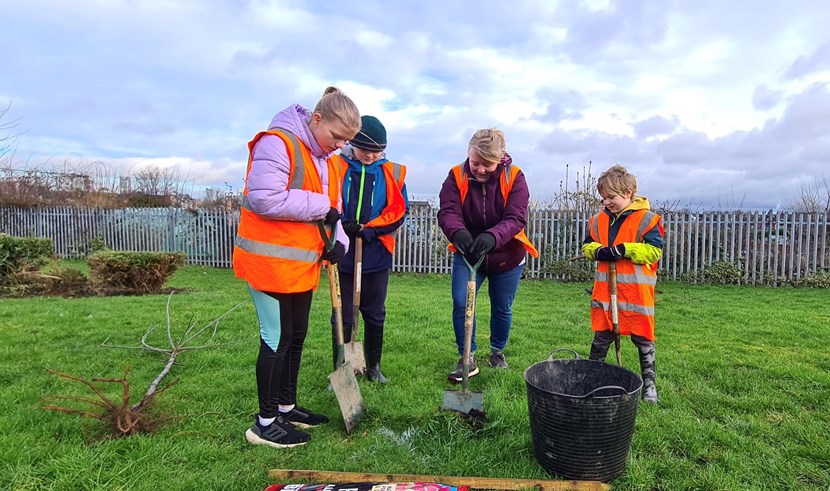 23 Jan 2023
First community trees planted for Armley Gyratory highways scheme
Work has started to plant the first of over 600 trees in the local community as part the Armley Gyratory highways scheme.
A total of 21 fruit trees were planted in Brickfield Park, next to the Lady Pit Lane allotments by volunteers, councillors and organised by Leeds City Council's parks and countryside rangers. This follows 96 trees planted at Hunslet Moor Park and Cross Flatts Park in this planting season.
The council has engaged with local community groups and councillors to develop locations and designs for off-site planting. The ideas for trees and locations were formed from a community request for a communal orchard and planted as part of a community planting day on 14 January.
As part of the wider Armley Gyratory scheme, approximately 220 trees were to be removed to accommodate the new gyratory alignment, road and foot path widening. Tree removal will also provide greater visibility for pedestrians and cyclists travelling through the area. This is important to improve both the safety and personal security of pedestrians and cyclists travelling around the gyratory. The council plans to re-plant new trees at a three to one ratio.
Early last year construction work started to remodel Armley Gyratory. The changes to the gyratory will improve vehicle throughput at the junction and are one component of over £100 million of transformative highways works to remove through traffic' across the city centre, mitigate environmental issues, better connect neighbourhoods, and encourage people to travel on foot or by bike.
Councillor Helen Hayden, Leeds City Council's executive member for infrastructure and climate, said:
"I am thrilled to have been involved in planting the first trees in connection to this major scheme and thanks to all the other volunteers, council officers and their families for helping with this.
"The 600 plus trees which are set to be planted across Armley, Beeston, Holbeck and Hunslet, including 200 next to the gyratory itself aim to have a lasting impact. They will help to reduce carbon, encourage wildlife and act as habitats for many species.
"The gyratory's location constrain planting many more trees there and so we have worked with the communities to identify more suitable locations, such as Brickfield Park. We are also working with local schools to maximise opportunities to plant over 200 more trees within their grounds and other new locations.
"I would like to thank people for their patience while the ongoing works are carried out on the Armley Gyratory and in the city centre. I can't wait to see our ambitious Connecting Leeds plans start to come together later this year."
Councillor Salma Arif, Leeds City Council's executive member for public health and active lifestyles, said:
"I am pleased to see that work to start planting trees on the Armley Gyratory scheme has started. We have an ambitious target in Leeds to plant 5.8million trees over the next 25 years and this new greenery will be so important in capturing carbon, improving air quality and increasing biodiversity along the scheme."
For media enquiries contact: