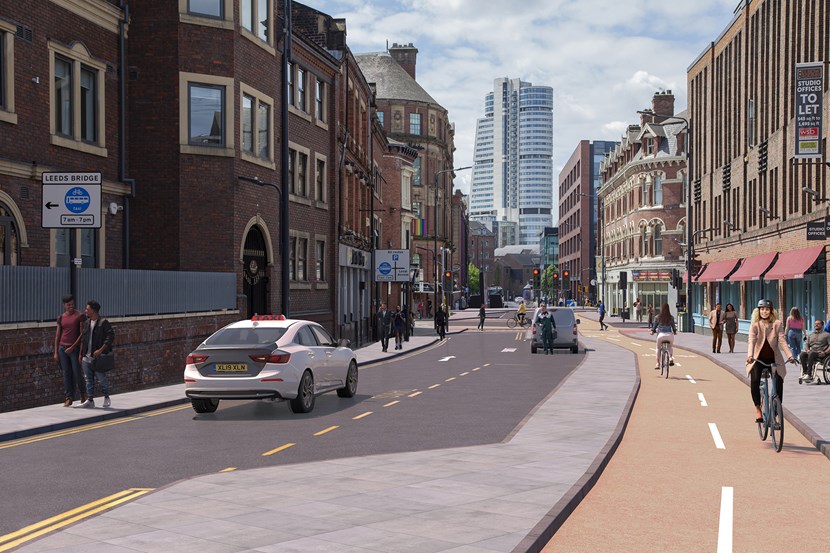 14 Nov 2023
Final chance to have your say on proposals to improve pedestrian and cycling infrastructure in the city centre
The council is urging residents, businesses and anyone who works in, visits or travels through Leeds to have their say on improvements to walking, wheeling* and cycling before the Leeds City Links consultation closes on 19 November.
Proposals aim to improve the design of city centre streets, making Leeds an easier place to get around and creating a more welcoming, safer environment for everyone that visits or travels through the city.
The scheme focuses on improvements to Great George Street, Merrion Street, The Calls and Kirkgate where, between 2013-2022, 62 casualties have occurred.
Plans will make it safer for people walking, using wheelchairs, mobility scooters, travelling with a pram or pushchair, or cycling around the city centre through creating safer crossings, pavement widening and introducing better connected cycle tracks, giving more people the choice to travel in alternative ways.
The consultation also focuses on improving the look and feel of city centre streets by creating space for new greenery and opportunities for local businesses to have outdoor dining areas, especially along Great George Street.
The plans retain existing designated blue badge parking along the routes, together with loading facilities for local businesses.
Councillor Helen Hayden, Leeds City Council's executive member for sustainable development and infrastructure, said:
"It is encouraging to see the amount of engagement we've had in this consultation so far, and I'd urge anyone that travels through the area to have their say before the consultation closes, especially those from under-represented groups.
"The proposals will make busy areas much safer for anyone that already walks, wheels or cycles through the city centre whilst also encouraging more people to take up greener and healthier forms of travel for shorter journeys through the city."
This scheme is being developed through the West Yorkshire Combined Authority's City Regional Sustainable Transport Settlement (CRSTS) programme, in partnership with Leeds City Council.
Tracy Brabin, Mayor of West Yorkshire, said:
"A reliable and inclusive transport network, which prioritises walking, cycling and public transport, is key to our plans for a stronger and better-connected region.
"This scheme is part of a multi-million-pound package of investment to help us achieve that.
"Your opinion matters, so please make the most of this opportunity to have your say and shape the proposals."
The survey can be completed online at this link. A paper copy of the survey can also be requested by emailing connectingleeds@leeds.gov.uk or calling 0113 336 8868.
The Leeds City Links consultation is part of a wider package of transformational works in the city centre. The closure of City Square has reduced through traffic from the area, which means that surplus road space can be reallocated to safer routes for alternative travel options and spaces to spend time in.
The council is continuing to work hard to minimise disruption in the city centre and thanks everyone who has already chosen alternative modes of travel, like public transport, Park & Ride or walking and cycling to get into the city. Where a car is absolutely necessary, access to the city centre should be via the Ring Road and then a relevant junction or link. More information and alternative routes to get to key destinations can be found here.
*Wheeling incorporates many methods for getting around, including using wheelchairs, mobility scooters, walking aids and travelling with a pram or pushchair.
For media enquiries contact: