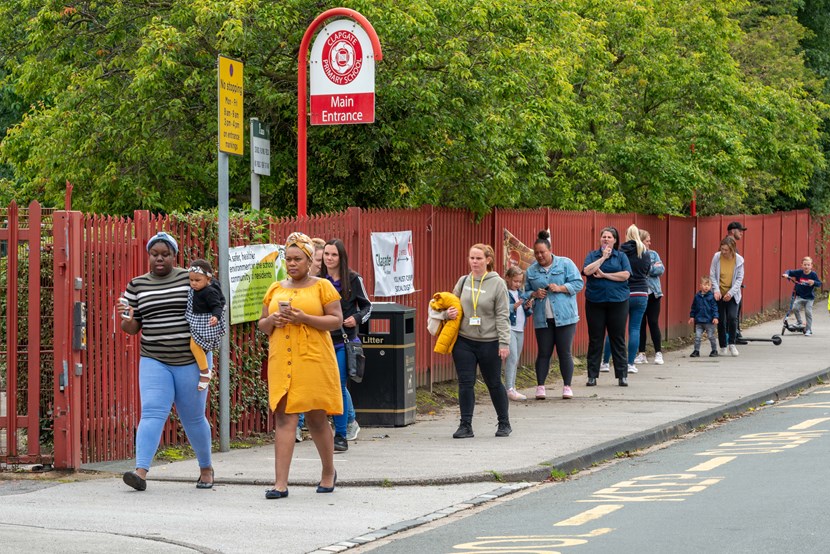 07 Sep 2020
Eight new pilot 'School Streets' start from today across Leeds
Starting today (Monday 7 September), eight new School Streets pilots begin at primary schools across Leeds.
Beecroft Primary School, Kirkstall; Chapel Allerton Primary School, Chapel Allerton; Great Preston CofE Primary School, Great Preston; Hollybush Primary School, Bramley; Hugh Gaitskell Primary School, Beeston; Middleton St Mary's CE Primary School, Middleton; Westgate Primary School, Otley; and Woodlesford Primary School, Woodlesford are the latest schools to take part in the School Streets pilot scheme.
School Streets make roads outside schools into pedestrian and cyclist zones at the times displayed on the signs and only during term time. This helps to reduce air pollution and keep children safe from traffic.
The Leeds City Council pilot scheme uses a temporary traffic regulation order, restricting traffic to help with phased and staggered returns for those children who are going back to school. Residents living within the new school street zones have been issued with permits so that they can continue to enter and leave the zone freely. Blue Badge-holders and emergency vehicles will also have full access.
In June, the first six Leeds schools successfully launched School Streets trials at: Pudsey Primrose Hill Primary School, Pudsey; Ingram Road Primary School, Holbeck; Cross Gates Primary School, Cross Gates; Thorpe Primary School, Thorpe; Clapgate Primary, Middleton; and Lane End Primary, Beeston. These schools plan to continue with their pilots.
Following the success of phase one schools, their learning has helped shape proposals for the next set of schools in the trial. The initial feedback shows School Streets helps to make roads feel safer, improve air quality, encourage more walking, scooting and cycling to and from school, improve air quality, and reduce school-related congestion.
This work supports a wider programme of initiatives being carried out as part of the council's response to Covid-19, taking emergency action to help people of all ages to walk and cycle safely as part of the council's 'safe streets, save lives' campaign and further supporting greener, healthier, safer travel for Leeds residents.
Leeds City Council's executive member for climate change, transport and sustainable development, Councillor Lisa Mulherin, said:
"In June a group of six schools and their communities pioneered School Streets in Leeds. Thanks to their successful initiative over the summer term and the learning from it. We're today adding another eight schools to pilot School Streets, across the Leeds district. We would like to thank everyone involved in these pilots and wish them all continued success.
"This is a child friendly initiative, to make the journey to school safer and healthier for Leeds children and their families. By creating a safer space for pupils to enjoy a less stressful, healthier journey by walking, cycling or scooting when they return to school we're also promoting the physical activity that we know has a long term benefit for physical and mental health.
"Over the summer, I was pleased to receive feedback from those schools taking part, especially to hear children with confidence to walk home on their own, with many more biking, scooting or walking to school. And how much more safe they felt on the way to school. This is exactly what we're trying to achieve and we look forward to the scheme rolling out to even more schools in future."
Clapgate Primary School, Head teacher Natasha Singleton, said:
"We absolutely love the scheme. It really has transformed the beginning and end of the school day. Everyone talks more and seems more relaxed and cheerful. The children use the whole road and have more freedom. The local residents' watch the children go by and tell us constantly how much better it is - as do the parents. None of us ever want to go back to how it was before."
For media enquiries contact: