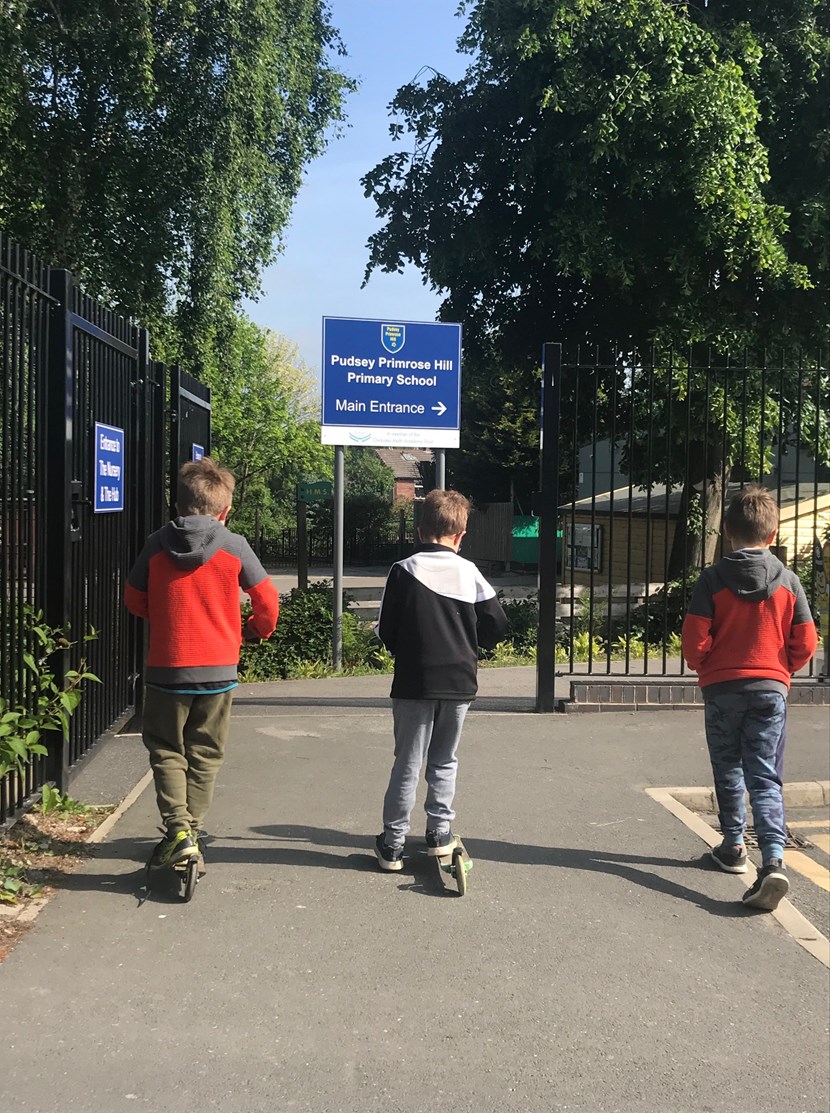 29 May 2020
Council to introduce first 'School Streets' in Leeds
Leeds School Streets pilot scheme launches.
Leeds School Streets pilot scheme launches on Monday, 1 June, with up to six Leeds primary schools taking part.
Pudsey Primrose Hill Primary School, Pudsey; Ingram Road Primary School, Holbeck; Cross Gates Primary School, Cross Gates; Thorpe Primary School, Thorpe; Clapgate Primary, Middleton; and Lane End Primary, Beeston are the first schools to take part in the pilot scheme.
School Streets make roads outside schools into pedestrian and cyclist only zones at the times displayed on the signs and only during term time. This helps to reduce air pollution and keep children safe from traffic.
In Leeds, School Streets will help to make roads safer, improve air quality, encourage more walking, scooting and cycling to and from school, and reduce school-related congestion.
The pilot schemes will use a temporary traffic regulation order, restricting traffic to help with phased and staggered returns for those children who are going back to school. Residents living within the new school street zones have been issued with permits so that they can continue to enter and leave the zone freely. Blue Badge-holders and emergency vehicles will also have full access.
As part of the council's response to Covid-19, Leeds City Council is taking emergency action to help people of all ages have space to walk and cycle safely. An online consultation launched on 15 May, has already seen more than 16,000 contributions from people with places to widen pavements, install temporary cycle lanes, create quieter residential streets and make more space outside schools.
People can continue to suggest schemes to help make walking and cycling safer by visiting https://leedscovidschoolstreets.commonplace.is/
In other parts of the country, School Streets reduce traffic and vehicle emissions outside the school gates and help to increase the number of children walking, scooting and cycling to school. Learning from the schools involved in this pilot scheme, will help to inform the model to be rolled out to other schools in Leeds, in line with the suggestions put forward by the public on the council's online consultation.
Leeds City Council's Executive Member for Climate Change, Transport and Sustainable Development, Councillor Lisa Mulherin, said:
"We would like to thank everyone who has contributed to the thousands of responses to our Connecting Leeds Covid-19 active travel consultation. Please continue to send in your suggestions. Every contribution counts to improve air quality, support more cycling and walking space for active travel and helps to maintain social distancing.
"As part of these plans we're delighted to launch our School Streets pilots. This is a child friendly initiative, to make the journey to school safer and healthier for Leeds children and their families. By creating a safer space for pupils to enjoy a less stressful, healthier journey by walking, cycling or scooting when they return to school we're also promoting the physical activity that we know has a long term benefit for physical and mental health.
"I would like to thank this first group of schools and their communities for pioneering School Streets in Leeds. I look forward to seeing how they do over the summer term and what we might learn as a city, to inform a roll out of the scheme to other schools in future."
Pudsey Primrose Primary School, Head of School Kathryn Dickson, said:
"The School Street scheme will open up the space outside our school to everyone. It will make a huge difference to our children and families in all sorts of ways. First, it will support all the measures we've already put in place to ensure social distance when more children return to school, by making it possible for people to spread out safely during drop-off and pick-up times.
"Our families will also be delighted that they can finally walk, scoot and cycle safely, often with pushchairs and young children, without the constant risk to safety and health caused by congestion and gridlock, parking on pavements, on zig-zag lines and idling.
"Our children have campaigned for safer, healthier school streets for so long, and they will finally be able to see what that looks like. It will create a safety ring around our whole school community, and we will all soon wonder how it could ever have been otherwise."
For media enquiries contact: