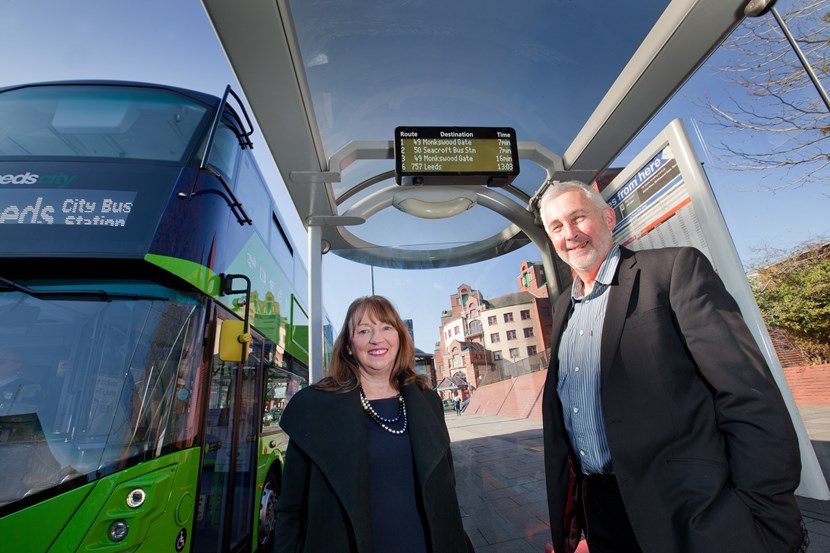 08 Mar 2019
Connecting Leeds paving the way for £60million improvements
One year after the launch of Connecting Leeds, £60million of bus infrastructure improvements are about to move up another gear.
Over the next few weeks Connecting Leeds will start the construction on a number of schemes, which are all part of delivering Leeds City Council's transport strategy.
These include the extension to Elland Road Park and Ride, work along the A660 (Holt Lane), A61N (Moortown Corner) and A58 (York Road). Road improvements on the A61 south from the city centre to Stourton and new Park and Ride at Stourton will start over the summer.
Work on the A647 Leeds to Bradford route is planned for later this year. All these schemes are part of the £270m investment in improving the transport network in Leeds over the coming years.
Marking the first anniversary of Connecting Leeds – it aims to improve all aspects of transport and travel in the city and connecting to the wider Leeds City Region.
Stourton park and ride is set to create an additional 1,200 car park spaces. This along with the already successful sites at Elland Road and Temple Green are now removing around 9,000 cars from city centre roads each week. The services have reported over two million journeys and sites are full to capacity. Proposals to meet this demand are already being developed by an extension to Temple Green.
Bus corridor improvements along the A647 corridor will benefit all vehicles including cars and public transport, as journey times are expected to reduce by 10-15 minutes. The public transport benefits will offer a quicker and more consistent journey time, and help reduce congestion, through a dedicated bus lane and improvements at key junctions.
Across the city, extensive consultation carried out on these proposals has seen 40 public events, along with plans to transform the city centre have produced 19,000 responses to the council's transport plans.
Connecting Leeds includes a partnership with the West Yorkshire Combined Authority and support of bus operators First Leeds, Arriva Yorkshire and Transdev. Together the bus operators have signed up to the Bus Alliance and share the council's ambition to double bus patronage in Leeds, over ten years. First Leeds have delivered a third of their new buses, after committing to invest £71million in 284 new ultra-low emission vehicles for Leeds.
Bus passengers across the city are already benefitting from 1,000 new real-time display screens in bus shelters and with plans for 750 more.
Leeds City Region currently has the most ambitious programme for the development and opening of new rail stations in the country. Over the last year proposals for three new rail stations began with consultation on Thorpe Park and White Rose. And now consultation is underway for a new rail parkway station serving Leeds Bradford Airport - along with options for transforming connectivity by road.
Junction improvement works have started along the Outer Ring Road in preparation for main East Leeds Orbital Route (ELOR). In the autumn construction will begin on the 7km of new road, which will act as a catalyst for the East Leeds Extension, seeing in the region of 5,000 new homes built.
Leeds City Council executive member for transport, regeneration and planning, Councillor Richard Lewis, said:
"Like every major city in the UK, journeys are taking longer and longer. We can only reverse this trend by enticing some motorists onto the bus. The aim of Connecting Leeds is to make public transport an attractive option that is reliable, quick, comfortable, and environmentally cleaner than the car. Whether it's through the expansion of park and ride or our planned bus corridor improvements, we're confident that we can get more people onto the bus."
Chair of the West Yorkshire Combined Authority Transport Committee, Councillor Kim Groves, said:
"These significant road improvement schemes will reduce congestions hotspot and make buses more reliable and punctual, as well as improving local air quality.
"Along with more park and ride spaces and the provision of better real-time information displays, this work will help will help us achieve the key aim of the West Yorkshire Bus Alliance, which is to increase the numbers of people using bus services in Leeds and across West Yorkshire.
"There will inevitably be some disruption while this work is carried out but we are working with bus companies and other partners to ensure inconvenience is kept to a minimum and that passengers are kept informed."
Chair of Leeds Transport Panel, Nigel Foster, said:
"The panel is pleased to see the fast progress being made by Leeds City Council, West Yorkshire Combined Authority and their partners in delivering the Connecting Leeds programme. This investment in transport is at the heart of the council's plans to create an attractive and liveable city centre. It also supports ambitious plans for inclusive growth, tackling climate change and creating a healthy environment."
The independent transport user watchdog, Transport Focus director David Sidebottom, said:
"It's good to see that Connecting Leeds is focusing on delivering improvements for local passengers on the key factors that matter most – a more punctual, reliable and value for money bus service."
Further information
The vision set out for Connecting Leeds is to deliver a transformational step change in the transport network and connectivity in Leeds and the wider region, helping to support and bring people, places, jobs, learning and leisure closer together. This will be achieved through improvements to road, rail, bus, park and ride, cycling and walking services and infrastructure, reducing congestion and improving air quality and accessibility in Leeds along with utilising the latest technology innovations.
It has been developed from the feedback received in the biggest-ever transport conversation held with residents, businesses, stakeholders and visitors in the city which included more than 8,000 people taking part in a survey in 2016.
For more information go to www.leeds.gov.uk/connectingleeds or @ConnectingLeeds on twitter or through Leeds City Council's Facebook page.
For media enquiries please contact:
Adrian Capon
Leeds City Council communications and marketing
T: 0113 378 1622
Email: adrian.capon@leeds.gov.uk
For media enquiries contact: