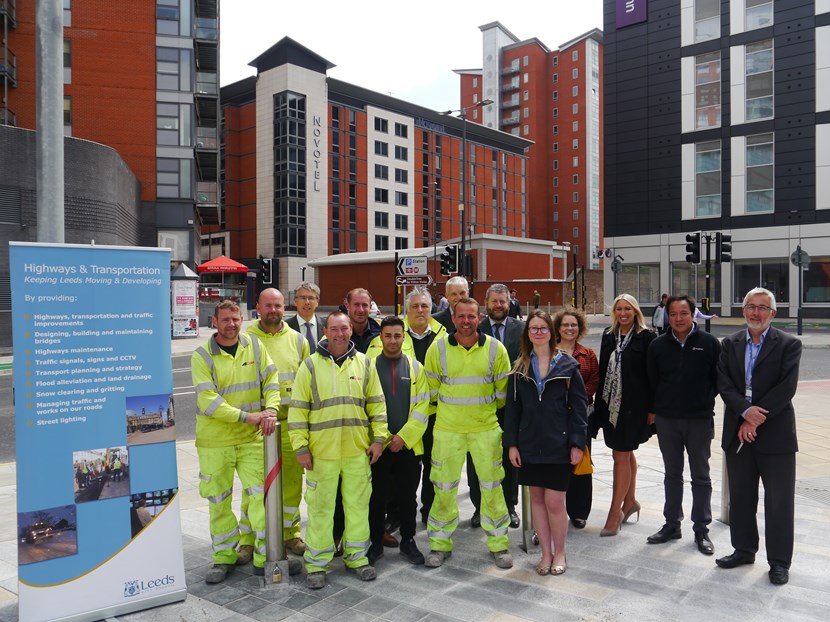 24 May 2018
Completion of £2million Leeds city centre road upgrade works marked
The completion of a major project to carry out £2million of improvements on two key roads in Leeds city centre has been marked this week.
The scheme managed by Leeds City Council with funding support of £859,000 from MEPC has seen a range of works carried out on Whitehall Road and Northern Street. These have enhanced cycling and walking provision as well as upgrading infrastructure and offering improved access to and from Leeds Station and into South Bank Leeds.
The complex project which began in October 2016 involved the widening of the junction where the two roads meet, with new pedestrian walkways and cycling provision installed to improve access and road safety. A new traffic-signal controlled pedestrian crossing has been put in place on Whitehall Road, while the upgraded cycling and walking provision joins up with the City Connect Cycle Superhighway on Wellington Street.
Aside from improving connectivity, road safety, cycling and walking, the work has also helped to support new developments in the area, such as at Wellington Place and the Riverside Development, which have resulted in increased demand for upgraded routes to the city centre and station.
Additional infrastructure work to support these developments has seen a new loading bay provided to accommodate service deliveries, while the existing service tunnel between Whitehall Road and Queen Street has also been reinforced.
The junction widening element of the works was particularly complex, requiring utility services to be diverted while maintaining walking routes and traffic movement on one the busiest areas of the city centre.
The council has worked with MEPC, Colas and Wates Construction on the improvements, liaising with local business including the Wellington Place development and local residents.
Leeds City Council executive member for regeneration, transport and planning Councillor Richard Lewis said:
"We'd like to thank MEPC and everyone involved for their support, patience and understanding as we've got on and successfully delivered this much-needed infrastructure improvement work in the area around Leeds Station on time and on budget.
"With the new local developments and the rise in the numbers of people using these roads to go to and from the city centre, the station, and the South Bank, the infrastructure needed to be upgraded to allow people to use the road network safely and effectively into the future. We have already received lots of comments from all road users, pedestrians and businesses that it has made a positive impact which is especially pleasing to hear."
Paul Pavia, Head of development for MEPC, said:
"It has been great to be part of these much-needed infrastructure improvements in this part of the city which will undoubtedly benefit both Wellington Place occupiers and the wider business community. Ease of access to work is high up on the agenda for most employees, so these changes will play a big part in the overall day-to-day wellbeing of those choosing to work at Wellington Place.
"As the centre of Leeds continues to grow, we're proud to play our part in supporting this expansion and in promoting greener ways to commute, such as walking and cycling."
ENDS
For media enquiries please contact:
Leeds City Council communications and marketing,
Email: communicationsteam@leeds.gov.uk
Tel: 0113 378 6007
For media enquiries contact: