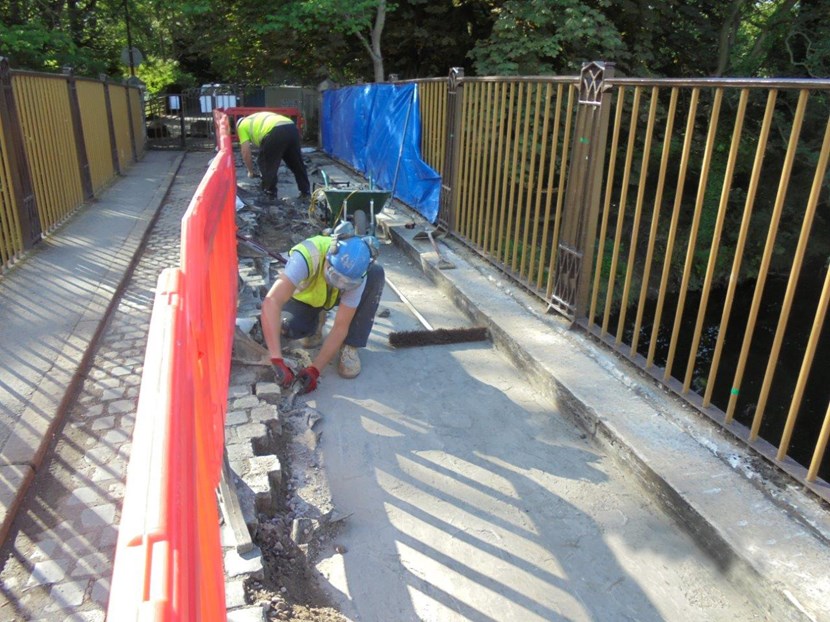 14 Aug 2018
Bridge to be temporarily closed as part of works to make it good as Newlay
Newlay Bridge in Leeds is to be fully closed for two days this week to allow a key element of maintenance work to take place.
Leeds City Council and contractor AE Yates Ltd began work last month to improve and protect the condition of the bridge, which is a Grade ll* listed structure considered one of the oldest iron bridges in Yorkshire.
The bridge is a well-used access route for pedestrians and cyclists across the River Aire between Pollard Lane and Newlay Lane. Featuring arched cast iron ribs and bracings, it was built by John Pollard in 1819 and will celebrate its bi-centennial anniversary in March next year.
Work is progressing well, and now the team is ready to carry out the waterproofing works element of the project, which is expected to take two days and requires a full closure.
To allow the work to proceed, the bridge will be fully closed from 7:30am on Thursday 16 August until 7pm the following day. The work is weather-dependent as it needs dry weather, so it may need additional time if there is any rainfall during this time.
During the full closure a diversion route will be in place via Victoria Gardens, the A65, the A6120, Rodley Lane, Leeds and Bradford Road and Pollard Lane.
During the rest of the scheme, pedestrians and cyclists will still be able to cross the bridge, but with cyclists kindly asked to dismount when crossing over.
The project, which also includes cleaning the stone decking and reinstating the existing stone setts on the surface, will preserve and protect the bridge from corrosion and is expected to be completed by mid-October.
ENDS
For media enquiries please contact:
Leeds City Council communications and marketing,
Tel: 0113 378 6007
Email: communicationsteam@leeds.gov.uk
For media enquiries contact: