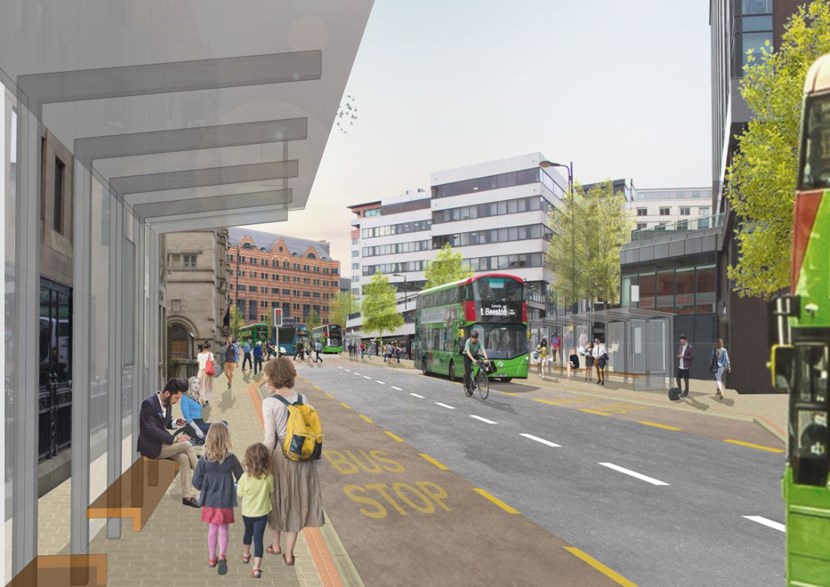 31 Jan 2020
£8.9million major works to start on Connecting Leeds transformation of Infirmary Street
Work is to start on a major £8.9million transformation of travel infrastructure on Infirmary Street in Leeds next month.
From February 24, Connecting Leeds will begin work to turn the city centre street into a two-way road designed for bus and cycle priority access with provision for local access for businesses and residents. Some bus stops will be relocated to areas with wider footways for passengers to wait, and bus facilities will be upgraded. Bus-only restrictions will create more space to improve bus journey time reliability, with the work expected to be completed by winter 2020.
The scheme is part of Leeds City Council's Connecting Leeds programme to make public transport, cycling and walking more attractive, with a focus on improved bus services aiming to encourage bus use to have doubled by 2026.
The programme also aims to enhance public spaces as part of a strategy to reduce car dominance in the city centre. Up-to-date information on bus stop changes can be found at www.wymetro.com/infirmary-street or www.wymetro.com/park-row.
The scheme is in addition to the £20.7million project which is currently taking place on The Headrow. For further details on the Connecting Leeds schemes and updates on progress use the following link and sign up for our e-newsletter.
Further details on Connecting Leeds can be found at www.leeds.gov.uk/connectingleeds
Details of changes affecting The Headrow can be seen at www.wymetro.com/theheadrow.
Leeds City Council executive board member for climate change, transport and sustainable development Councillor Lisa Mulherin said:
"These plans are the next step on our journey to improve public transport reliability across the city centre for the future, to improve cycling and walking facilities and a further step towards our aim of increasing the pedestrianisation of the city centre.
"While the works are carried out, there will unavoidably be some disruption for bus users, drivers, residents and people visiting the city centre, but we will work with the contractors, bus operators, local residents and the combined authority to limit this as much as possible.
"It is important to us that the public are kept up to date with what is going on and we will endeavour to keep them informed by providing regular updates, particularly on factors such as relocation of bus stops and road closures.
"We would like to thank everyone for their ongoing patience while we carry out these essential works. We believe the long term benefits the scheme will bring to public transport, active travel, public space and clean air within the city centre will be transformational."
Councillor Kim Groves, Chair of the West Yorkshire Combined Authority Transport Committee, said:
"People regularly call for better local public transport in Leeds and through these Connecting Leeds schemes on Infirmary Street and Park Row, the work already underway on The Headrow and forthcoming works at the Corn Exchange and Armley Gyratory, we are investing tens of millions on doing just that.
"All these improvements are designed to support the increased use of buses by making them more reliable and punctual and to support our work to tackle climate change by easing congestion.
"Owing to the way this work is funded by the Department for Transport there will be some disruption in the short term to gain these permanent long-term benefits.
"We are fully aware of the need to keep the city moving while at the same time carrying out these important improvements. Combined authority officers are working with Leeds City Council colleagues to mitigate and minimise the impact on how bus services are affected by traffic.
"Along with Councillor Mulherin, I would like to thank people in Leeds for their patience while this vital work is carried out."
Paul Matthews, Managing Director of First West Yorkshire, said:
"These latest improvements will enable us to move more people, more easily and more quickly to where they need to be, when they need to be.
"Bus priority is vital in making Leeds a smart city where public transport works for everyone as it allows us to develop timetables that give customers predictable journey times throughout the day.
"We're pleased to see this project underway and continue to be a committed partner in helping Connecting Leeds deliver bus travel that builds a stronger local economy."
ENDS
For media enquiries please contact:
Charley Richardson
Communications and Marketing Officer
0113 37 84155
Notes to editors:
Bus Services affected: 7(First), 7(Harrogate), 7A, 7S, 19, 19A, 36(Harrogate), 40, 64, 74 and X7
Work on major improvements to Leeds city centre's Infirmary Street as part of the Connecting Leeds programme to improve bus journeys will start on Sunday 23 February. Some bus services are affected.
From Sunday 23 February - The following services will not stop on Infirmary Street :
Services 7 Primley Park, 7A X7 Alwoodley and 7S Shadwell will run from a new stop on Boar Lane, stop P7 (45032123), that will be by the Tapped Public House
Service 7 Harrogate/Wetherby will run from Park Row, stop P3 (45010702) instead of Infirmary Street, stop G (45025322)
Service 19 Ireland Wood and 19A Tinshill will NOT stop at Infirmary Street, stand D or The Headrow, stop Y10. Instead these services will stop at Leeds Rail Station Interchange, stop S5 (45025478) and The Headrow, stop Y14 (45010662 - near the Courts).
Service 36 Harrogate/Ripon Infirmary Street journeys will start from/terminate at Park Row, stop P3 (45010702)
Service 40 Seacroft coming into Leeds City Centre will divert from York Street via St Peter's Street and will terminate at Eastgate. Towards Seacroft this service will start from Eastgate, stop G6 (45029640), and run via Vicar Lane, Kirkgate and New York Street, to stop at York Street, stop F3 (45010905 - by Leeds City Bus Station)
Service 40 will NOT stop at Infirmary Street, stop G (45025322), Boar Lane, stop P6 (45024834) or Corn Exchange, stop K6 (45025324)
Connexions service 64 Aberford - most journeys into Leeds City Centre will terminate at Eastgate. Towards Aberford they will start from Vicar Lane, stop M3 (45010679) run via Vicar Lane, Kirkgate, New York St and stop at York Street, stop F4 (45014780 - near Leeds City Bus Station)
Some early morning and evening 64 journeys will still stop at Infirmary Street, stand C. All First service 64 Monday to Saturday early morning, evening and Sunday journeys will continue to stop at Infirmary Street
74 Middleton - This route will run from Middleton and still stop on York Street, stop F7 (45010908 - opposite the Bus Station). It will then stop on Duncan Street, stop K17 (45012652) and run towards Middleton via Boar Lane, Mill Hill, stopping at Neville Street, stop Z3 (45013261 - by the Dark Arches) and also at Great Wilson Street, stop Z6 (45013211 - by Asda House)
Service 74 will NOT be stopping at Infirmary Street, stand C, Boar Lane, stop T2, Corn Exchange, stop K5, York Street, stop F5 or Black Bull Street, stop A5
Arriva services into Leeds City Centre that drop off on Infirmary Street (117, 118, 200, 201, 201A, 202, 203, 229, 254, 254A, 255, X17 and X25) - These routes will stop either stop at King Street, stop W4 (45012554 - opposite The Met Hotel) or at temporary stop on Quebec Street
The following services will still be stopping at Infirmary Street:
10 Beeston, 11A Cross Gates, 42 Oakwood, 64 (First journeys) Aberford, 81/81A Pudsey, X11 Pudsey/Bradford and X26 X27 Thorpe Park
For media enquiries contact: