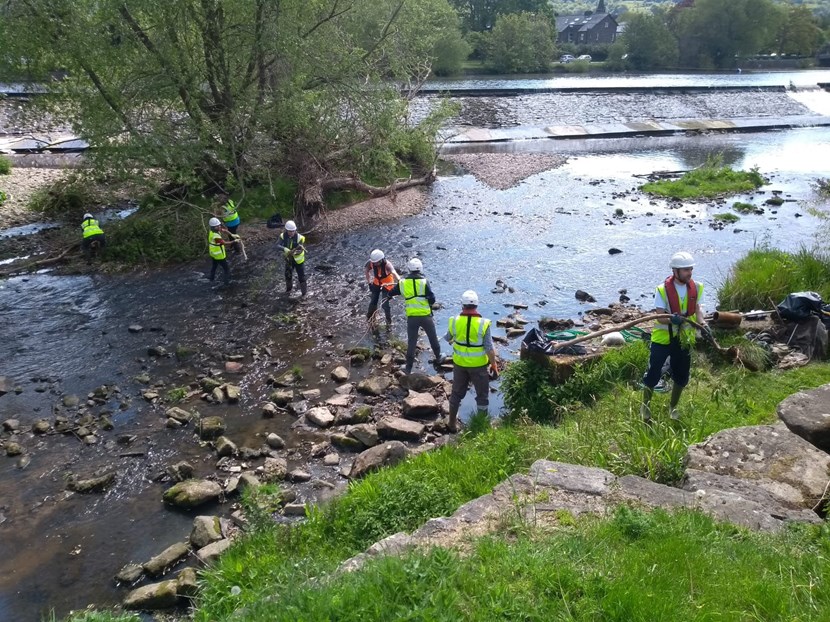 25 Jul 2019
Volunteers needed to help in river clean-up efforts in Otley
People of all ages are being encouraged to participate in a volunteering session on the River Wharfe in Otley next week.
Organised by Leeds City Council, the Environment Agency and the River Stewardship Company, the session will take place on Wednesday 31 July, 10am-3pm at Wharfemeadows Park.
Volunteers will be litter picking and tackling invasive species in preparation for future flood defences in the centre of Otley.
During the volunteering session, representatives from Leeds City Council and the Environment Agency will also be at Wharfemeadows Park café to discuss the current flood defence plans, as part of the Otley Flood Alleviation Scheme (FAS).
The scheme is a series of flood defence measures designed to provide greater flooding protection to Otley homes and businesses and will see construction of an embankment running parallel with Billams Hill and management of vegetation on the islands downstream at Otley Weir.
Members of the project team will be on hand to answer questions, provide an update on progress to date, as well as listening to feedback.
A later engagement session has been arranged on the same day at 4pm-7pm at Otley Core Resource Centre, Unit 11, Orchard Gate, LS21 3NX.
Otley has a history of flooding, with three serious flooding incidents occurring in November and December 2015.
Leader of Leeds City Council Councillor Judith Blake said:
"This day of activities provides a real opportunity for the community to get involved in our ambitious plans for Otley. Not only will local residents hear about significant progress made on the Otley FAS but they can also make a unique contribution to maintaining our natural environment. Ongoing stewardship, alongside innovative development, together helps to prevent flooding and what better way to get involved than spending a summer's day on the river. "
John Woods, flood risk officer with the Environment Agency said:
"The Environment Agency is proud to support river stewardship in Otley and staff from across the organisation will be volunteering to come and help this fantastic cause. Stewardship is part of our vision for the area and will hopefully provide a lasting legacy of improvement following the devastating floods of 2015. We can't do it alone however and are calling for support from residents, local businesses and community organisations to get involved and keep it going."
WSP Otley FAS design coordinator Jake Batt said:
"Otley Flood Alleviation Scheme is entering its next exciting phase where we will be presenting the final design to the local community, and submitting the planning application. WSP are delighted to have the opportunity to carry out voluntary works within the local community of Otley."
River Stewardship Company Contracts Manager Gavin Coe said:
'We are delighted with the progress we have made so far on this stretch of the river. It is a fantastic setting and with the recent dry spell, the river should be much lower than normal which will give us even better access to some trickier parts of the banks. This is very much a collaborative project and there has been a big push to involve the community from day one.
This year's volunteer days have been a great success and we hope there are many more where people can enjoy a hands-on approach to helping restore the ecology of the riverbank and pave the way for further works for years to come."
Last month, Leeds City Council's executive board gave approval for the Otley FAS Outline Business Case (OBC) to be formally submitted to the Environment Agency. Approval was also given to submit the planning application for the scheme in summer 2019.
For those interested in the volunteer day, please contact Sarah Emberson at the River Stewardship Company at Sarah.emberson@the-rsc.co.uk or 07766 352932.
All personal protective wear will be provided on the day but please come in suitable clothing and sturdy footwear.
No booking is necessary to attend any of the engagement sessions.
Regular updates about the scheme are posted on the new Otley FAS webpage at https://www.leeds.gov.uk/parking-roads-and-travel/otley-flood-alleviation-scheme.
If you have any queries about the scheme, please email frm@leeds.gov.uk
ENDS
For media enquiries, please contact:
Kate Ashman
Leeds City Council communications and marketing
Tel: 0113 378 1087
Email: kate.ashman@leeds.gov.uk
For media enquiries contact: