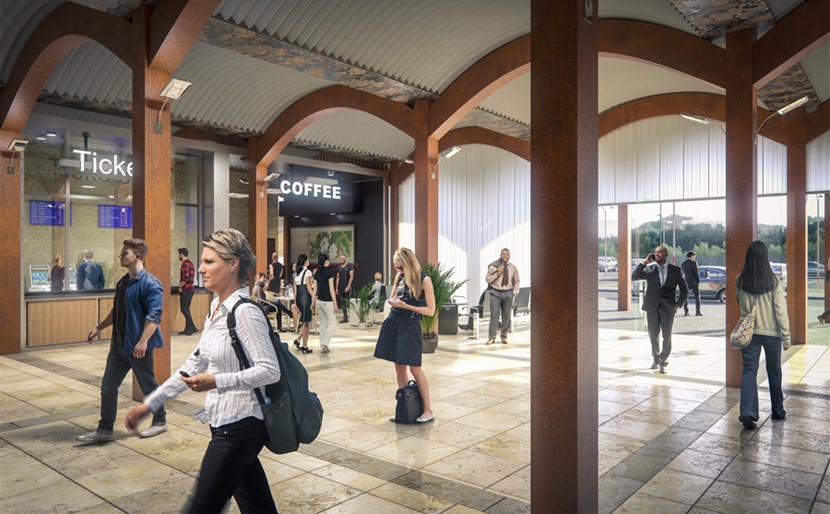 18 Feb 2019
Update on Leeds Bradford Airport and north west Leeds connectivity improvement plans as further public engagement begins
Updated details on the plans to improve transport connectivity to Leeds Bradford Airport and in the north west of the city have been released today.
Leeds City Council, working with West Yorkshire Combined Authority and partners including Leeds Bradford Airport, has issued new details of the three options being considered to improve road access to the airport as well as more information on the proposed new airport parkway rail station on the Leeds to Harrogate line.
The release of the latest details, which includes new maps, images, an animation and fly-through videos of what the road options and parkway station could look like, form part of a phase of public consultation and engagement which begins on all aspects of the proposals on from today (18 Feb) running to Friday 12 April.
The information which can be seen at www.leeds.gov.uk/connectinglba includes an online survey for views and feedback to be given, while there will also be a series of public drop-in sessions held as follows:
- Monday February 25 from 3-7pm at Yeadon Town Hall
- Thursday February 28 from 5-8pm at Otley Courthouse
- Tuesday March 5 from 11.30am-2.30pm at Greenacre Hall, Rawdon
- Saturday March 9 from 2-5pm at Cookridge Village Hall
- Tuesday March 12 from 5-8.30pm at Bramhope Methodist Church
- Tuesday March 19 from 5-8.30pm at The Grove Church, Horsforth
Leeds Bradford Airport is a key economic asset for Leeds and the wider region, supporting over 5,000 jobs and contributing £336million to the city region economy each year. It is one of the fastest-growing airports in the UK, with passenger numbers predicted by the Department for Transport to rise from four million in 2017 to 7.1million by 2030 and over nine million by 2050.
To support this expected growth and up to 5,500 new jobs in the employment area next to the airport by 2030, the proposals aim to improve road and rail access as well as addressing current congestion issues in north west Leeds.
The LBA Link Route road proposals, first put forward in 2015 following an analysis of a range of possible options, put forward three potential schemes. Two of these would see a new road created from the A65, with the first option running along the eastern side of the airport before joining the A658 while the second option would run to the south west of the airport before joining the A658. The third road option would not see a new road created, but existing junctions on the A65 and A658 would be upgraded and, where needed, some localised road widening to deliver the improvements.
Initial feedback on the proposals focused on a desire to improve rail access to the airport rather than road improvements as well as more detail being needed on the plans.
Improving rail access to the airport has long been an ambition for Leeds, but the location of Leeds Bradford Airport and its topography meant any direct rail connection would be very difficult to achieve and would be prohibitively expensive.
The potential for a parkway station nearby to serve the airport by rail and both Leeds and Harrogate by park and ride is now possible because of the Leeds Public Transport Investment Programme, with the city receiving funding of £173.5m from the government to invest in transport network improvements as part of its long-term Connecting Leeds transport strategy.
The parkway element would see a new station built on the existing Leeds to Harrogate line between Scotland Lane and Cookridge, with a short connecting spur road to give access the airport. The station would include a 350-space car park, a bus interchange and a station building. A pedestrian/cycle path to Cookridge is also proposed to reduce pressure on Horsforth Station.
A combination of both road and rail access improvements are considered essential to effectively support the growth of Leeds Bradford Airport. From looking at other regional airports, such as Manchester Airport which has direct rail and tram links, 84 per cent of passengers still travel to the airport by car or taxi so road access will continue to have a crucial role to play.
To reduce congestion issues and improve journey times in north west Leeds, a range of junction and capacity improvements are also being proposed at Dawson's Corner, Fink Hill, and Dyneley Arms, together with signal technology improvements along the A65. Investigations are also underway to identify longer term improvements on the A6120 Outer Ring Road between Pudsey and Horsforth.
Leader of Leeds City Council Councillor Judith Blake said:
"We are pleased to be able to release this updated information on the proposals to improve access and connectivity to the airport, and especially the visuals which will give people an idea of what the plans could look like.
"Leeds Bradford Airport is a key element of our local and regional economy, and these plans to improve road and rail access together with local network upgrades will bring significant benefits as well as helping the airport to grow along with supporting the new jobs we expect to see in the area in the years to come. I would encourage as many people as possible to take part in this public consultation and engagement, find out more about all the elements involved, and tell us what they think."
Chair of the West Yorkshire Combined Authority transport committee Councillor Kim Groves said:
"Leeds Bradford Airport has huge potential for growth in passenger numbers as well as acting as a catalyst for economic development and job creation in the surrounding area.
"The proposals to develop much-needed improvements to the airport's transport connections will help ensure it reaches that potential and I would urge people to ensure they have their say by taking part in the consultation."
David Laws, chief executive of Leeds Bradford Airport, said:
"These latest plans are a major step towards improving the surface access to the airport and I am delighted we now have images, an animation and fly-through videos of what the road options and parkway station could look like.
"To unleash the economic potential of our region requires major investment in our transport infrastructure, ensuring our train stations, airports and cities are properly connected. I would urge as many people as possible to take part and engage in the consultation which will lead to greater connectivity with our region's main gateways."
Feedback received from the consultation and engagement will be analysed and considered, with a further phase of public consultation to follow later in the year when further technical detail and an emerging preferred road option will be put forward.
For more information and to take part in the consultation, go to www.leeds.gov.uk/connectinglba
Notes to editors:
The latest projected costings for the LBA Link Route road options are £90-100m for option A, £60-70m for option B and £20-30m for option C. These are indicative figures only at this stage. Due to the various elements involved an approximate costing is not possible yet for the parkway rail station.
Depending on how the process develops and which road option is progressed, it is anticipated the parkway station could be built within five years and the link route within 10 years.
Improving access to Leeds Bradford Airport was one of the key priorities identified in the Transport Conversation survey held in 2016 which saw more than 8,000 responses received.
Under the Site Allocations Plan for Leeds, 36 hectares of land next to Leeds Bradford Airport has been earmarked for employment growth and job creation in the area. This has the potential to generate 5,500 new jobs by 2030.
All of the three options as part of the LBA Link Route planning have also considered cycle and pedestrian provision along with methods of minimising any environmental impact.
For more information on Connecting Leeds visit www.leeds.gov.uk/connectingleeds or follow @ConnectingLeeds on Twitter.
ENDS
For media enquiries please contact:
Roger Boyde
Leeds City Council communications and marketing,
Tel: 0113 378 9164
Email: roger.boyde@leeds.gov.uk
For media enquiries contact: