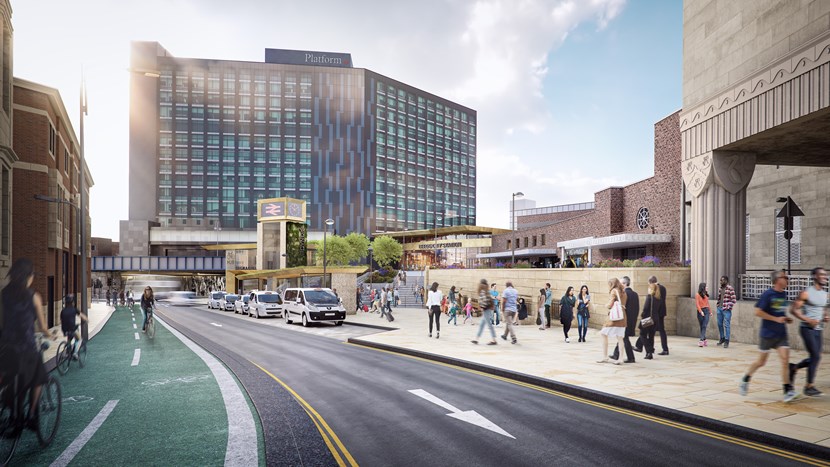 18 Apr 2023
Transforming Leeds City Rail Station: Date of New Station Street closure announced
As part of the next stage in the transformation of Leeds City Rail Station's main entrance and surrounding area, New Station Street will be closed from Friday 19 May to all traffic (except service vehicles and emergency services). Due to the closure, the station taxi rank will be moved to Princes Square.
Friday 19 May will also see the northern section of New Station Street, from the station's main entrance towards City Square, closed to pedestrians to allow works to be carried out.
Pedestrians will be able to walk towards Boar Lane from the main entrance by travelling along the other side of New Station Street or use the station's northern entrance (opposite the Majestic building) to access City Square, Infirmary Street, Park Row and Wellington Street.
The closure of New Station Street is part of Network Rail's Mill Goit Works which will see Network Rail reinforce the underground structure below New Station Street that supports much of the station above it and is essential maintenance work.
In parallel progress is being made on the Leeds Station Sustainable Travel Gateway scheme, which will create a much improved and more people-friendly environment that can accommodate growing rail passenger numbers and ensure people can enter and exit the station safely.
Delivering the two schemes in tandem will lead to less disruption in the long-term and also provides value for money by reducing the need to revisit the Sustainable Travel Gateway scheme at a later date if further works are required as part of Network Rail's scheme.
The £46.1 million Sustainable Travel Gateway scheme is being delivered by Leeds City Council on behalf of Network Rail as the landowner, and in partnership with the West Yorkshire Combined Authority
Advance works and preparations have been underway since last May with the project now moving into the next phase which upon completion in September 2025 will see:
Pedestrianising New Station Street, including the section which meets Boar Lane, with outdoor seating and rest areas, and landscaping.
Relocating the existing taxi rank to Bishopsgate Street where there will be a large and well-lit shelter and room for six vehicles, also allowing for kerb-side boarding which will help people with wheelchairs or assistance dogs to board more easily.
Two 21-passenger lifts from Bishopgate Street to the station entrance on New Station Street, providing step-free access between the two streets.
A high-quality cycle hub at the station, which will include electric charging points and storage for all types of cycles.
Environmental improvements to Neville Street and Dark Neville Street including enhanced lighting, road surface and pavement and elevation treatments.
Installing high quality cycle infrastructure on Bishopgate Street and Neville Street, and improvements to cycling infrastructure in surrounding communities.
Councillor Helen Hayden, executive member for infrastructure and climate said: "It is fantastic news that the work is now underway in earnest delivering Network Rail's Mill Goit Works and the creation of a gateway to our city that meets the current and future needs of Leeds and everyone that uses the station.
"I would encourage everyone that uses Leeds City Rail Station to plan ahead and allow additional time for their journeys and thank them and local businesses for bearing with us as the works are conducted.
"The schemes on completion will complement the ongoing transformation of City Square and will create a safer and people friendly environment whilst increasing the capacity of the station and developing better links between the city centre and the wider Southbank."
The Sustainable Travel Gateway scheme is being delivered through the Combined Authority's Transforming Cities Fund programme, which is aimed at making it easier for people to walk, cycle and use public transport.
For media enquiries contact: