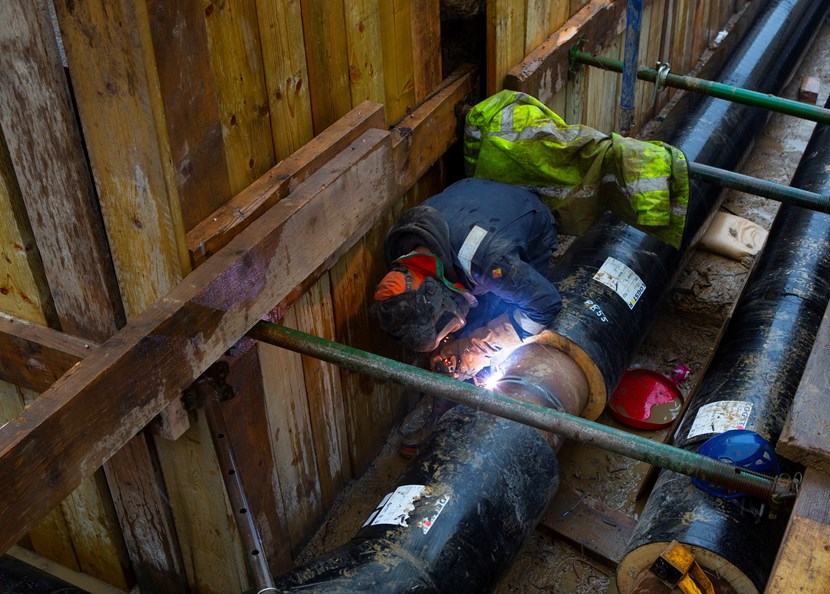 17 Sep 2021
St James's Hospital and Quarry House to be connected to Leeds district heating network
Leeds City Council has announced that St James's Hospital, Quarry House and Trinity Academy will soon receive low carbon heat and hot water from the city's district heating network.
A recent expansion of the Leeds PIPES network will deliver a combined 7,200MWh of sustainable heat every year to three iconic buildings previously powered by gas boilers and less efficient storage heating.
The three buildings will receive low carbon heat and hot water created by the Recycling and Energy Recovery Facility, recovering energy from the non-recyclable waste of around 6,000 Leeds households.
By connecting to what will become one of the UK's major heat networks, the three iconic buildings will help tackle climate change by saving 17,899 tonnes of carbon every year.
The expansion will also help Leeds to meet its ambitious target to become carbon neutral, with around a quarter of the city's carbon emissions attributed to the provision of heat, hot water and power to buildings.
Delivering benefits to the city's economy, the project has helped employ more than 430 people in the local low carbon sector including 36 apprentices.
St George House became the first commercial office space to benefit from the flagship Leeds PIPES network, with 1,983 inner city council homes and businesses including the Leeds Playhouse already connected and benefiting from sustainable heat and hot water from the network.
Leeds City Council was amongst the first beneficiaries of the Heat Networks Investment Project (HNIP) being delivered by Triple Point Heat Networks Investment Management, securing over £2.4 million of funding through the scheme to extend the Leeds PIPES network into the city centre.
Councillor Helen Hayden, Leeds City Council's Executive Member for Infrastructure and Climate, said:
"Since declaring a climate emergency we've made fantastic progress on delivering schemes and initiatives to reduce our carbon footprint. Not only is district heating a worthwhile investment to help combat climate change, but it is also a smart investment for the city too. These new connections mean that the network will return more to the council than it costs us—helping to protect vital frontline services."
Mike Cooke, Managing Director for North and Scotland at Vital Energi, said:
"Delivering a phased city-wide heat network in the midst of the Covid-19 pandemic has proven a challenge, but a rewarding one, as the outcome is a state-of-the-art energy infrastructure which reduces carbon emissions and progressively decarbonises the city as future connections are delivered to residents and businesses.
Martha Hart, Project Lead, Arup, said:
"We are thrilled that the second phase of the Leeds PIPES project is now complete, bringing affordable, low-carbon heat to homes and businesses across the city and Leeds another step closer to carbon neutrality by 2030."
Tim Saxon, Utilities, Energy and Sustainability Lead Manager, Department for Work and pensions, said:
"DWP is very pleased to be participating in this worthwhile scheme by connecting to the Leeds PIPES Network. The scheme will contribute greatly to our efforts in achieving our Greening Government Commitment targets by saving over 1,000 tonnes of CO2 at our Quarry House site per year."
Kat Cafferky, Principal at Trinity Academy Leeds said:
"Having just opened in our fantastic brand-new school building on the outskirts of Leeds city centre, we are delighted to be part of the district heating network. Participating in this scheme has given us the unique opportunity to deliver a low carbon footprint for the school from day one. We are delighted to join other organisations in contributing to the vision of Leeds City Council and supporting their commitment to reduce the city's direct emissions to net-zero by 2030."
Ken Hunnisett, Project Director at Triple Point at Triple Point Heat Networks Investment Management said:
"Heat networks offer a unique opportunity to utilise a range of heat sources. The Leeds PIPES scheme exemplifies the role heat recovery from waste can play in decarbonisation to deliver low carbon heating and cooling and we're delighted to have provided support. The completion of the expansion is great news for the city."
ENDS
Notes for editors:
Phase two secured £2.4m of HNIP funding. Find out more about the Heat Networks Investment Project: https://tp-heatnetworks.org/.
Phase two has been supported by the LEP's Energy Accelerator. This is funded by the Leeds City Region Growth Deal and the European Investment Bank's European Local Energy Assistance (ELENA) programme.
| | | |
| --- | --- | --- |
| Building | MWh of heat being supplied per annum. | Carbon saved (tonnes of CO2e per annum) |
| St James's Hospital | 1,300 | 16,612 |
| Quarry House | 5,000 | 1,082.22 |
| Trinity Academy | 600 | 143.96 |
| St George House | 300 | 60.89 |
For media enquiries contact: