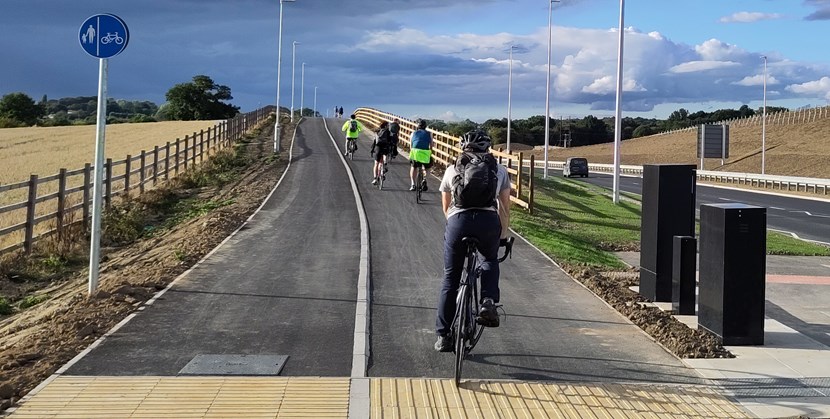 15 Nov 2022
Scotland Lane and Whitehouse Lane sustainable transport improvements – have your say
Leeds City Council is asking for views and comments on proposals to improve sustainable transport connections along Whitehouse Lane and Scotland Lane.
The new proposals would support better connections for public transport and active travel between the proposed parkway rail station, the proposed North West Leeds Employment Hub, Leeds Bradford Airport, and surrounding communities.
These proposals form the first phase of a connectivity package which replaces the A65-A658 Link Route proposals, which were discontinued after consultation feedback demonstrated no clear support for any of the three options and following the council's declaration of a Climate Emergency.
By improving sustainable and active travel connections in the area, the council aims to unlock investment and inclusive growth opportunities and encourage more people to walk, cycle and use public transport.
Councillor Helen Hayden, Leeds City Council's executive portfolio holder for infrastructure and climate, said:
"These proposals provide an alternative approach to improving transport connections in the area by helping people to choose sustainable and active methods of travel, while at the same time mitigating future demand on the local network as a result of proposed development including the North West Leeds Employment Hub which will create jobs, investment and opportunities.
"These new proposals demonstrate that we have listened to feedback from the previous consultation into the link route, which is reinforced with our Climate Emergency declaration and commitment to becoming a carbon neutral city by 2030.
"Our revised proposals reflect much of this feedback, and it is important that we gather the views of the local community and businesses on this new scheme before developing it further."
The current proposals include:
A new high quality active travel link along the full length of Whitehouse Lane.
A new access road from Whitehouse Lane into the proposed employment hub with a turnaround facility
A new priority roundabout on Whitehouse Lane for the access road
Minor junction alterations to accommodate active travel where Dean Lane meets Whitehouse Lane
Active travel to continue along Scotland Lane to Whitehouse Lane junction (preferred option) or routing active travel through the airport (alternate option).
The consultation is also gathering views on potential future phases of work opportunities to reduce through traffic along Dean Lane and Scotland Lane, a possible junction upgrade to accommodate demand from the proposed employment hub and parkway station, and a 'spine road' through the proposed employment hub.
Have your say
More information and a consultation questionnaire is available at https://scotlandlaneleeds.commonplace.is
A series of drop-in sessions are also being held where residents and businesses can speak to officers
Wed 16th November - Cookridge Village Hall, 3pm - 6.30pm
Sat 19th November - Yeadon library, 10.30am - 1pm
Friday 25th November – Grove Methodist Church, 3.30 – 7pm
The consultation closes on Sunday 18 December 2022.
For media enquiries contact: