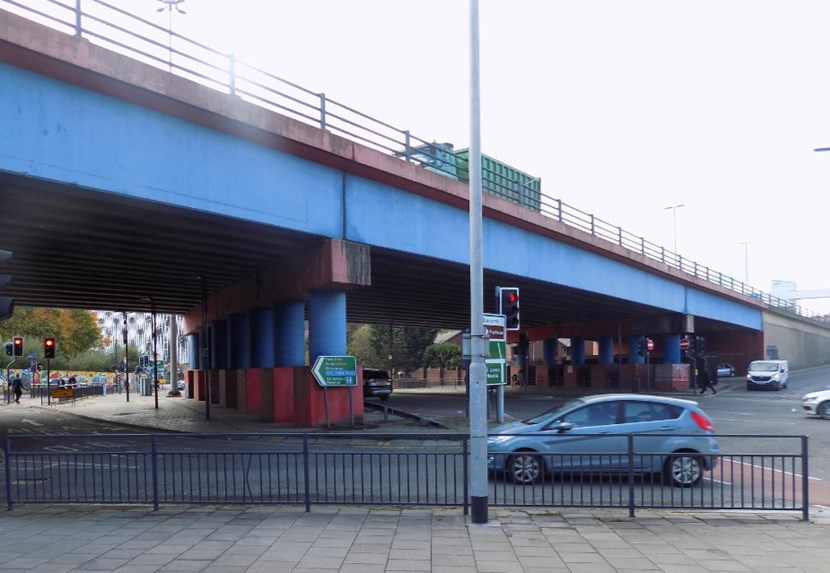 29 Oct 2019
Regent Street Flyover and Inner Ring Road improvement works underway
Essential bridge maintenance works to Regent Street Flyover are taking place.
Starting today until Thursday 31 October, Leeds City Council will carry out bridge propping work below Regent Street Flyover. This will improve the city's resilience and ensure the structure is fit for purpose to enable future improvement in the city centre.
Only minimal traffic management is needed and it's expected to not disrupt any vehicular traffic. A short length of cycleway will be closed with an alternative available along Regent Street. Construction of vehicular crossover points on the carriageway for eastern and western approaches (A64 and A64 (M)) are also taking place until 11 November.
Built in the late 1960s, Regent Street Flyover is in need of replacement and essential bridge improvement works will help provide options for managing traffic when this takes place. Should Regent Street Flyover deteriorate any further, the propping work will protect the flyover and allow two lanes of traffic on the Inner Ring to continue.
The timing of a replacement bridge will be dependent on the outcome of a bid to the Department for Transport.
Regent Street Flyover carries the A64 (M) Inner Ring Road over the A61 Regent Street. It is an important bridge for traffic travelling around and into the city. It's estimated 43,000 vehicles pass daily over it and 30,000 vehicles pass below it (A61).
These works will be undertaken during the day and overnight keeping traffic disruption to a minimum. Advanced signage and notices will be deployed to keep users informed.
Works will be undertaken during the following traffic management:
Leeds Inner Ring Road A64 (M) night time lane closures from 7.30pm to 6am (east and west bound) until 11 November.

Weekday lane closures on A64 from 9.30am to 3pm until 11 November.
These improvements are part of Leeds City Council's transport strategy for the city, Connecting Leeds. The replacement of Regent Street Flyover along with complementary works to the Armley Gyratory, ensures the Inner Ring Road will maintain traffic flow and enable the pedestrianisation of City Square.
Moving vehicles around the outer edge of the city and closing Neville Street to through traffic, can enable the council to transform the city centre for a more liveable, greener and better connected city. It will help spark major and wider improvement projects in the city centre, allowing an unprecedented opportunity to create better public spaces, for pedestrians, cyclists and public transport.
Leeds City Council executive board member for climate change, transport and sustainable development, Councillor Lisa Mulherin said:
"These works are vital to ensure Regent Street Flyover remains safe for road users and supports keeping people on the move. Taking these pre-emptive maintenance steps now, will help preserve the resilience of the Inner Ring Road.
"Therefore, it's essential we can help sustain Regent Street Flyover for as long as possible, with very minimal disruption until we can replace it.
"This work supports our aim to re-route motorised vehicle traffic out of the city centre, to benefit pedestrians, cyclists and public transport users and to contribute to improving air quality and lowering our carbon footprint."
Notes to editors
The vision set out for Connecting Leeds is to deliver a transformational step change in the transport network and connectivity in Leeds and the wider region. It's aiming to help and support bringing people, places, jobs, learning and leisure closer together. This will be achieved through improvements to road, rail, bus, park and ride, cycling and walking services and infrastructure, reducing congestion and improving air quality and accessibility in Leeds along with utilising the latest technology innovations.
It has been developed from the feedback received in the biggest-ever transport conversation held with residents, businesses, stakeholders and visitors in the city which included more than 8,000 people taking part in a survey in 2016.
For more information go to www.leeds.gov.uk/connectingleeds or @ConnectingLeeds on twitter or through Leeds City Council's Facebook page.
For information about how City Square transformation fits into the Leeds Our Spaces strategy visit www.leedsourspaces.co.uk
For media enquiries please contact:
Adrian Capon
Leeds City Council communications and marketing
T: 0113 378 1622
Email: adrian.capon@leeds.gov.uk
For media enquiries contact: