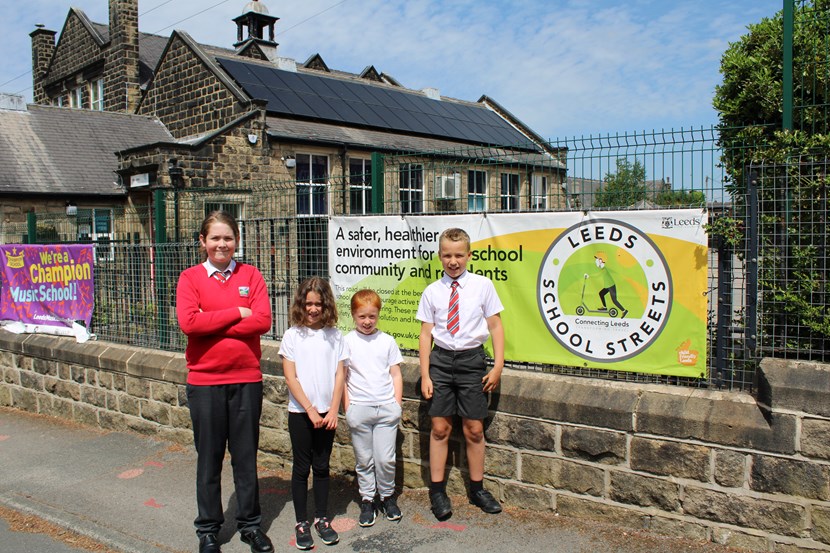 08 Oct 2021
Otley primary school achieves gold award for active and sustainable travel
Westgate Primary School in Otley has been awarded a gold school travel award, in recognition of its commitment to active and sustainable travel.
Awarded by the national education awards scheme, Modeshift STARS, the accreditation recognises schools that demonstrate excellence in supporting cycling, walking and other sustainable modes of transport.
To achieve the award, Westgate Primary School encouraged its pupils to walk, cycle, scoot or 'park & stride' to school by implementing sustainable travel initiatives. This includes joining the School Streets scheme.
Managed by Leeds City Council, the School Streets scheme restricts traffic outside primary schools at opening and closing times. This reduces congestion around the school gates, makes the road safer for children and improves air quality for the local community.
The school regularly takes part in road safety training, including pedestrian, scooter and Bikeability workshops. They installed new bike storage and organised BikeRegister events to protect bikes from theft. The school also actively gets involved with national awareness campaigns - such as The Big Pedal and Walk to School Week.
Councillor Helen Hayden, executive member for infrastructure and climate said:
"I'm very proud to see Westgate recognised by Modeshift STARS – they are very deserving of the gold school travel award. Their commitment to encouraging parents, pupils and teachers to use sustainable modes of transport is brilliant. As a result, most of the pupils walk, cycle or scoot to school. Well done!
"It's so important to engage young people in our vision of Leeds becoming a city where you don't need a car. The Westgate Primary School community is helping to create a more sustainable future as we work towards our ambition to become net zero by 2030.
"I hope it inspires everybody in Leeds to use sustainable modes of transport."
Councillor Jonathan Pryor, executive member for economy, culture and education said:
"Westgate Primary School have done an amazing job, and the teachers have worked hard to encourage pupils to use green transport. It's great to see children learning about the climate emergency and making a difference.
"Car-free journeys are also a great way to get some exercise. Active modes of transport like walking and cycling boost physical health and mental wellbeing. This means our children are happier, healthier and ready to learn when they arrive at school.
"That's why I'm so pleased Westgate have been recognised for their achievement."
Helen Carpenter, Westgate Primary School Head Teacher said:
"We are serious about doing what we can to mitigate the climate crisis and the children are very proud of the actions they take, every day, to be more sustainable.
"Not only that, walking, cycling and scooting to school is fun, it helps children to be healthy and active and it reduces parking issues for our neighbours, so everyone benefits.
"I'm really proud of the whole school community for what we have achieved so far."
For more information on School Streets, visit https://bit.ly/SchoolStreetsLeeds
For more information on road safety training, visit https://bit.ly/RoadSafetyTrainingLeeds
For media enquiries contact: