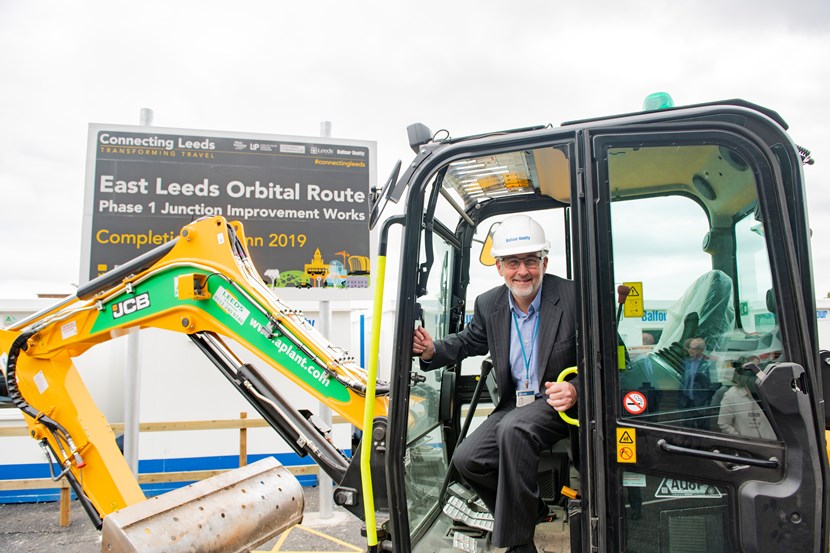 04 Oct 2018
Opening ceremony marks official start of East Leeds Orbital Route work
Opening ceremony marks official start of East Leeds Orbital Route work
A ceremony at the former Red Hall nursery site has seen the formal commencement of the East Leeds Orbital Route (ELOR) development.
The route will provide the infrastructure to match growing traffic numbers and future requirements as the East Leeds Extension sees in the region of 5,000 new houses built. It will also include dedicated cycleways, pedestrian and equestrian pathways, as well as specially designed access points to improve access to surrounding areas.
The scheme will also see a significant investment in green-blue infrastructure which incorporates planting of trees and other plants as well as sustainable water management solutions along the route which will improve drainage, provide environmental benefits and add to the look and feel of the route.
With enhancements to roundabouts and junctions there is a clear plan to deliver better transport across the north east of Leeds. The construction of the scheme's initial two phases (Outer Ring Road Junction Improvements on the A61 corridor and at the Roundhay Park Lane Junction and design development of the main ELOR route) will be carried out by Balfour Beatty, with the third phase proposed to commence late 2019 if all statutory approvals are obtained.
Leeds City Council have worked closely with West Yorkshire Combined Authority (WYCA) to arrange for funding from a range of sources to be in place, with Phases One and Two expected to cost around £16m
Councillor Richard Lewis, Leeds City Council executive member for Regeneration, Transport and Planning, said:
"The East Leeds Orbital Route is the biggest infrastructure project undertaken by Leeds City Council for fifty years, since the completion of the Leeds Inner Ring Road.
"This scheme will ease congestion in existing residential areas across Cross Gates, Seacroft, Whitkirk and also play a key role in the growth plans for the city for years to come."
"We have listened carefully to the voices of local communities and stakeholders to make sure the plans for ELOR reflect the needs and aspirations of those who will be impacted by the development."
Councillor Kim Groves, Chair of West Yorkshire Combined Authority's transport committee, said:
"The East Leeds Orbital Route is an excellent example of the significant support the Combined Authority is providing to key City Region infrastructure projects through our West Yorkshire-plus Transport Fund.
"We have already approved over £145.23 million of investment through the Transport Fund on schemes designed to support inclusive growth, job creation and the construction of new homes."
Balfour Beatty's special team will liaise with the public from their base at the former Red Hall site.
Rob Lockwood, Project Manager for Balfour Beatty, said:
"We are encouraging anyone interested in finding out more about the scheme to visit us and to visit the website to see how work is progressing. We have huge experience of delivering large projects and understand that on occasion they may cause some inconvenience. That is why we want to let people know what plans are and how the work is progressing so they can plan their transport appropriately and help us minimise any disruption. We know that the sooner we are aware of any issues, the more quickly we can try to deal with them."
Jonathan Taylor, Vice President of the European Investment Bank said:
"New investment in sustainable local transport is crucial to reduce journey times, cut carbon emissions and benefit local communities. The European Investment Bank backs cutting-edge transport projects around the world and we are pleased to provide £100 million to improve and expand transport links across West Yorkshire in the coming years.
"The East Leeds Orbital Route will tackle traffic bottleneck around Leeds, improve local air quality and encourage biodiversity. This impressive scheme is a credit to West Yorkshire and provides a model for sustainable urban investment in forward thinking cities elsewhere."
Balfour Beatty's team can be contacted at elor@leeds.gov.uk or by phone on 07967 5784451.
Notes for editors
The East Leeds Orbital Road is being financed through the West Yorkshire Combined Authority's 'West Yorkshire-plus Transport Fund'. The Fund is part of the Leeds City Region Growth Deal, a £1 billion package of Government investment through the Combined Authority and Leeds City Region Enterprise Partnership (LEP) that will accelerate growth and create jobs across Leeds City Region.
The European Investment Bank is Europe's long-term lending institution owned directly by the 28 EU member states. In recent years, the EIB has financed crucial water, transport, energy, education and social housing investment across Yorkshire. Over the last decade the EIB has provided £ 7.8 billion for cycle, bus, rail, maritime and air transport investment in the UK.
For media enquiries contact: