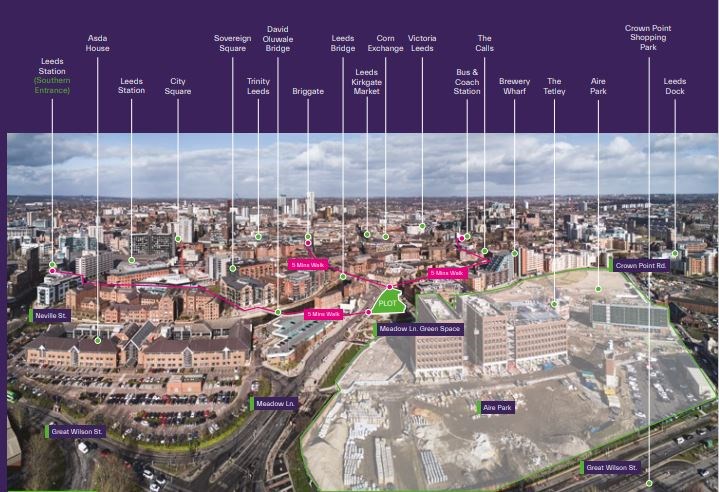 15 Mar 2023
New development site opportunity at the heart of historic gateway to Leeds
A new plot of land at the heart of one of the most exciting sustainable regeneration schemes in Europe has come to the market this week.
Meadow Lane in Leeds, which sits at a key historic gateway to the city centre, and forms a vital piece of the new multi-million pound city centre green space, Aire Park, offers potential developers the option to deliver an architecturally unique building, housing a mix of predominately residential units.
The 0.18 hectare plot is well connected, in the heart of the South Bank and only five minutes from Leeds railway station, the busiest transport hub in the north of England.
Councillor James Lewis, leader of Leeds City Council said:
"South Bank, Leeds has taken huge strides in terms of regeneration of the area over the last decade, from both the regeneration of key heritage and industrial assets, to bringing forward the largest city centre green space in the UK, and in turn creating well connected and sustainable neighbourhoods.
"The city is going through momentous change and the council is committed to continuing to help unlock major commercial and residential development across the South Bank and the centre of Leeds. This is one example of where we have been able to release a prime piece of city centre land, for better use and to continue to build upon this excellent and vibrant community."
Leeds is one of the fastest growing and greenest cities in the UK, and this latest announcement continues the focus from Leeds City Council into investment in sustainable development and growth in the city. This news further adds to the successful picture of development in Leeds – as recorded in the latest Deloitte Regional Crane Survey, where Leeds recorded a joint-record- breaking 22 new construction schemes in 2022.
Cushman & Wakefield are marketing the site on behalf of the council. For more information about the site visit Meadow Lane (meadow-lane-development-opportunity.co.uk)
Notes to editors:
The disposal of the development plot is part of the approved capital receipts programme and will contribute to the delivery of the wider Grey to Green projects.
The 'Grey to Green' programme is focussed on people and climate change outcomes which will stimulate new regeneration and growth, whilst enhancing the climate resilience and transformation of Leeds City Centre post COVID-19 through a series of integrated green spaces and green infrastructure.
For media enquiries contact: