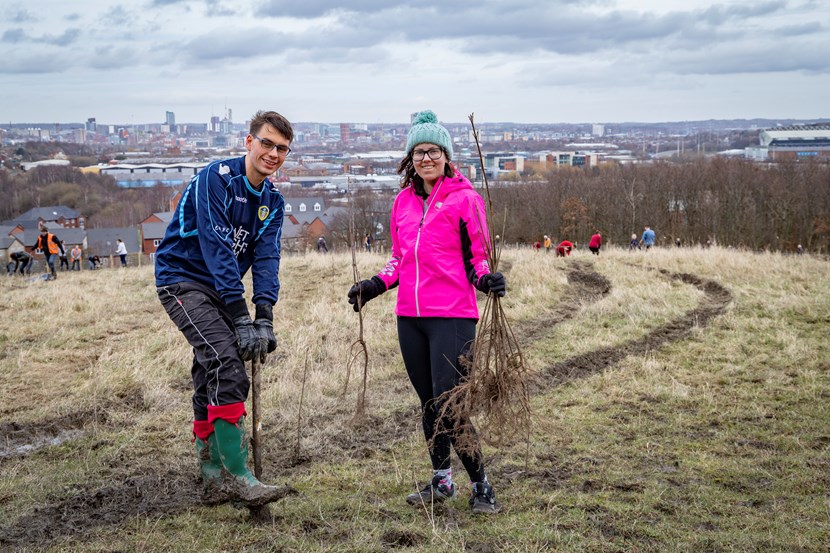 22 Mar 2021
More than 200,000 trees have been planted in Leeds over the past year.
A tree-mendous total of 200,000 saplings have been planted in Leeds over the past year as part of Leeds City Council's climate change ambition.
To mark the International Day of Forests on Sunday 21st March, Leeds City Council is sharing its recent contribution towards the regional White Rose Forest.
Launched last year, the Woodland Creation Initiative will see 5.8 million trees planted on council land over the next 25 years. Tree planting is proven to benefit the wellbeing of communities, support wildlife, and help tackle the climate emergency.
The council has recently committed to increasing tree cover in Leeds from 17% to 33% by working with landowners, businesses, communities and volunteers as well as the White Rose Forest partnership – a local authority-based joint venture working to increase tree cover across West and North Yorkshire.
Although Covid-19 restrictions have limited the opportunity for volunteering, hundreds of volunteers were still able to take part between lockdowns. Parks and Countryside staff have worked hard throughout lockdown to ensure that tree planting could go ahead as planned.
A total of 66 sites have been planted over the past year including East End Park, Stanningley Park, Nunroyd Park and Kippax Common, all contributing to combatting the climate emergency.
The young trees were supplied by the Arium, the council's horticultural nursery. To find out more visit the Arium website.
Each new woodland contains a rich mix of species to encourage a greater variety of wildlife to flourish, increase biodiversity and capture carbon. Steps are taken to ensure that the right trees are planted in the right place to give saplings the best chance of survival.
The trees planted will be cared for by the council's gardeners as they grow to become well established woodlands.
Choosing where woodlands are planted is an important part of the initiative. Communities are encouraged to get involved and also have the opportunity to suggest future land for planting.
Work is currently taking place to identify sites and consult with communities ahead of the next tree planting season. Those interested in future volunteering opportunities or who want to suggest future land for planting can do so by emailing woodlandcreation@leeds.gov.uk.
Councillor Mohammad Rafique, Leeds City Council's executive member for environment and active lifestyles, said:
"I am delighted to see our ambitious Woodland Creation initiative get off to such a strong start this year. The International Day of Forests provides a great opportunity to reflect on the importance of our green spaces and I'm sure that these new woodlands will be valued by our local communities for years to come.
"As well as tackling climate change, tree planting will also have huge benefits to the health and wellbeing of residents. We want to create a city where everyone has access to green space and nature so I look forward to seeing this programme continue to develop."
Councillor Helen Hayden, Leeds City Council's executive member for climate change, transport and sustainable development, said:
"Climate change presents our city with an unprecedented challenge and I am delighted that communities in Leeds have had the chance to lead by example and get involved in tree planting.
"We are committed to making Leeds a carbon neutral city that is healthier and fairer for all. Creating new woodlands is not the sole solution to this challenge but it will bring us much closer to reaching our target."
ENDS
For media enquiries contact: