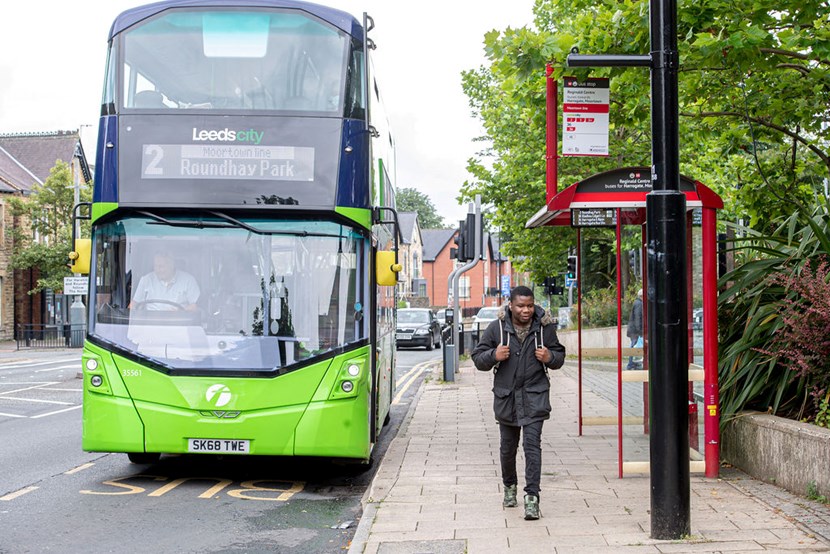 12 Oct 2021
Majority of public support ambitious transport vision for 'Leeds a city where you don't need a car'
The Connecting Leeds transport strategy has set out a vision for 'Leeds to be a city where you don't need a car', where everyone has an affordable, low carbon, healthy and accessible choice in how they travel.
Leeds City Council has today set out ambitious plans to further transform transport and travel in the city over the next 10 years. Following on from an unprecedented investment of £380 million of infrastructure improvements already completed or underway, the council has today unveiled its latest Connecting Leeds transport strategy for the city setting out detailed plans for further major improvements up to 2030.
Among the highlights of the plan are to:
Contribute a reduction of up to 43 per cent in CO2 emissions from transport by 2030.
Aim for a 30 per cent reduction in car mileage and a 130 per cent increase in bus usage.
To consider further measures to reduce air pollution and CO2 emissions from transport to achieve 2030 Net-Zero carbon target.
Complete the first phase of investment in the public transport improvement programme, which sees until 2024, completing 30 infrastructure projects:

Transforming Leeds city centre, City Square, and city centre cycle walking and cycling improvements.
Outer ring road and bus corridor improvements, masterplans for Leeds Station and new rail stations at White Rose and Thorpe Park.

Understand how travel patterns have changed over the Covid-19 pandemic and how it will affect our priorities.
Review policies on road space re-allocation, spatial planning, and safe and sustainable travel.
Work alongside the Mayor and West Yorkshire Combined Authority to secure more Government funding.
Continue with travel behaviour change initiatives across the Leeds district.
The majority of public consultation responses endorse the approach, from just over 1,700 responses, 70 per cent agreed with the levels of ambition and vision. The feedback also found that more needs to be done to reduce transport carbon emissions, but promisingly 58 per cent of replies said they are willing to change to a lower carbon mode.
A key element of work already being carried out by the council and partners has been an unprecedented level of improvements in the road network and its infrastructure as part of the £270million Connecting Leeds programme. This includes the successful completion of schemes such as the world class city centre gateway at The Headrow and Park Row, alongside the cycle superhighways and public transport enhancements.
In the last month, the country's first fully solar powered park and ride facility opened at Stourton, operated by electric buses connecting into the city centre. Over the next few months there's more major schemes to complete, with the Corn Exchange, the A61 south and A647 bus priority routes. The city's other park and ride sites have been and will be extended. This follows over 60km of new dedicated cycle lanes have been installed since Leeds hosted le grand depart in 2014, with more to come across the district.
A report on the Connecting Leeds transport strategy and action plan 2021-24, will go before a meeting of the council's executive board, to be discussed next Wednesday, 20 October.
Leeds City Council Leader Councillor James Lewis, said:
"This transport strategy will enable Leeds to retain its role as a local, regional, and national transport hub and prepare the city for the arrival of high-speed rail. We will continue to work and support the newly elected Mayor, alongside our joint efforts to transform the bus network. Maximising the transport investment, our approach will ensure benefits are distributed across the city and wider city region. We will need support from all partners and communities across the city to achieve these ambitious plans; most importantly we will need significant government support and long-term funding.
"There's more we can do to improve everyone's experience of travel in our city and that journey starts within local areas. Creating healthier streets that are safer, greener, and accessible to all and delivering local schemes will be a priority. We need to continue to get people to move away from their cars to reduce air pollution and deliver an affordable, reliable, safe and zero carbon public transport network for the city which supports streets for people and unlocks the power of transport for a fairer, greener and a more prosperous Leeds."
Leeds City Council executive member for infrastructure and climate Councillor Helen Hayden said:
"The Covid-19 pandemic has brought about fundamental changes to how we live, work and enjoy our district. Moving our transport system towards a more accessible, active travel and public transport focused network, will allow us to achieve our vision of a city where a car is not required to meet mobility needs. We also have to recognise our approach must work across the whole of Leeds, in that rural areas may require a different approach.
"We know that people are willing to make small gradual changes from switching to electric vehicles, making more use of public transport, and reducing shorter car trips by walking, wheeling, or biking. I would like to thank those people who are already doing their bit and to keep up their momentum. But our ambition to be net zero from carbon by 2030, will still require even bigger changes.
"As we look to recover from Covid, we aim to focus on tackling the climate emergency and improving our health and wellbeing. It's important for people to realise that every one of us needs to play our part in making the shift from over-reliance on the private car to public transport, walking, cycling and shared use of vehicles. We'll also work tirelessly, to continue the conversation with residents and businesses to support our ambitions. And together with our partners to improve the highway network and infrastructure to encourage people to sustain growth in public transport, keeping our air clean across Leeds."
Nigel Foster, Director of Fore Consulting and Chair of the Leeds transport advisory panel, said:
"The Leeds transport advisory panel supports the strategy and its ambitions for the future accessibility in the Leeds district. While significant progress has already been achieved, there's still a lot more work to do to meet the scale of the challenges and particularly around decarbonisation and more sustainable travel choices. The council cannot address the ambition alone, it needs to be matched with active partnerships working with businesses, residents, and others, to transform mobility across Leeds. And we will continue to engage with everyone about the changes we need to make together."
For media enquiries contact: