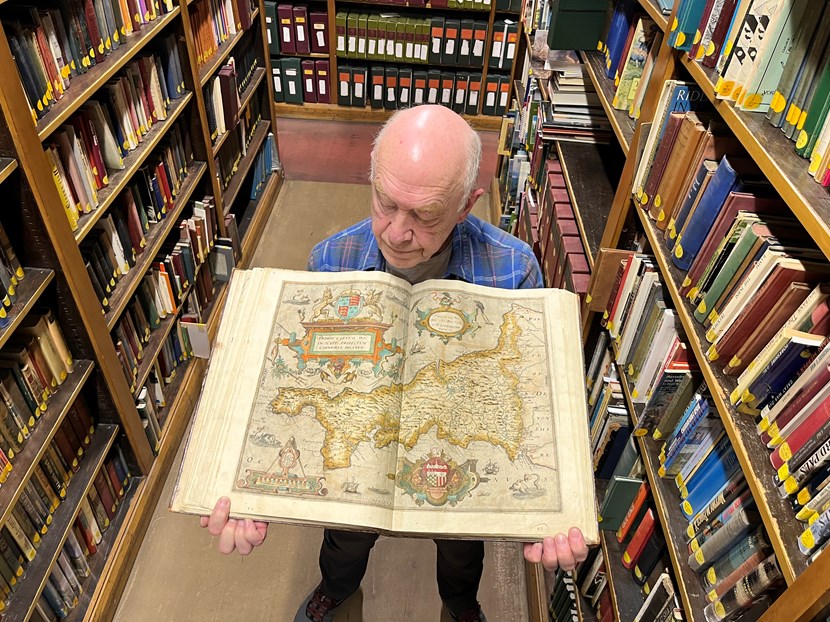 22 Aug 2023
Library's precious atlas charts a course through nation's history
An incredibly rare copy of one of the first UK atlases ever created will be going on display at a library in Leeds.
Containing 35 detailed, hand coloured maps of the counties of England and Wales, the fascinating book was created by the Yorkshire-born 'father of English cartography' Christopher Saxton in 1579 after getting royal permission from Queen Elizabeth I.
Having also secured the financial backing of the monarch's master of requests Thomas Seckford, in 1574 Saxton set about the daunting task of touring the whole nation to survey every county and collect all the minute detail he needed to bring his atlas together.
His finished work, which he dedicated to The Queen, was completed in 1578 and after it was published the following year, it became the foundation for all subsequent county maps for more than a century after.
In fact Saxton's Atlas was not fully replaced as the definitive geographical representation of England and Wales until Ordnance Survey began publishing one-inch maps in 1801.
The atlas's pages feature 'Ledes' and 'Bradforthe', the old names for Leeds and Bradford, and Saxton himself was believed to have been born in Dewsbury in the early 1540s before moving to south Leeds.
Whilst most of the maps within the atlas were engraved on single copper plates, Saxton decided Yorkshire was important enough to require two, making the map of his home county twice the size of that of England and Wales.
The book itself is so rare and cherished by experts, it has been compared to a map-collector's version of the first folio of Shakespeare, and the esteemed cartographer Thomas Chubb said that for any map-enthusiast, it would be the "chief jewel and the crowning glory of the collection."
Philip Wilde, library assistant at Leeds Central Library has been researching the atlas. He said: "This remarkable collection of maps was the very first time anyone had comprehensively mapped the counties of England and Wales in this way, and Saxton's diligence, dedication and eye for detail completely transformed our understanding of the entire nation.
"Today, thanks to modern technology, being able to see and understand the landscape of the country is always at our fingertips. But centuries ago this atlas would have been a massive leap in how people were able to relate to where they lived and its place in the nation as a whole.
"We're extremely lucky to have such an important book in our collection both to study and for our visitors to see."
Librarians at Leeds Central Library have been working with their precious copy of Saxton's astonishing book and the atlas will be available to see alongside other historic maps during a special heritage open day event at the library on September 9.
Councillor Mary Harland, Leeds City Council's executive member for communities said: "Our libraries collection is home to some truly unique treasures which have played a huge part in the history of Leeds, Yorkshire and the country as a whole.
"We're proud to be playing our part in preserving that special heritage and for our visitors to be able to view and be inspired by these remarkable books."
Saxton's Atlas is also available to view by appointment for visitors. Visit the Local and Family History department on the second floor of Leeds Central Library. Two forms of ID (one with your name and another with your address) and at least 24-hour's notice will be required. Call 0113 378 6982 or email localandfamilyhistory@leeds.gov.uk for further details and to book an appointment.
ENDS
For media enquiries contact: