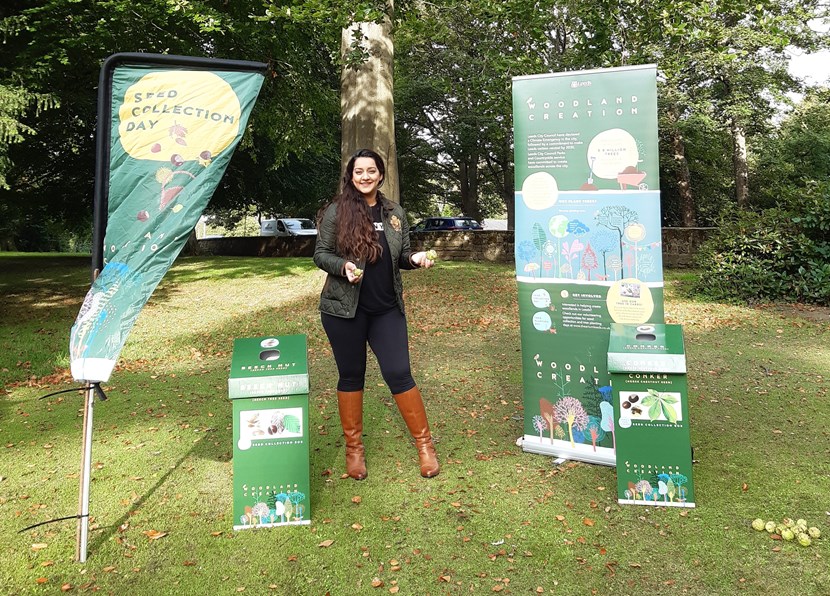 22 Sep 2021
Leeds residents urged to play their part in ambitious tree planting project
Residents are being encouraged to show their support for an ambitious city-wide tree planting project this autumn.
Leeds City Council set out the target of planting approximately 5.8m trees over 25 years in parks and green spaces across the city as part of its wide-ranging work through its woodland creation programme to tackle the immediate climate emergency and to meet its aim of making Leeds carbon neutral by 2030.
People of all ages are now being offered the chance to once again get involved and help Leeds reach this target through the 'Collect Tree Seeds for Leeds' programme which is held annually from September to November. Residents who want to get involved are being asked to collect four tree seed species, including acorns, beech nuts, chestnuts and conkers. More information on the program can be found on the Arium website at: https://www.theariumleeds.co.uk/ Once the seeds are collected, they can be deposited at one of 12 seed collection points that are in place across the city. The tree seeds will then be taken to the council's designated specialist plant nursery and garden centre the 'Arium', where they are sewn and grown to be planted back into Leeds parks and green spaces. In 2020, 37,000 tree seeds were gathered in the city for potential planting in the future.
The Woodland Creation initiative, which is managed by the council's parks service, will see the planting of new woodlands to capture carbon, increase biodiversity by creating habitats for birds, animals and insects. The new woodlands will also enhance green spaces creating accessible woodlands for community use helping to improve health, wellbeing and understanding of climate change.
For children a Woodland Creation Teaching Resource is also available on the Leeds for Learning platform, which contains activities, games and resources to help teach children about the greenhouse effect, climate change, the carbon cycle and how trees work. The Parks Ranger team are running autumn seed gathering workshops and winter/spring tree planting sessions with schools. To find out more, please contact: countrysiderangers@leeds.gov.uk
Councillor Salma Arif, Leeds City Council's executive member for public health and active lifestyles, said:
"In the parks service, we've put together a package of initiatives and projects through our Woodland Creation programme that we feel can help to make a real difference in the continued fight against climate change.
"As part of this work, we want to plant 5.8m trees over the next 25 years in our parks and greens spaces, and whilst this target is certainly a challenge, I'm delighted to say that we've made a fantastic start thanks to the support of Leeds residents across the city and their continued contribution to The Collect Tree Seeds for Leeds programme which has started again this month."
Councillor Helen Hayden, Leeds City Council's executive member for climate and infrastructure, said:
"In order to meet the existing climate emergency and our target to make Leeds carbon neutral by 2030, we have as a council set out an ambitious programme of works across all of our different services.
"It is absolutely vital that if we are to make positive progress in tackling climate change, that everyone in in our city and communities works closely together to help us achieve our aims. I am delighted to say that the response that we have had from residents to projects such as Collect Tree Seeds for Leeds project has been absolutely tremendous, and we are looking forward to seeing even more tree seeds collected this autumn."
Notes to editors:
You can collect acorns, beech nuts, sweet chestnuts and conkers and place in the boxes at locations below. They will be collected and taken to the Arium, where they will be sown. For more information please see the Arium website listed above or the Leeds City Council website at: https://www.leeds.gov.uk/
Locations:
1 Temple Newsam Café.
2 Gotts Manor Golf Club.
3 The Arium.
4 Three Cottages Café, Meanwood Park.
5 Farnley Hall Park.
6 Middleton Park Visitor Centre.
7 Golden Acre Park Café.
8 Tropical World gift shop.
9 Kirkstall Abbey Gift Shop.
10 White House Café Outdoor Seating, Otley Chevin.
11 TCV Hollybush Kirkstall.
12 Wetherby Town Hall.
For media enquiries contact: