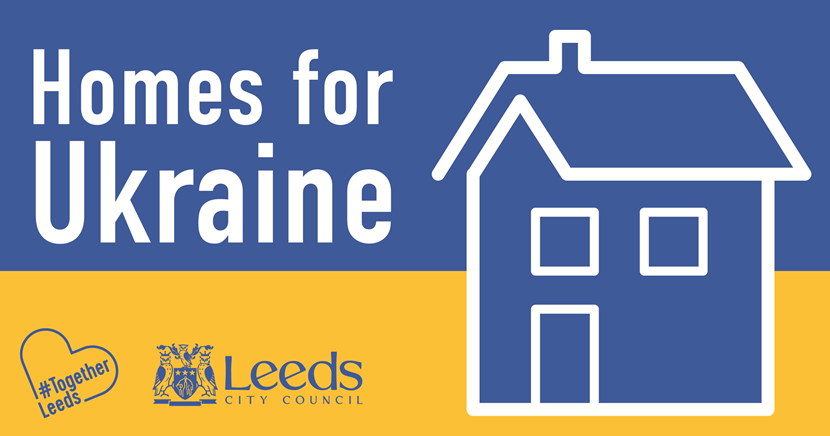 16 Dec 2022
Leeds City Council increases Homes for Ukraine 'thank you' payment to £500 a month
To recognise the tremendous support that has been shown to Ukrainian guests over the past six months, Leeds City Council has today announced it will increase the Homes for Ukraine 'thank you' payment from £350 to £500 per month between December 2022 and March 2023.
The additional payment is aimed to alleviate some of the financial pressures experienced by hosts during the winter months and to mitigate the impact of the cost-of-living crisis.
Councillor Mary Harland, Leeds City Council's executive member for communities, said:
"Leeds is a warm and welcoming city where more than 600 Ukrainian guests have already settled thanks to the ongoing help of our fantastic hosting families. This is a fantastic achievement, and I would like to thank everyone in Leeds who has worked to give our Ukrainian guests a warm welcome, especially those who have shared their homes and lives.
"Many Ukrainian families have already settled and rebuilt their lives here in Leeds and many have jobs, will have made friends and joined schools. We hope that by increasing the payment, we will be able to help hosts with any rising costs they may face and encourage them to continue with the scheme or entice new hosts in similar areas.
Councillor Harland added:
"Hosting a Ukrainian family is a rewarding and fulfilling experience, and can bring benefits to everyone, including hosts. Hosts will be fully supported by the council and other partner organisations, including Homes for Ukraine and I would urge anyone who might have space in their home to consider looking into applying to partake in the scheme."
Since March 2022, there have been 326 active sponsors across Leeds who have kindly opened up their homes, and who are supporting 644 Ukrainian refugees.
Thanks to the many kind-hearted hosts, these Ukrainian families have had the opportunity to rebuild their lives and settle into new homes, jobs and schools across the city and make new friends in their communities. As the initial six month scheme draws to a close, there is now a need to bring new hosts on board who can offer a home with more than one bedroom available in those areas of Leeds where families are already living.
Extensive support from the council, its partner organisations and various charities will be available throughout the scheme for hosts and guests which you can find out more about at Support in Leeds for Ukrainian refugees

Georgia Cooper, a Leeds-based host who will be continuing to host her guest Olha Pravdenko, says she feels that Olha is "like a second daughter to her". Watch the video to hear about their experiences:

People interested in becoming a host or finding out more can contact us at homesforukraine@leeds.gov.uk
For media enquiries contact: