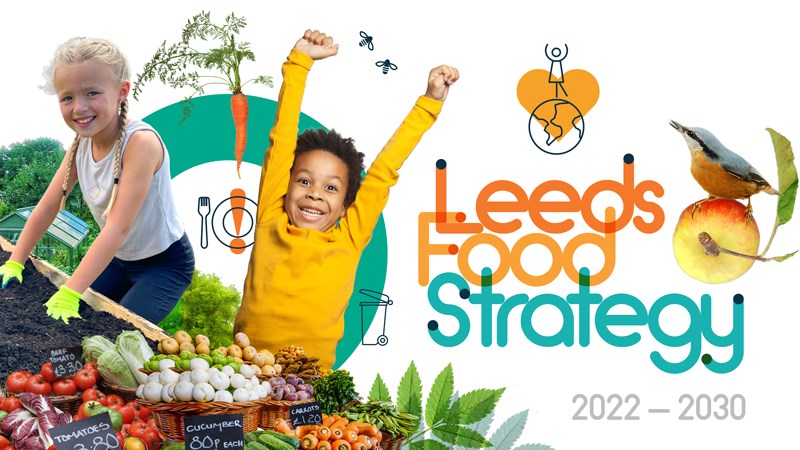 19 Oct 2022
Leeds City Council asks public to feedback on first citywide food strategy
Residents, businesses, and organisations are being invited to have their say to help shape a new vision for the future of how food is produced, consumed, and disposed across Leeds.
Senior councillors approved plans to consult on the new strategy at a meeting of the council's Executive Board this afternoon.
The draft Leeds Food Strategy 2022-2030 sets out how the council, FoodWise Leeds and other city partners intend to build on existing work and strengthen collaborations to address three interlinked 'missions' relating to food security and economy, healthy eating, and the sustainability and resilience of food supplies.
At the heart of the new strategy is an aim to ensure that Leeds has a vibrant food economy where everyone can access local, healthy, and affordable food that is produced in ways that improve the natural environment and embrace innovation.
Since January, Leeds City Council and FoodWise Leeds have been developing the new plans and objectives in partnership with individuals and representatives from across the food system including charities and community groups, academic experts, businesses, public health, and the agricultural community. The work was co-chaired by Cllr Abigail Marshall Katung, Leeds City Council's official 'Food Champion' and Gareth Batty MBE FRSA, CEO of FareShare Yorkshire.
Improving the quality of diets in line with government recommendations will extend lives and prevent avoidable long-term conditions. Currently, 54% of adults in Leeds are living with at least one long term condition. The new strategy outlines how the council and partners will work together to make adopting a healthy and sustainable diet more accessible, whilst taking targeted action to help those most at risk.
Nearly 38,000 people were employed in Leeds' food sector in 2019 and it plays a key role supporting the city's growing visitor economy. Yet at the same time, local food bank usage and reliance on emergency food provision continues to grow. While pledging continued support for those most in need, the strategy sets out plans to focus on actions that address the causes of food insecurity whilst also supporting Leeds' food businesses to succeed so that they create further employment.
Recycling food waste, supporting greener producers, enabling community food growing, and raising awareness of planet-friendly foods to empower individuals to make better-informed choices are among the actions highlighted to help ensure that the way Leeds produces, consumes, and disposes of food is resilient to future climate change and compatible with the net zero transition.
The policy document is designed to complement and help deliver the aims of both the Government Food Strategy and the independent National Food Strategy at a local level, whilst also supporting the city's Best City Ambition. It is also an important part of Leeds working towards achieving Silver (and later Gold) Sustainable Food Places status before 2030. Leeds currently holds the Bronze award.
An online consultation questionnaire and the strategy in full can be accessed online at: www.leeds.gov.uk/foodstrategy. Feedback can also be shared by emailing LeedsFoodStrategy@leeds.gov.uk. The consultation period is scheduled to end on December 18.
Councillor Abigail Marshall Katung, official Food Champion at Leeds City Council, said:
"Leeds is a fantastic city for food. Food is at the very heart of our culture, economy, and communities. Yet while we have a lot to celebrate as a city, I am painfully aware that far too many residents are struggling to put good food on the table.
"For the first time, the Leeds Food Strategy shows how the city can systematically work together to create a better food future for all—saving lives and enabling people, food producers, and the planet to prosper.
"As well as being vulnerable to the impacts of the climate emergency, our food system is also partly responsible. That's why this plan explores what we as a city can do to enable the transition to a food system compatible with net zero. Every action counts.
"We believe that these draft plans are a recipe for success, but we'll need the help of the whole city to turn our ambitious vision into a reality. Getting these plans right and ensuring they reflect the city is incredibly important. I strongly encourage anyone with an interest in these plans to have their say on the future of the strategy by taking part in our consultation at: www.leeds.gov.uk/foodstrategy."
Gareth Batty MBE FRSA, Chief Executive Officer at FareShare Yorkshire, said:
"The Leeds Food Strategy is the result of a brilliant piece of work, bringing together the third and public sectors alongside businesses and academia to work towards a place where food is sustainable, healthy and financially accessible for everyone and plays a vital role in making the city the best place to live, work and thrive."
ENDS
For media enquiries contact: