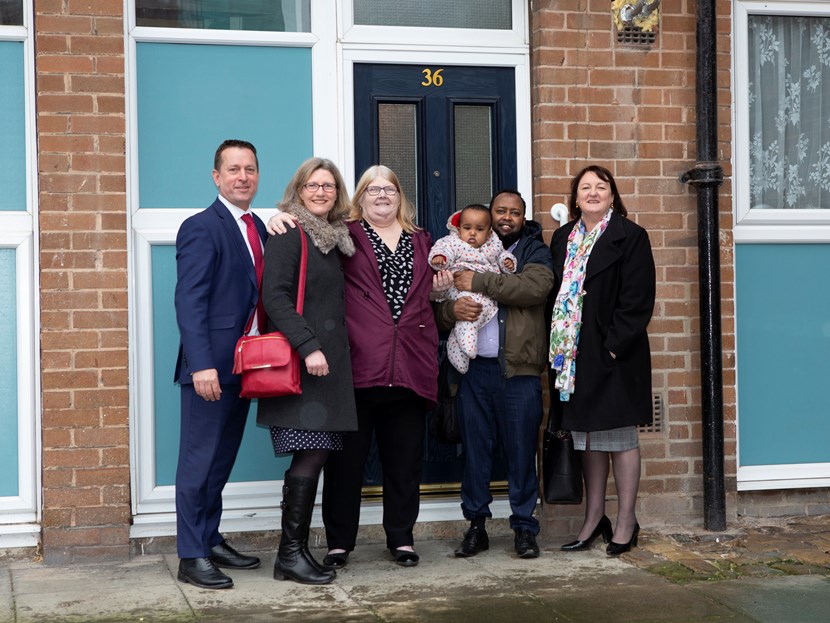 17 Mar 2020
Hundreds of Leeds residents receiving affordable and sustainable heat from £36million district heating network
Almost 800 homes in the city are now enjoying affordable and sustainable heat after being connected to the city's £36million 'Leeds PIPES' district heating network.
The scheme uses heat generated from black bin waste at the Recycling & Energy Recovery Facility (RERF) and transports it via a series of super insulated district heating pipes to local businesses and residents.
Once the scheme's first phase has been completed later this year the network will save tenants at 1,983 properties an estimated 10 to 25% on energy bills whilst reducing the city's annual carbon footprint by 11,000 tonnes.
The scheme has been delivered in partnership between Leeds City Council and Vital Energi with funding support from the West Yorkshire Combined Authority and ERDF.
Councillors Debra Coupar, Leeds City Council's executive member for communities, and Lisa Mulherin, Leeds City Council's executive member for climate change, transport and sustainable development met with local residents and representatives from Vital Energi at Shakespeare Grange recently to find out more about the scheme and how it is helping residents.
Joan Fletcher, resident at Shakespeare Grange, said:
"The four months since I got it have been heaven. I am saving on my general electric, I'm saving on one bill which compensates for the other bill too. When the warm weather comes, I will see a genuine change."
Said Dirir, resident at Shakespeare Grange, said:
"I've had the heating for the last two months. It's nice and warm and I'm really happy with it. I'm saving money too, before I was paying nearly £200 a month, now I'm saving around £150 a month."
Councillor Debra Coupar, Leeds City Council's executive member for communities, said:
"Leeds has made fantastic progress with its Affordable Warmth Strategy over the last few years, and it is promising to see that almost 800 properties are now connected to the district heating network.
"I'm delighted that we've been able to connect residents in council properties to affordable heating and hot water. This will have a significant impact on the health and wellbeing of those connected to the scheme.
"It is great to hear from local tenants about how the network has already made a positive difference by helping them stay warm and healthy over the winter period and how it will help them save money in the long-term."
Councillor Lisa Mulherin, Leeds City Council's executive member for climate change, transport and sustainable development, said:
"After declaring a climate emergency, the district heating network will make a positive contribution to enable local homes and businesses to connect to energy efficiency heating.
"The district heating network is a fantastic example of how becoming more sustainable can help the council and residents save money on their energy bills whilst also working towards our target of becoming a carbon-neutral city.
"The scheme is just one of the ways which Leeds has committed to reducing our carbon footprint and the network will make a huge difference to the city's emissions."
Rob Falcon, Project Director for Vital Energi explained:
"Citywide projects are particularly exciting as they have a large, positive impact on both carbon emissions and energy costs—but they also have scope to grow and connect more customers and residents and become even more efficient as they expand.
"We're delighted the project recently received Heat Networks Investment Project (HNIP) funding for Phase 2 which we're currently delivering in the Headrow and I am sure this will grow to become one of the UK's most important heat networks.
"We're delighted that heat is now on in almost 800 flats and the remaining residents will be switched over onto the new system over the coming months. We'd like to thank the residents for their good humour, patience and interest in the project and are proud they will now receive cleaner, greener, more affordable and efficient heating and hot water."
Businesses including the Leeds Playhouse have also connected to the network.
Following the recent "heat on" for scheme's first phase, work on the network's second phase is now progressing after the council successfully received an additional £2.4m in funding from the Heat Network Investment Programme to extend the network.
The new funding has allowed the 16.5km network to be extended by a further 2.5km along the Headrow and into the city centre and connecting the City Museum, Art Gallery, Central Library, Town Hall, St George House and Civic Hall to the scheme.
ENDS
Contact: For more information, please contact Gordon Coates at Gordon.coates@vitalenergi.co.uk
Notes for Editors
The network will connect 1,983 homes spread across 26 blocks as well as local business. Phase 2 will connect well-known civic buildings as the network extends into the Headrow.
Phase 1
Saxton Gardens flats
Lincoln Green flats
Ebor Gardens flats
Leeds Playhouse
Phase 2
Town Hall
Civic Hall
Museum
Art Gallery
Library
St George House
The network is bringing major benefits to residents and businesses in Leeds, including:
Lower cost, low carbon heat and hot water;
Allowing customers to control their heating and hot water, so they only pay for what they actually use;
Improving background air quality;
Offering local employment opportunities, including work experience placements and apprenticeships.
About the Leeds PIPES District Heating Network
District Heating Networks are commonly used across the world, to provide cost-effective, environmentally friendly heat and hot water solutions. Currently around 64% of all homes in
Denmark are heated through District Heating Networks, with networks operating across the UK, including in Sheffield, Nottingham, Manchester, London and Glasgow.
The Leeds PIPES heating network is a £35 million scheme which is connecting homes and businesses across Leeds with lower carbon, lower cost heat and hot water, generated through utilising steam created at the Recycling and Energy Recovery Facility (RERF), which is operated by Veolia.
The Leeds PIPES network has a large complementary impact on the work we are already doing to improve air quality in Leeds. In line with the Clean Growth Strategy which seeks to modernise the use of fuel in homes, businesses and transport by cutting usage of gas, oil and coal; the Leeds PIPES district heating network will displace older existing electric and gas boilers, by providing heat from the steam produced when burning waste at the RERF. Utilising this alternative heat source will significantly decrease the levels of pollutants from domestic boilers such as CO2, particulate matter and NOx.
By using heat produced remotely, the Leeds PIPES network will help reduce background levels of NOx Leeds, including in some locations which are currently in breach of EU and UK regulatory limits.
The Leeds PIPES network will work in tandem with the proposed Clean Air Zone, to cut air pollution, improve air quality and enhance quality of life for the residents of Leeds.
Leeds City Council and Vital Energi have designed the network to ensure it can, in the coming years, be extended to meet Leeds' heat and hot water needs, particularly in the city centre and Southbank.
Property owners are encouraged to contact Leeds City Council to discuss connection opportunities at peter.midgley@leeds.gov.uk.
Funding
Phase one received £4 million from the Leeds City Region Enterprise Partnership (the LEP), delivered in partnership with the West Yorkshire Combined Authority, through the Leeds City Region Growth Deal - a £1 billion package of government investment to accelerate growth and create jobs across Leeds City Region.
An additional £5.8 million of European Regional Development Funding was received to assist to connect 1,080 council homes in the Lincoln Green area.
Phase 2 has secured £2.4m of HNIP funding and is currently under construction, this phase will see a 2.5km network expansion and connections of iconic city centre buildings.
Phase 2 is being supported by the LEP's Energy Accelerator. This is funded by the Leeds City Region Growth Deal and the European Investment Bank's European Local Energy Assistance (ELENA) programme.
About Vital Energi
Vital Energi provide energy generation, energy distribution and energy supply and consumption management to help both the public and private sector decarbonise their estates and developments.
We provide multi-technology solutions for your campus, city and new and existing developments that achieve your carbon reduction and energy cost targets for both now and in the future. Combining both renewable / low carbon generation solutions with optimised consumption measures allows new and existing homes and buildings to contribute towards carbon reduction targets.
With over 30 years' experience in the Heat Network market, we uniquely have access to 100 million metered data points coupled with the continued investment in products and services which allows us to develop and deliver secure and feasible energy solutions.
For more information about Vital Energi and the work we do please visit our website at: www.vitalenergi.co.uk
For media enquiries contact: