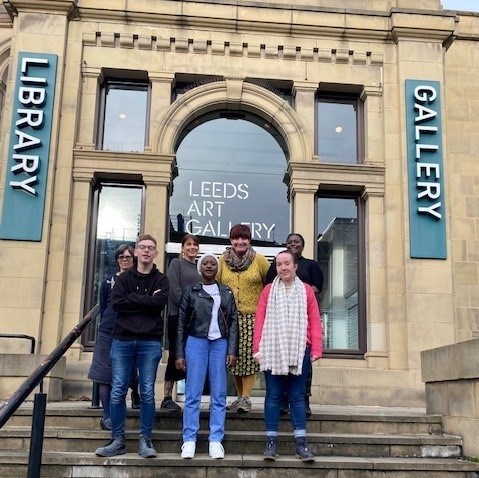 02 Dec 2022
Gallery's young volunteer group scoops top museums award
A group of young adults whose experiences of being in care helped them bring exciting exhibitions to life for culture vultures in Leeds have scooped a top award.
Leeds Art Gallery's Care Creatives is made up young adults aged 16-24 years who live in foster care, kinship care, residential care or who have recently left care.
This week, their efforts were rewarded as they won the prestigious Marsh Award for Yorkshire for their outstanding contribution to volunteering.
Launched in 2021 by Leeds Museums and Galleries youth engagement curator Angie Thompson in partnership with Leeds City Council's employment and skills service, the group aims to give young people the chance to engage in art activities, gaining valuable skills that can help them progress into employment or education.
Over the past year, the group has worked with curators and artists including Rachel Craddock, Richard Hedges, Jade Montserrat, Jill McKnight, Harold Offeh, and James Thompson.
They took part in a number of ground-breaking contemporary exhibitions at Leeds Art Gallery including Radical Reel, Eileen Agar: Angel of Anarchy, and Shifting Perspectives.
They also saw their own artwork displayed at the gallery, online and at community hubs across the city as well as producing a life-sized mural, delivering workshops and leading gallery tours.
Angie Thompson, youth engagement curator with Leeds Museums and Galleries, said: "Winning in the Yorkshire region at the Marsh Awards for contributions to Volunteering for Museum Learning is a huge achievement for the Care Creatives young adults.
"Time after time they have shown their commitment to the project, attending workshops each week at Leeds Art Gallery. The group are an exceptional group of people and I'm extremely proud of them."
The Marsh Awards celebrate the work and achievements of museum volunteers across the UK, with the British Museum and the Marsh Christian Trust working in partnership.
The Marsh Awards programme is managed in association with key partners including the Zoological Society of London, English Heritage, Barnardo's, the Refugee Council and the British Museum.
Councillor Jonathan Pryor, Leeds City Council's executive member for economy, culture and education, said: "Our fantastic museums and galleries are not only amazing visitor attractions, they are also a pathway for people of all ages to engage with arts and culture and to participate in a huge spectrum of events and activities.
"We are incredibly proud of the work they do, and this award is well-deserved recognition for all those who have worked so hard."
The Care Creatives meet once a week and its free to join. If you are care experienced and aged 16-24 and to get involved with the project, email youth.curator@leeds.gov.uk
ENDS
For media enquiries contact: