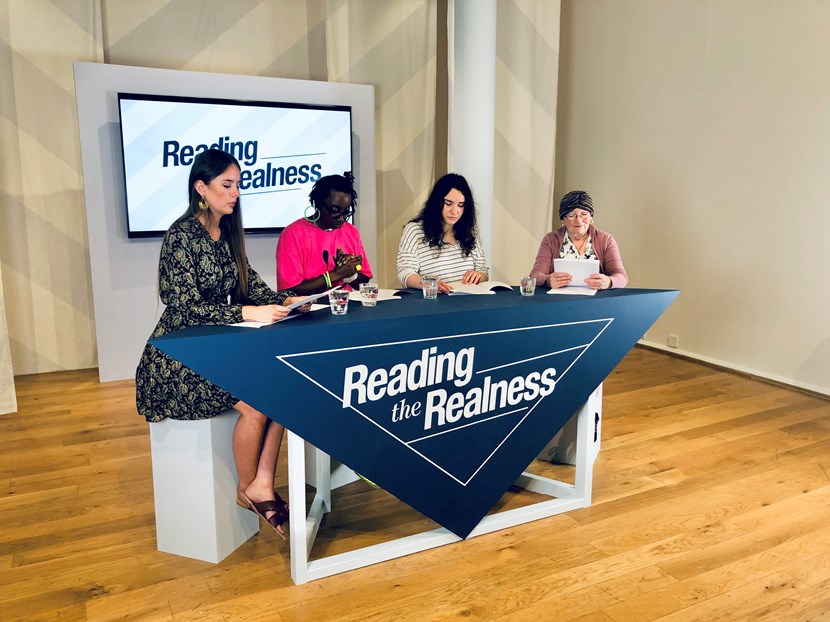 11 Nov 2021
Gallery tunes in as artist takes on TV talk show format
An innovative new performance has brought art enthusiasts of all ages together to reinvent a series of TV talk show debates at Leeds Art Gallery.
Harold Offeh's new artwork Reading the Realness has seen members of the gallery's Youth Collective working alongside older people from its regular Meet and Make sessions to take to the small screen and explore themes of modern media and contemporary culture.
Working in front of a live audience with transcripts of televised panel show discussions, together the group discussed a series of high-profile topics including colonial statues, climate change and national identity, with each member taking on the part of a different character.
After the performance, the participants and audience were invited to reflect on their experiences, with recordings of the discussions now on display at the gallery for visitors to view on screen.
Leeds Art Gallery Youth Collective member Jenni Sutton said: "It has been an honour to work alongside such an inspirational artist and participate in such a pivotal and relevant debate."
"I especially enjoyed taking part in the live debate because it opened up my mind up to new viewpoints, I hadn't previously considered.".
"Throughout the day I developed many key skills and connected with other people from the Youth Collective after joining during lockdown."
Acquired with funding from The Contemporary Art Society's Rapid Relief Fund, Reading the Realness is now on view as part of Radical Reel, a group exhibition and season of screenings and events celebrating 40 years of artist's moving image from the gallery's renowned collection.
Harold Offeh said: "I am really delighted to have my work represented in the Leeds Art Gallery. Having worked in Leeds for over 10 years, I'm a huge admirer of the city's cultural heritage and Leeds Art gallery's great collection in particular and I'm truly honoured to be part of it. I'm really looking forward to producing this ambitious project that marks a huge milestone in my career."
As a living archive now part of Leeds Art Gallery's collection, Reading the Realness can be performed again in the future with different scripts.
Leeds Art Gallery's curator of exhibitions, Helen Little said: "Reading the Realness addresses the need for discussion about social identity and the urgency of building solidarity across difference.
"Responding to contemporary situations and debates, it encourages us to build understanding and empathy through considering other subject positions to strengthen connections between people at a time when it is sorely needed. Visitors to the gallery will experience the opening or start of a conversation that we hope will continue through further dialogue and discussion."
Councillor Jonathan Pryor, Leeds City Council's executive member for economy, culture and education, said: "It's always great to see young people engaging with the arts and using the power of culture to make their voices heard.
"Leeds Art Gallery has a long and outstanding track record of giving our city's young arts enthusiasts the opportunity to express themselves as they work alongside an eclectic programme of established and exciting artists."
ENDS
For media enquiries contact: