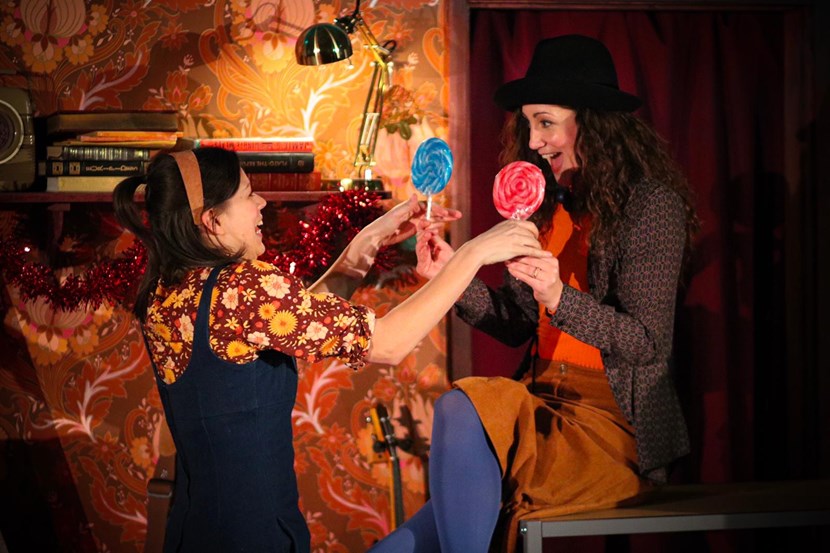 05 Dec 2019
Follow the trail of breadcrumbs to Leeds Central Library for a spellbinding performance of Hansel & Gretel this Christmas
There's magic and mayhem at Leeds Central Library this week, as a new festive show for all the family opens in Room 700. Local theatre company Wrongsemble will bring Hansel & Gretel to life in the library from 7 December, with live music, performed on a bespoke set built specially for the space.
Wrongsemble have reworked the traditional fairy-tale for a modern family audience and the plot is bursting with mischievous twists and turns. Meet three quirky characters who find themselves snowed in at Leeds Central Library on a cold winter's night, ready to share three very different versions of the tale.
The company is returning with the new show after last year's sell-out The Princess and the Sprout, and the festive production is supported by Arts Council England. Directed by Wrongsemble's Artistic Director Elvi Piper and designed by Antony Jones, the play is full of northern creative magic.
Andrea Ellison, Chief Librarian at Leeds Libraries: "We are delighted to welcome Hansel & Gretel as part of the Leeds Libraries commitment to the Leeds Year of Reading. The value placed on the books and stories is precisely the message we're hoping to send."
Councillor Debra Coupar, Leeds City Council's executive member for communities said: "This year's production by local theatre company Wrongsemble promises to bring even more festive fun to Leeds Central Library. It offers one of the city's most affordable and accessible seasonal treats for families, catering for all communities across Leeds, with relaxed performances, audio described, dementia friendly and BSL interpreted shows. Families are advised to book early to avoid disappointment."
Hansel & Gretel runs until 5 January 2020, with tickets priced at £6 for children and adults over 60, £8 for adults, and £24 for a family of four.
To book, visit: https://www.ticketsource.co.uk/whats-on/leeds/leeds-central-library-room-700-first-floor
Get a taste of the production through the online trailer: https://www.youtube.com/watch?v=RLJDu5Y7SWM&fbclid=IwAR0_rf0KWbya_A8Wy4cd8hNiSCOnXFS0b_EYG_djg7t1zh5c0tAcfHAymHQ&app=desktop

ENDS
For media enquiries please contact:
Jen Boyle,
Senior Communications Officer,
Leeds City Council
0113 378 7101 / Jennifer.boyle@leeds.gov.uk
Notes to editors:
Room 700 is located on the first floor of Leeds Central Library. Its name pays homage to the 700 section in the Dewey Decimal system, in which books on the arts can be found. Room 700 offers a diverse range of events throughout the year, from exhibitions to talks and family-friendly events, giving visitors the chance to discover new authors and celebrate literature and the published word. Visit www.leeds.gov.uk/room700
Leeds Year of Reading launched on 12 September and will be running until September 2020. The new initiative is a partnership between Leeds City Council and BookTrust, the UK's largest children's reading charity. BookTrust will contribute over £1million in books and resources for children and families in Leeds over the next three years. Visit www.leedsforlearning.co.uk/YearofReading
For media enquiries contact: