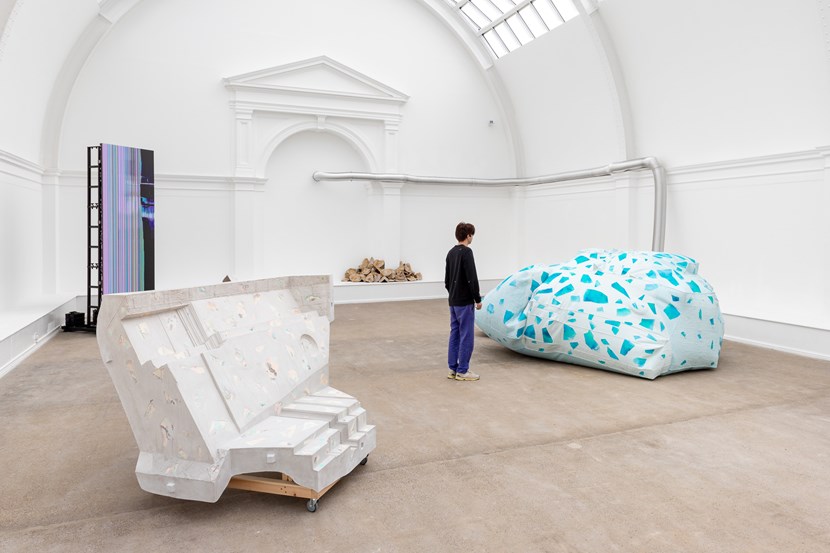 04 Aug 2021
Exhibition reveals hidden history of gallery's stunning arts space
A striking new multi-media installation by a Leeds artist has rediscovered the hidden history behind one the city's most breath-taking arts spaces.
Leeds Art Gallery's stunning arched, glazed central court was uncovered by workers during the building's redevelopment in 2017 after being concealed behind a false ceiling for more than 40 years.
While the gallery was closed during the landmark renovation project, artist James Thompson carried out a series of 'research performances', documenting the newly discovered space taking aluminium impressions, audio recordings and digital scans of the walls and floor.
Now through a series of thought-provoking sculpture and moving image , the artist's new installation Spatial Drifts is examining the gallery's hidden life and the different ways in which the space has evolved and grown over time.
Speaking about his new exhibition, Thompson said: "I am interested in how Central Court has changed over time, from the dark partitioned space with chequered black and white lino floor and wooden latticing to the bright, open naturally lit environment it is today."
"I am particularly drawn to the floor which was added during the 1950s to dissect the previously double height space into the current gallery with the Henry Moore Lecture theatre below. Standing on the floor in Central Court now we are almost floating between spaces outside the architects' vision, closer to the roof than intended, providing a new architectural viewpoint, ideas which Spatial Drifts extends."
Based in Leeds, Thompson's work explores the interpretation and experiences of architecture and physical space. He often makes site specific installations in response to civic buildings which reveal and reimagine their complex histories.
Spatial Drifts features several large sculptural constructions and fragile objects which represent collapsed versions of the space alongside moving imagery of the perimeter of Central Court.
A film exploring the history of Leeds Art Gallery and the hidden histories of former art spaces in Leeds also examines the city's potential future and the fragility and complexity of our built environment. The exhibition was made possible with support from Arts Council England.
Councillor Jonathan Pryor, Leeds City Council's executive member for economy, culture and education, said: "Leeds Art Gallery is a cornerstone of culture in Leeds and one of the north's most visually stunning arts spaces.
"It's fascinating to see how this beautiful building has evolved over its many years and for such talented local artists to be involved in reimagining and reinterpreting its rich history for visitors."
Spatial Drifts will be at Leeds Art Gallery until October 16.
For more information, please visit: James Thompson: Spatial Drifts - Leeds Museums & Galleries
ENDS
For media enquiries contact: