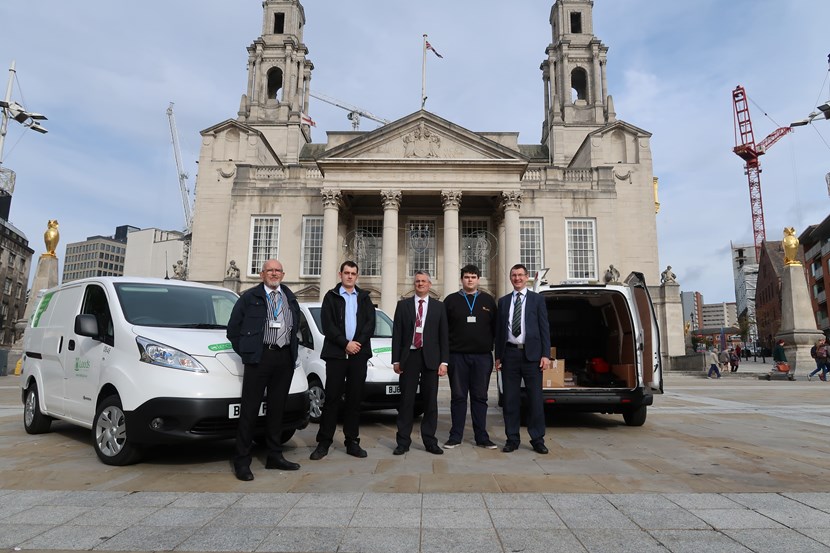 19 Oct 2018
Council to lead the way in switch to zero-emission electric vehicles
Leeds City Council have begun to replace more than 50 of their existing fleet with cleaner, greener electric vehicles.
The 51 new zero-emission Nissan vans mean that the council will have 95 electric vehicles (EVs) in total—more than any other local authority in the country at present.
The new vehicles represent another significant step that the council is taking to clean up its own contribution to air pollution and by doing so help protect the health of everyone in Leeds.
Evidence shows that spending time in areas with high levels of air pollution can worsen asthma symptoms, damage lung function and reduce life expectancy.
In addition to tackling air pollution, the vans will also help the council save money due to their cheaper lifetime costs than equivalent diesel or petrol alternatives.
Across the council many zero and ultra-low emission vehicles are already being used in a wide range of council services including property maintenance, road sweeping, civil enforcement and refuse collection.
The investment contributes to Leeds City Council's bold ambition to fully transition its fleet to zero or ultra-low emission vehicles by 2025.
Cllr James Lewis, executive member with responsibility for sustainability and resources said:
"All of us that live and work in Leeds share a responsibility for improving the quality of the air we breathe.
"That's why last month, Leeds City Council became one of 16 organisations to sign up to the national 'Clean Van Commitment'—a commitment to collectively invest £40 million in electric vans over the next two years for a more sustainable future.
"These new vehicles demonstrate that we are honouring that commitment and, more importantly, that we are doing our bit to reduce our own contribution to air pollution and protect the health of everyone in Leeds.
Brian Bachelor, West Way Nissan Group Fleet Manager said:
"We are delighted to extend our partnership with Leeds City Council by delivering 51 new generation E-NV200s.
"The extended range and rapid charge capability of the E-NV200 will go a long way in helping Leeds City Council's bold commitment to providing a sustainable, cleaner future for the people of Leeds—a pledge that West Way Nissan are more than happy to support."
In addition to greening their own fleet, the council are also taking action to make it easier for businesses and residents across Leeds to benefit from the advantages of electric and ultra-low emission vehicles by supporting their uptake and the development of EV charge points across the city.
Procurement is nearing completion for the installation of up to 88 new rapid EV charge points across West Yorkshire by 2020, approximately 30 of which will be installed in Leeds, as a result of a successful joint funding bid submitted to the government by the WYCA. Each point will include a plug for both taxi and public use.
To encourage drivers to switch to cleaner vehicles, residents can apply for a 'ultra-low emission vehicle permit' and benefit from free council parking in the city centre for their low emission vehicle.
The council are also partnering with Highways England to develop a Regional Centre of Excellence for Low Emission Vehicles in the south of the city. This will enable businesses to lease electric vans from the council and use telematics to inform the development of additional EV charge points across the city.
ENDS
For media enquiries please contact:
Chad Newton
chad.newton@leeds.gov.uk
01133 789849
For media enquiries contact: