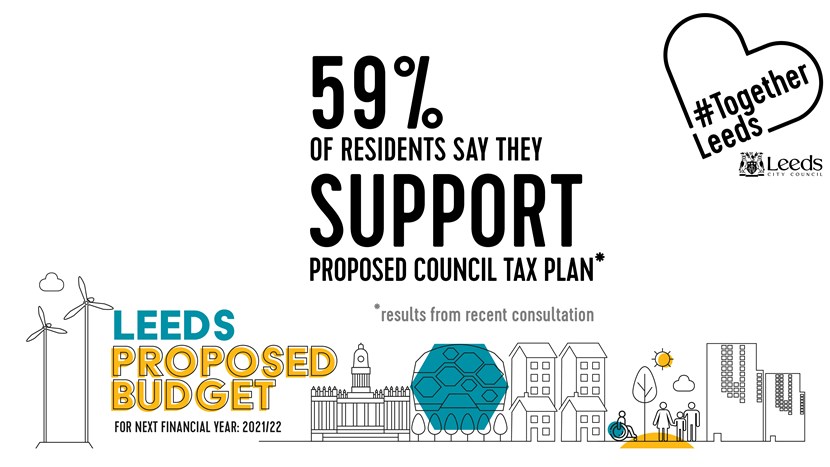 02 Feb 2021
Council presents balanced budget despite facing substantial deficit
Despite facing a £119m deficit for the coming financial year Leeds City Council today published a balanced financial budget, but has had to make some tough decisions along the way.
In a report to be considered by the council's executive board on 10 February followed by the debate at full council on 24 February, the budget plan for 2021/22 is the final step in a process which began at the end of summer.
Since September the council has been following through a process of robust financial planning to find savings which meet the £119m deficit. Previous executive board reports considering difficult savings proposals and asset sales are available online.
A 1.99 per cent increase in core council tax has been proposed with a further 3 per cent for the Government's proposed adult social care precept. The Government's spending review did not provide sufficient funding for adult social care but allowed instead for the increased precept.
Recently almost 2500 residents from across Leeds took part in a consultation on budget proposals to tell the council which services are most important to them – 59 per cent of those taking part agree with the proposed increase in council tax while 23 per cent strongly disagreed.
Even with the proposed council tax increase the charge would still be one of the lowest of surrounding cities like Liverpool, Newcastle, Sheffield and Manchester.
The council anticipates its income from business rates to reduce by £101.8m largely as a result of COVID-19, while the Government has provided £75.5m the council still had to identify further proposals to address the £26.3m shortfall.
As a result of these budget proposals it is projected the council's workforce will reduce by 791 full time posts in the coming year. As of 31 December last year it has already seen a reduction of 221 full time posts when compared with the same period in the previous financial year and many have left through voluntary redundancy.
The financial picture for the coming year is complex. Public consultations have been carried out or are ongoing on proposed changes to services at some residential care homes, community hub and libraries. Read the full report online.
The council has listened to resident's views provided in the budget consultation. As a result it is revisiting changes to original proposals for example revising closure Ellar Ghyll Household Waste Site, reducing opening hours of Lotherton Hall, retaining Leeds Lights and keeping open all bowling greens through an increase in season ticket fees.
Leader of Leeds City Council Councillor James Lewis said:
"We are required to make decisions at a time when COVID-19 makes future planning uncertain and this budget particularly difficult. We know that COVID-19 will continue to have an ongoing financial impact and that it will be difficult to provide the same council services without changing the way we work.
"Over the last ten years we have balanced our budget despite reductions in funding that have seen a total of £2billion of government grants taken away from funding our council services. The recent government spending review failed to provide sufficient funding for adult social care or to fully close the gap caused by pressures associated with COVID-19. We of course continue to lobby the government in attempts to find more funding to reduce the impact of budget pressures on services.
"We have been left with a particularly steep mountain to climb this year in terms of the savings we have had to find. We have listened to residents views about what is important to them and revisited our proposals where possible to ensure they are representative of those views.
"Unfortunately we have already seen a number of experienced colleagues leave the council the impact of which will continue to be felt as more leave over the coming year. These are incredibly difficult times for Leeds City Council and none of these recommendations have been made lightly. Staff are showing incredible resilience and continues to work hard for the city. I would like to offer each a big thank you for their on-going efforts."


Notes to editor
During December the council ran a consultation about the budget proposals it had put forward earlier than month. For more information read our press release inviting residents to take part. Figures quoted here were the result of this consultation.
Previous budget proposals submitted to the executive board in September, October and November 2020 include:
September: https://news.leeds.gov.uk/news/stark-impact-of-coronavirus-on-councils-budget-outlined-to-executive-board
October: https://news.leeds.gov.uk/news/significant-pressures-on-leeds-city-councils-20212022-budget-to-be-outlined-to-executive-board
November: https://news.leeds.gov.uk/news/further-proposed-savings-discussed-by-executive-board-as-council-continues-to-meet-significant-budgetary-challenge
December: https://news.leeds.gov.uk/news/council-budget-proposals-for-next-financial-year-announced
For media enquiries contact: