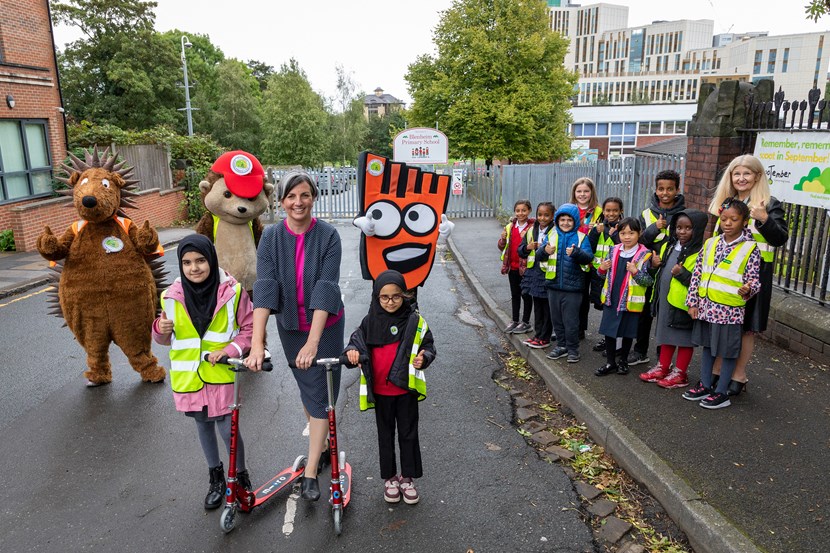 21 Sep 2023
Children are encouraged to travel more actively to school as Leeds adds three more School Streets just in time for World Car Free Day
Three more schools in Leeds will benefit from having a School Street this September, joining 12 other schools who have had them since 2020.

Blenheim Primary School, Birchfield Primary School and Bramhope Primary School have introduced School Streets as part of the new phase of the Leeds School Streets programme.
School Streets make roads outside schools into pedestrian and cycle only zones at the times displayed on the signs. This helps to make the space outside school more pleasant for those choosing to walk, cycle and wheel to school. They can also help to reduce children's exposure to air pollution and keep them safe from traffic. Leeds City Council Road Safety trainers deliver a range of interactive lessons in schools throughout the year and new School Street schools will receive pedestrian and scooter training during the initial weeks. Last year 14,400 children received road safety and sustainable travel education.
September also sees the return of 'Scootember' in Leeds schools. Last year 2,500 primary school pupils received training to be able to scoot safely to and from school. In celebration of Scootember and launch of the three new School Streets, Leeds City Council's executive member for sustainable development and infrastructure, Councillor Helen Hayden visited Blenheim primary school to see the School Street in operation and award prizes of a new scooter and helmet to two lucky pupils.
Leeds City Council's executive member for sustainable development and infrastructure, Councillor Helen Hayden, said:
"I'm excited to see three more schools joining the School Streets initiative. It makes such a difference to local communities, both for encouraging road safety and sustainability. Nearly 30 per cent of all primary school children in Leeds are driven to school by car/van. The school run leads to congestion, pollution and road safety issues around schools and on the wider road network.

"This is a child friendly initiative, to make the journey to school safer and healthier for Leeds children and their families. School Streets are part of Leeds City Council's ambition to make Leeds the best city for all children and young people to grow up in, be a city where you don't need a car, and to achieve Vision Zero by 2040 (by 2040 no one will be killed or suffer serious injuries on roads in Leeds).

"We've deliberately linked the celebrations of the new School Streets with World Car Free Day on Friday 22 September this year which encourages the use of sustainable travel methods such as walking, cycling or public transport for all journeys.
"Engaging the next generation is really important to help us make Leeds a city where you don't need to own a car and I look forward to seeing future successful rollouts."
There are now over 500 School Streets across the country, and Leeds has learnt from previous phases and the experience of other areas which it will bring to this next phase. Schools in Leeds are approached and offered School Streets as a solution to tackle congestion around school gates and this kind of community-led action helps set a precedent for change in the areas for reducing car dependency.

The evaluation of existing School Streets in Leeds found that walking and cycling increased by an average of six percentage points, and parents were less concerned about their children's exposure to harmful air pollution and road safety compared to before the School Streets were introduced.
People can find out more on the council's website: https://www.leeds.gov.uk/parking-roads-and-travel/school-streets

The three new School Streets will use an Experimental Traffic Regulation Order (ETRO) for 18 months to make sure the schemes are working well, before a decision is made about whether they should be made permanent. There are some exemptions in place including for emergency service vehicles and blue badge holders. Residents living, and businesses located on the new School Streets have been advised how to apply for an access permit if they need to drive on the street during these times.
From 16-22 September it's international TravelWise Week. An annual, week-long Travel Challenge led by Modeshift in the UK, TravelWise Week promotes active travel, public transport, and other cleaner and healthier transport choices. The week concludes with World Car Free Day on Fri 22 September, a day when everyone is encouraged to find an alternative mode of travel. Find out more www.travelwiseweek.org.uk.
For media enquiries contact: