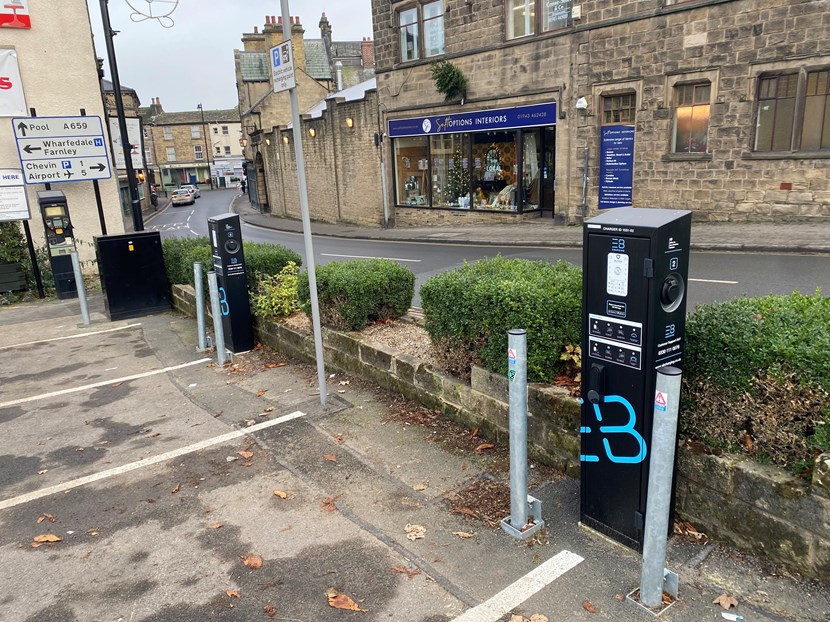 21 Mar 2023
84 more vehicle charge points coming to Leeds' residential areas
Drivers of plug-in vehicles will soon find topping up their mileage even more convenient, thanks to 84 new plug-in vehicle fast charging bays being installed in Leeds.
A newly announced partnership between Leeds City Council and EB Charging will see 84 new 'fast' charging bays installed at 15 locations across the city—with the first 30 bays at six locations already live.
54 bays at nine more locations are due to go live by the early summer. Each of the new bays will be easily located on services such as Plugshare or Zap-map when live.
Horsforth, Rothwell, and Morley are among the areas that will benefit from the new infrastructure. The council has selected the locations to help improve access to local vehicle chargers for residents living in parts of the city with limited off-street parking.
The new charge points will supply vehicles at a rate of up to seven kilowatts, meaning that a typical electric vehicle could fully recharge in around six hours.
Local drivers are increasingly switching to electric or hybrid models. Official statistics show more than 39,000 plug-in vehicles now registered in Leeds and traffic data from the local authority show that the share of fully electric vehicles on the city's roads has doubled in the last year alone.
The council is working to improve charging infrastructure to encourage more drivers to switch to the cleaner, greener vehicles as part of its Connecting Leeds transport strategy and response to the climate emergency.
Leeds had more than 412 publicly accessible charge points as of October 2022—more than triple the amount available a year earlier. Many drivers will also have access to private charging either at home or in the workplace—often the cheapest and most convenient way to charge.
Since 2018, local planning policies have required new charging infrastructure in all new developments with parking. The local authority has also successfully secured grant funding and private sector partnerships to install dozens more new charging bays at car parks across the city. This includes 72 rapid charging bays in partnership with Geniepoint and the West Yorkshire Combined Authority, and 24 bays (a combination of fast and rapid chargers) at Stourton Park & Ride in partnership with EB Charging.
Funding worth £0.37m for the new charge points announced in this release was provided through a combination of grant funding provided by the government's Office for Zero Emission Vehicles and a significant contribution provided by EB Charging.
Councillor Helen Hayden, Leeds City Council's executive member for infrastructure and climate said:
"I'm delighted that the council is working with EB Charging to install another 84 charge points for plug-in vehicle drivers across the city.
'With transport emissions making up such a significant proportion of our city's carbon footprint, it is really encouraging to see the demand for cleaner, greener vehicles growing—having more than tripled in the last two years.
"We know that access to charging, particularly for residents who don't have off-street parking, is preventing some people from enjoying the benefits of electric vehicles. So I hope that the installation of these new charge points will make it easier for more people to make the switch."
ENDS
Notes for editors:
Emissions from transport contributed more than a third of the city's total carbon footprint in 2020, according to Leeds Climate Commission.
A full charge in an electric vehicle will typically drive over 200 miles over a single charge—the equivalent of driving from Leeds to Leicester and back.
Although more expensive to buy new initially, many people that switch to EVs can make big savings over time thanks to reduced maintenance and mileage costs.
Leeds City Council currently operates 384 electric vehicles in its own fleet, believed to be more than any other local authority in the country. Officers in a range of council services including Parks and Countryside, Pest Control and Waste Operations use the vehicles.
Leeds City Council does not currently allow the installation of on-street charge points due to safety and legal concerns. However, the council is currently developing a technical design specification to permit and carefully manage the risks from the installation of on-street charge points in the future.
A full list of the new plug-in vehicle charge point locations and the number of bays per location is included below.
New public vehicle charging bays installed, in partnership with EB Charging
| | | |
| --- | --- | --- |
| Name of car park | Sat nav post code | Number of new charging bays |
| Church Lane, Horsforth | LS18 5LA | 4 |
| Beech Hill, Otley | LS21 3AT | 6 |
| Crossley Street, Wetherby | LS22 6NL | 6 |
| Butcher Lane, Rothwell | LS26 0DB | 4 |
| High Street Car Park, Morley | LS27 8AA | 4 |
| Queens Park Car Park, Pudsey | LS28 7SR | 6 |
| Westover View, Bramley | LS13 3NX | 4 |
| Barley Hill, Garforth | LS25 1DY | 6 |
| Broomfield Crescent, Headingley | LS6 3DD | 4 |
| Clayton Court, West Park, Kirkstall | LS16 5EQ | 6 |
| Glebelands Park, Garforth | LS25 2QA | 6 |
| Kirkstall Abbey Car Park, Kirkstall | LS5 3EH | 6 |
| Naburn Close, Whinmoor | LS15 2BR | 8 |
| Rycroft Avenue, Pudsey | LS13 4PF | 8 |
| Westfield Road, Morley | LS27 9NB | 6 |
| TOTAL | | 84 |
For media enquiries contact: