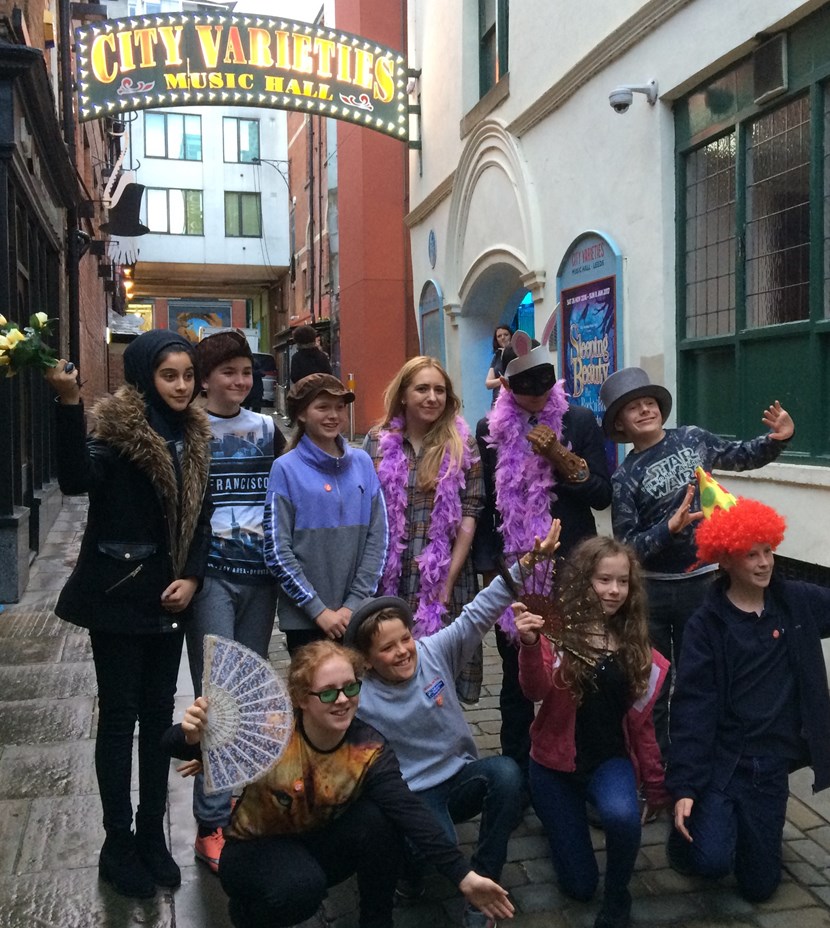 23 Aug 2017
Young people given opportunity to plan prestigious annual event
Child Friendly Leeds is encouraging young people, aged 11 to 19 years (or 25 with additional needs), to apply to be part of the team that will plan and present next year's Child Friendly Leeds awards.
Every year a different group of young people work together to plan, organise, present and run the prestigious event. This includes script writing, selecting performers, operating the lights and sound, supporting front of house and backstage, and promoting the event.
The group attend planning sessions each Thursday evening (4.30 - 6pm) between September and January, and get lots of support from Child Friendly Leeds and the learning team at Leeds City Varieties.
Next year's awards ceremony will take place on Thursday 1 February at Leeds City Varieties and will be the culmination of activities and events to celebrate the fifth anniversary of Child Friendly Leeds. The event will be attended by VIPs from across the city and will showcase the talent, achievements and energy of the city's children and young people. It will also celebrate the amazing things that individuals, places and organisations are doing to make Leeds a great place to play, live and grow up in.
Councillor Lisa Mulherin, executive member for children and families said:
"This is a fantastic opportunity for young people to try their hand at planning and organising a prestigious, high profile event. It is a chance to use their creativity, talents and existing skills as well as learning new ones which will last a lifetime.
"The young people who took part last year thought the experience was amazing and couldn't believe the amount of responsibility and freedom they were given to create a spectacular event starting from nothing."
"The planning team will receive lots of support from the City Varieties and our Child Friendly Leeds team to help them make this year's event, our fifth birthday awards, an even bigger success than previously."
Here is what James, a member of the YP Productions said about his experience of organising the awards in 2017:
"My favourite thing about the awards was working with other kids who were equally interested in planning an event. I enjoyed working on different things each week as we were never doing the same thing, which made each meeting meaningful. Planning an event like this is interesting and fun - it allows you to have your own say and helps you develop new skills."
Young people who are interested in being part of the planning team should visit the Child Friendly Leeds website and complete the short application form: www.leeds.gov.uk/childfriendlyleeds/Pages/Child-friendly-Leeds-awards.aspx. The closing date for applicants is Monday 11 September.
Talented individuals or groups (aged 8 – 25 years) are also being sought to perform at the Awards. Whether it's singing, playing an instrument, dancing, spoken word, drama, comedy or magic – anything that will entertain prestigious guests is welcome. Interested parties can e-mail childfriendlyleeds@leeds.gov.uk for an application form. The young people's planning group will make their selection from the applications received.
Nominations for next year's awards are also open. To nominate a person, place or organisation to be receive a Child Friendly Leeds award, people should visit: www.leeds.gov.uk/childfriendlyleeds/Pages/Child-friendly-Leeds-awards.aspx
There are seven categories to choose from including a new one called Inspiring Creativity Through Arts and Culture, which has been created in view of Leeds' bid to become the European Capital of Culture 2023. This award will recognise the fantastic opportunities and invaluable support that children and young people receive from the arts and cultural organisations or individual artists/practitioners in Leeds who engage, inspire and motivate children and young people, through activity delivered either in or out of school. This might include film, drama, dance, art and music opportunities delivered by companies, organisations, museums, galleries, libraries, community groups or individuals. The closing date for nominations is 30 September 2017.
For more information about the learning programme at City Varieties, including tours, talks, workshops and projects for schools, community groups and adults, please visit: www.cityvarieties.co.uk/Online/joinin
For media enquiries contact: